The Young and the Restless Daily Recaps
By Nicki on June 10, 2009
Nina's Inquiry:
Nina met Cane at Crimson Lights so she could ask him some questions.
Nina tried once again to get Cane to talk about Violet but he didn't have much to say. Nina kept pushing but realized that Cane didn't like talking about his childhood. So she changed her topic to Amber asking about his relationship with her when he first got to town. He asked why she was so interested in him if the movie was about Katherine. She said she had to go with the drama and joked that the movie could be about him.
Cane told Nina he preferred to keep the past in the past and Nina said if she didn't know any better she would think he had something to hide. He said he thought all her curiosity was because of her relationship with Phillip and she admitted she wanted to know where he came from since at one point he was her whole life. She said she had to keep trying if not for herself for her son. He said he didn't think she'd find much and Nina admitted she found the lack of information strange. Cane said it seemed they were talking in circles and left. READ MORE
By Nicki on June 09, 2009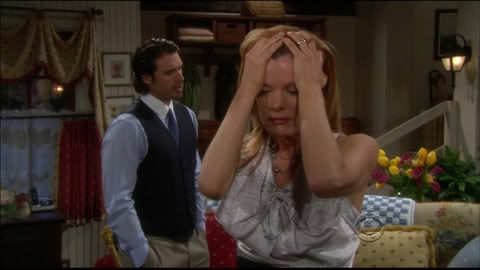 Before I start the recap I have to rant a bit. I've been trying to stay unbiased in this whole Nick/Sharon/Phyllis/Jack debacle but Nick is pushing my last nerve. First he left Sharon for Phyllis while Noah was at an age in his life where he needed stability. Now Nick is leaving Phyllis for Sharon while Summer is at an age in her life where she needs stability. I don't think he really cares or has concern for anyone's needs but his own. If he and Phyllis hated each other then I would say yeah get a divorce because your kid shouldn't be around all the hostility. But the fact that he still has feelings for Phyllis makes me sick about what he's doing. Sorry if that bothers the Schick fans because I don't begrudge you the right to root for them if you want, that's just my personal rantings. I will say however that even though he irritates me that boy is 100% more likeable when he has his shirt off *wink*. So now that I have that off my chest hehe lets get on with the recap.
Today was a day of endless heartbreaks on The Young and the Restless as couples were torn apart, a baby was lost, and a child starts showing the signs of being traumatized by her parents impending divorce.
Nick/Sharon/Jack/Phyllis/ and MJ the Stalker Loon Benson:
READ MORE
By Nicki on June 08, 2009
Adam Brilliantly Cons Ashley:

Adam tried to get Ashley to wake up as Nikki continued to knock on the door and call out for her. Gotta say Adam's arms look great in that dress but let me get back on track here. Adam picked her up, apologizing to her the whole time, and carried her upstairs.
Adam put Ashley into bed and stripped out of the gown he was wearing. Unfortunately for me he had a tank top underneath...one less opportunity for shirtlessness but I digress. Nikki called and left a message on the machine that she was tryiing to check on Ashley but no one was answering and she was going to use her key to come in.
Adam dropped some cloth to cover the blood on the floor and came to meet Nikki. She told him she needed to see Ashley and Adam said Jack took her out to dinner. Nikki asked him to tell Ashley she came to check on her and left. Adam started to clean up the blood and kept apologizing for what he'd done blaming it on Victor and Jack. He heard Ashley call out for help upstairs and ran to meet her.
Nikki walked into the club and saw Jack and Mary Jane headed up the stairs and looked confused since Adam said Jack was with Ashley. READ MORE
By Nicki on June 05, 2009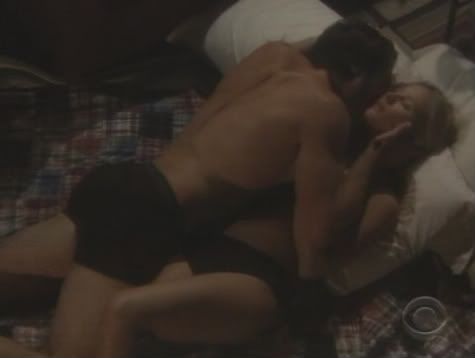 Phyllis, Nick, Sharon, and Jack Swap Bed Buddies:
Nick told Phyllis that he'd been trying to find the best way to say this. She told him a simple yes or no would do but he said nothing about this was simple. Phyllis said he must want to be with Sharon otherwise he wouldn't have such a hard time saying what he needed to say. Nick remained silent confirming her fears. He finally spoke and said this wasn't working anymore, pretending their relationship was going somewhere it wasn't. Phyllis said, "I see," and Nick wondered if that's really all she had to say. She asked him if there was any point anymore and he told her he better than anyone knew it wasn't good for her to bottle up stuff and told her to do something. Phyllis told him she didn't have any more tears left and if she did she wouldn't waste them on him. READ MORE
By Nicki on June 04, 2009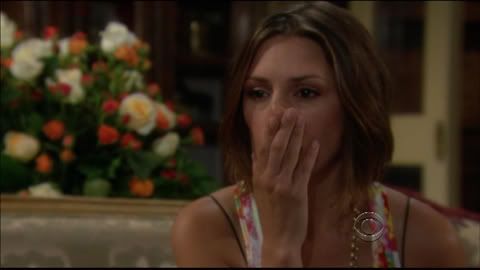 Jack and Sharon went to the club and seemed like the perfect happy couple which bothered Mary Jane who saw it and ran out.
Billy told Chloe about possibly being the father of Sharon's baby which at first she didn't believe but finally realized he was telling the truth. She asked him if he was trying to drive away every single person who cared about him which included Jack on top of her and Delia. She realized the argument she'd walked in on the other day was about Sharon and said it looked like Jack was going to put him through a wall. Billy admitted he wished Jack had.
Phyllis went home and saw a note from Nick about going to the main house and how he'd be awhile. She was baffled that he was going to check on business when they needed to talk about their marriage.
Nick went to the main house and ran into Adam. They quipped about not wanting to see each other and Adam told him that Victor had a meeting in town. Nick told him that Victor may be taking pity on Adam but would never forgive or forget what he'd done.
Olivia checked on Ashley and said everything seemed good with the pregnancy. Olivia once again hinted around Ashley seeing a shrink but Ashley still wasn't for it and said Victor understood and that was the type of support she needed. READ MORE
By Nicki on June 03, 2009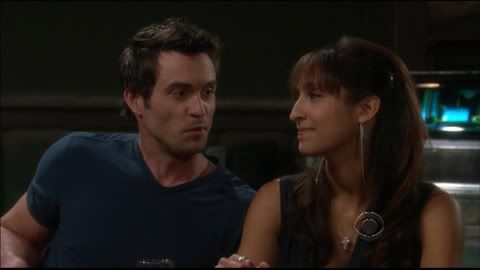 Lily's Birthday and Cane's Mystery:
Lily and Cane joked about her birthday and saving the cake for her party guests. Cane turned to a serious tone and told her he appreciated that she understood there were parts of his past that he wanted to stay in the past.
Cane, Lily, and Neil arrived at Jimmy's for Lily's party. Cane and Neil joked about being in competition till they realized they probably didn't have the same clientele. Cane left to go get them drinks and Neil commented on how Lily couldn't stop smiling and they both realized how much had happened and changed in the past year.
Lily opened up some of her presents and also had one for Cane. It ended up being a personal calendar with hearts around the best dates to make a baby. Devon left to go get drinks just as Nina showed up.
Lily and Neil talked about her wanting to start a family. Once she assured him this was about them wanting to be a family and not about Cane losing Delia Neil was completely on board. READ MORE