The Young and the Restless Daily Recaps
By Nicki on June 26, 2009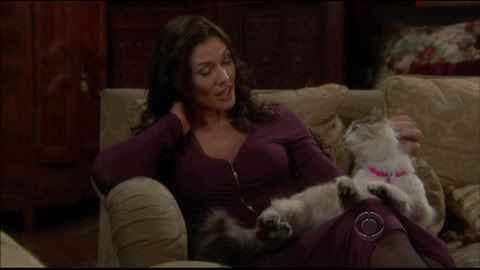 I'm starting to wonder if everyone in Victor's life is inherently self involved and more spoiled then I've ever seen. First Abby's tirade yesterday, Ashley being a wench of all wenches towards Estella, Victoria pitching a fit over Victor supposedly brushing off Sabrina's memory plus going off on JT for challenging her, Adam continuing to blame everyone for his problems when he so obviously brought them on himself, Nick expecting everyone to forgive all the crap he's put everyone through, and on and on and on. The only people who seem to be semi quasi normal and whom I can stand in this family are Nikki, Noah, Summer and Phyllis. But I digress...here is today's recap. Again it all pretty much tied together so it's all in one.
Victor investigates and makes an offer to appease Victoria, Estella is arraigned, and Jack has sex with Mary Jane under the watchful eye of Miss Kitty Fantastico:
READ MORE
By Nicki on June 24, 2009
By Nicki on June 23, 2009
Adam's Plot Thickens...and gets fingerprints too:
Victor opened up a box in front of Ashley and Nikki and a baby's statue head that was cut off of Sabrina's statue fell out of it. Adam came into the room and Victor asked him if it was his doing. Adam said there was no way he did this and tried to once again put it on Estella. Nikki couldn't believe Adam's gall and called him on it to which Adam tried to defend his accusation. Victor called the police to report what had just happened.
Adam went up to his room and was followed closely by Victor. Victor told him the detective was on his way and Adam said he was glad so he could prove he had nothing to do with it. Adam asked Victor if he couldn't even consider the posibility that he was innocent seeing as he had an ankle monitor. Victor checked to make sure he still had the ankle monitor on. Adam said Victor was reaching seeing as his current condition and that he had little to no visitors who would have helped him. Adam went on to say that when the truth came out he wanted an apology. Victor left without saying a word and Adam brushed it off seemingly unworried or phased. READ MORE
By Nicki on June 15, 2009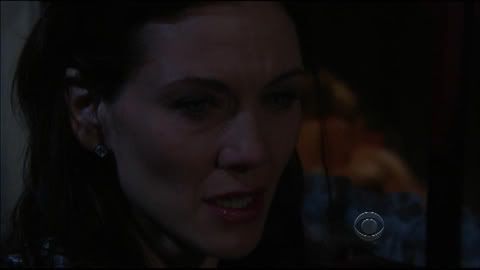 Chloe and Mac both rip off Billy's shirt and Raul returns:
Chloe told Delia that smart girls make things happen but first you need info. She confessed to her daughter that she went through Mac's stuff but it was for a good cause so it wasn't snooping. She continued saying she found out that Mac was just as hung up on Billy as he was on her back in high school. She told Delia not to worry because Mac couldn't have him, he was theirs, and she had to get cracking on making them a family again for keeps this time.
Meanwhile Mac and Billy continued making out at Jimmy's. He pulled away because he wasn't sure if he should stop or not, but she pulled him back to her again kissing him.
Billy and Mac continued to go at it and she ripped open his shirt and started on his belt. There was a knock at the door which they planned to ignore until they realized it was Raul.
Billy and Mac put themselves back together and took a deep breath before letting Raul in. Billy said he had to go and left. After Billy was gone Raul asked Mac if she was ok. She asked him why he was there and Raul responded that Chloe called him and said Mac needed him. READ MORE
By Nicki on June 13, 2009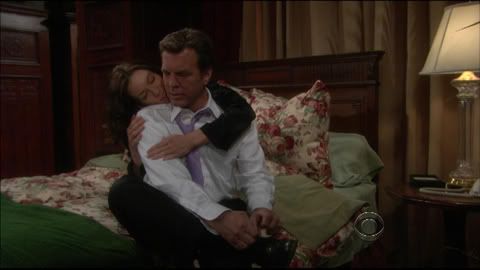 I'll have to admit some things happened today that I loved and some situations on this show are still driving me nuts. First off I'm sick of seeing Jack and Phyllis continue to pine over Nick and Sharon. They are both strong characters who are definately survivors and it sucks to see them suffering from a definite case of "walk all over me" syndrome. However Jeffrey was clever in using the hint to get Gloria to realize he was talking about Jack of it rhymes with Black Rabbit. And it's also very fitting as Jack is making a habit of bed hopping lately let's just hope he doesn't start procreating like one. It also looks like Mary Jane was planning on using Summer to hurt Phyllis and may have been planning to kidnap her which is not cool at all. But the highlight today was hearing Noah finally express to his parents how sick he was of their juvenile behavior. A kid should be able to look to his parents for stability and he was absolutely right saying he never knew where they would live or who his parents were with. Maybe that will wake Nick and Sharon up to put their kids first and end this nonsense once and for all because if not the divorce coming may be Noah divorcing his parents. Well now that I've expressed my feelings on today's episode let's continue with the recap...
Mac impulsively flirts with Billy as Chloe Reads a Story of Their Past: READ MORE
By Nicki on June 11, 2009
All of the stories kind of intermingled today so I'm making it one long recap of everything....Enjoy!
Today's Recap:
JT was pacing around the hospital room asking himself why he let her do this when Nikki came in and asked what happened. He filled her in about the where and the how but Nikki insisted he tell her the why.
Amber, Daniel, Kevin, and Jana all sat in the dark talking about the situation. Daniel admitted his plan probably wasn't the smartest thing in the world and let them know that Faux-Aucker had died. Kevin suggested they go somewhere safe but as they were leaving Agent Aucker showed up.
Paul and Heather sat down for drinks and talked about Paul's little trip to the police station. She asked him what happened and he told her that he dug into Mary Jane's past and found things that didn't add up and confronted her about them. Heather told him her advice was to leave Mary Jane alone but Paul said he couldn't do that.
Victor thanked Adam for looking after Ashley and Adam said he was happy to do it. Ashley came downstairs and looked off. Victor asked her what the matter was and Adam flashed back to Ashley falling down the stairs. READ MORE