Wishful Casting
By Jamey Giddens on September 28, 2009
I tell you what, ABC Daytime is gonna give me carpal tunnel yet! I know a lot of
Greg Vaughan
's fans aren't exactly sharing in my
immense joy
about the return of the ultimate Lucky Spencer,
Jonathan Jackson,
to
General Hospital
, so to soothe them I will go ahead and do a Wishful Casting for the talented actor. What about Vaughan as Nicholas Alamain on
Days of Our Lives
? Carly Manning (
Crystal Chappell)
returns to Salem this Friday, her son can't be too far behind right?
READ MORE
By Jamey Giddens on September 28, 2009
Okay, so y'all know how I do it. One horse can't stop the Kentucky Derby! Since
Eric Braeden
and
The Young and the Restless
are both digging in their heels, what about
Dynasty
and
All My Children
veteran
Michael Nader
as Victor Newman?
I know Nader had a few, um "issues" a couple of years back, but hell, if Whitney Houston could finally realize crack really is whack, there's help for anybody. Erica Kane's best love interest ever was on Cold Case the other night and from the looks of things, he can still bring it. I say give him a chance at playing The Mustache, at least until Braeden and Y&R get their ish together. I also wouldn't mind Jed Allan as Victor... (Jamey ducks from tomatoes thrown by GH fans who are still smarting over my beloved C.C. Capwell's stint as Jed-ward on GH). READ MORE
By Jamey Giddens on September 24, 2009
Photo provided by TeleNext. Credit: JPI
Long before it was announced that broadcasting's longest running program was being booted from the airwaves, I started brainstorming about where Guiding Light's amazingly-talented cast could end up. Sure, I've done a Wishful Casting
here
or
there
concerning GL actors, but now it's time to compile a definitive list of where I, in my oh-so-humble opinion, feel the Peapack refugees should end up.
Grant Aleksander:
The most obvious choice would be for Aleksander to return to
All My Children
as bad boy Alec McIntyre, ex-husband of Hayley and biological papa of Tom and Livia Frye's adopted son Jamal. However, without any of the characters he has strong ties to currently getting their mail sent to
Pine Valley, 90210
, it could be a hard sell. That could of course be solved fairly quickly by recasting Hayley and Jamal. See below. I could also get on board with the idea of seeing Aleksander recreate the role of Dr. Tom Hardy on
General Hospital
. GL and GH were timeslot competitors in much of the country. Bringing on Springfield's favorite son to play Audrey and Steve's son would be quite the snag for
Fronsie
. Maybe they could even thrown in
Victoria Rowell
as Tom's ex-wife Simone?
READ MORE
By Jamey Giddens on August 20, 2009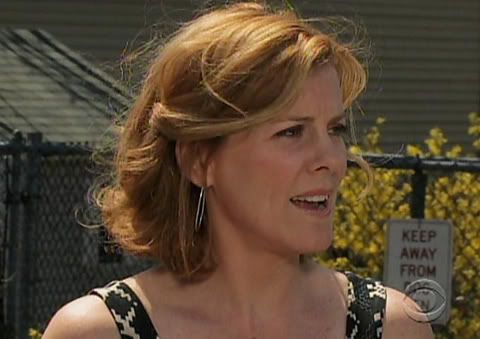 With so much going on with the Hughes family on
As The World Turns
, wouldn't it be great for Dr. Bob's lookalike daughters Frannie and Sabrina Hughes to pop up in Oakdale? I have the perfect actress in mind to recreate the roles
Julianne Moore
made popular before going on to movie stardom, and P&G is already quite familiar with her work. I'm talking about
Guiding Light
's
Liz Keifer
!
I started watching GL in 1993 after my beloved Santa Barbara went to the Great Soap Opera Museum in the Sky. Immediately, I took to the sassy, saucy C. Blake Thorpe, as played by the ravishing Keifer. Blake was my kind of soap character, a sexy schemer, cut from the same cloth as her infamous father Roger Thorpe (the late Michael Zaslow), yet possessing the heart of her mother, dedicated-yet-neurotic journalist Holly Norris (Maureen Garrett).
READ MORE
By Jamey Giddens on August 19, 2009
(Photo Credit for Finola Hughes ABC; Photo Credit for Lesley-Anne Down Reuters)
While watching and— for a change— thoroughly enjoying
The Bold and the Beautiful
this week, I can't help but think how great it is to see
Ian Buchanan
onscreen again as Dr. James Warrick. I think all soaps should have more British people. They just class up the joint! Before serving as B&B's answer to
Dr. Phil
, James had a storied history with the Women Forrester, including an attempted romance with Brooke (
Katherine Kelly Lang
), and a shared attraction with Stephanie (
Susan Flannery
).
Who could forget James being deflowered by fellow psychiatrist Dr. Taylor Hayes (Hunter Tylo) at Big Bear? Obviously Ridge (Ron Moss) has, since he sent not one, but both of his less-than-merry wives up to the cabin with the shrink this week. READ MORE
By Jamey Giddens on July 11, 2009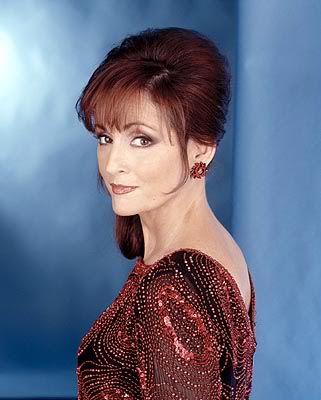 In the comments section of the Wishful Casting poll I posted about
Who Should Play One Life to Live's Dorian Lord should ABC and Robin Strasser not come term
s, DC reader
scoboot
requested I do a Wishful Casting about Strasser's possible post-OLTL prospects. Now remember, Strasser is
waiting until Fronsie comes back from vacation
to make any decisions about her future on OLTL, but here's what I've come up with just the same!
All My Children: READ MORE