Veronica Mars
By Daytime Confidential on August 06, 2010
Fasten your seat belts Daytime Confidential listeners. You're about to download one of our wildest podcasts ever! The Young and Restless game changer, Michael Muhney drops by to chat will Luke, Jamey and Jillian about what it was like to take over one of the most controversial and complex roles in recent daytime history, VIctor Adam Newman, Jr.
The veteran of primetime's cult hit Veronica Mars reveals what made him go out for a part on a soap in the first place, when so many actors see daytime as a "stepping stone". Muhney shares how any initial reservations were quickly snuffed out after a few days of working with such enormous talents as Eric Braeden, Eileen Davidson, Peter Bergman and others.
He also spills the tea about what he believes makes Adam tick, citing Shakespearean themes and psychological underpinnings that has the DC crew wishing Muhney were not only starring in a soap, but helping to write his storyline!
Muhney also gets real about the contract issues that almost led to his saying goodbye to Y&R and Adam for good. What led him to stick with the role? You'll have to tune in to hear him tell it in his own words, that is when he isn't matching the gang snark for snark and Jamey, impersonation for impersonation.
By Jillian Bowe on May 28, 2009
By Jamey Giddens on May 22, 2009
Veronica Mars
alum
Michael Muhney—
shown above reading a script from
The Young and the Restless—
seems stoked about taking on the role of Victor Newman Jr. aka Adam Wilson, according to the actor's
official website
.
My first day on the set was crazy and fun and quite a wild ride. I had to hit the ground running at full speed. I think I need a new pair of shoes, but in these economic times I'll just have my shoes resoled ;-) I'm honored to be a part of such an iconic piece of work and I can't wait to sink my teeth into this thing."
How awesome is it that an actor from a cult hit primetime series is actually happy to be hard at work on daytime's number one soap opera?
By Luke Kerr on May 21, 2009
By J Bernard Jones on May 20, 2009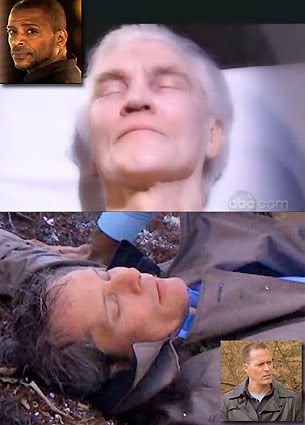 Hot on the heels of my admittedly scathing review of Friday's ultra-campy, Scooby Doo meets The Munsters inspired episode of All My Children which culminated in the murder of Stuart (Not Adam) Chandler, I finally had the opportunity to catch up with Guiding Light, which had its own less heralded "Who Killed Edmund Winslow?" whodunit kick off.
Since I received a little bit of blow back for my harsh (and well-deserved) criticism of AMC, I'd like to take the opportunity to explain why Springfield's simultaneous murder mystery is infinitely superior to Pine Valley's. READ MORE
By Jamey Giddens on December 15, 2008
The CW didn't have to look too far to find a write for the pilot of it's upcoming
Melrose Place
update.
The Hollywood Reporter
revealed
One Tree Hill
creator
Mark Schwahn
will write the pilot, then likely turn it over to different show runners, much like how
Veronica Mars
frontman
Rob Thomas
wrote the pilot for the network's
90210
spinoff before turning it over to
Gabe Sachs
and
Jeff Judah
of
Freaks and Geeks
fame.