Two And A Half Men
By Jamey Giddens on April 18, 2013
Already missing
Julie Marie Berman
on your boob tubes? Never fear. The ex-
General Hospital
star will be back on TV this May 2, when she guests on
Two and a Half Men
.
READ MORE
By Daytime Confidential on March 12, 2011
On today's Daytime Confidential podcast Luke, Jamey, Jillian and Regan hang out with Larry Flick and Keith Price on The Morning Jolt With Larry Flick. During the laugh-filled show they discuss everything from General Hospital killing off baby Jake to The Young and the Restless' Sharon Newman being an expensive ho. Larry asks Jamey for an update what his sources are telling him about the possible fate of All My Children and One Life to Live.
Former The View host and Celebrity Apprentice cast member Star Jones stops by the Sirius studio to chat about Celebrity Apprentice, NeNe Leakes, her new book Satan's Sisters and heart health.
Then the gang dives into the latest in pop culture topics, including; the Charlie Sheen fiasco, Showtime's Shameless, True Blood, Whoopi Goldberg, Tennessee Williams and Luke's love for Sci-Fi series such as Doctor Who, Torchwood and Battlestar Galactica,
All this and much more on today's Daytime Confidential podcast! READ MORE
By Jillian Bowe on October 16, 2010

Days of Our Lives star Nadia Bjorlin is keeping crazy busy these days. The actress is slated to make a guest appearance on the CBS hit show Two and A Half Men. The actress tweeted:
Just got done filming "Two and a Half Men"! Had an amazing time...awesome cast and crew :) I believe the epi airs Nov. 8th.
Get your hustle on, Nadia!
By Regan Cellura on May 06, 2009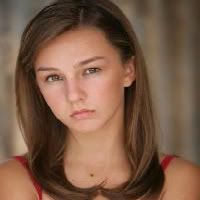 Say hello to the new Kristina Davis-Corinthos. According to
TV Guide
,
Lexi Ainsworth
nabbed the role of Alexis Davis and Sonny Corinthos' daughter on the same day she passed her drivers test. The 16-year-old has appeared on
iCarly
and
Gilmore Girls
.
There are also reports that Morgan's new face belongs to Aaron Refvem with he and Kristina both making their entrance this June. Refvem's resume includes Grey's Anatomy and Two and a Half Men.
By Luke Kerr on July 17, 2008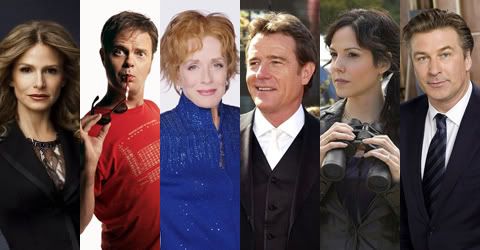 Six soap alum have received Primetime Emmy nomations in the major acting categories at this year's 60th Annual Emmy Awards. From left to right.
Kyra Sedgwick, the star of TNT's The Closer and who once appeared on Another World was nominated in the Outstanding Lead Actress category.
Rainn Wilson, star of NBC's The Office and who once appeared on One Life to Live as Casey Keegan was nominated in the Outstanding Supporting Actor in a Comedy Series category.
Holland Taylor, who stars on CBS's Two and a Half Men as Charlie Sheen's mother once starred on All My Children as Jill Ollinger. Taylor received a nomination in the Outstanding Supporting Actress in Comedy Series category.
Bryan Cranston, the star of HBO's In Treatment once appeared on One Life to Live as Dean Stella. Cranston received an Outstanding Lead Actor in a Drama Series nomination.
Mary-Lousie Parker, the star of Showtime's Weeds and who once appeared on Ryan's Hope received an Oustanding Lead Actress in a Comedy Series nomination.
Alec Baldwin, the star of NBC's 30 Rock and once appeared on The Doctors received an Oustanding Actor in a Comedy Series nomination.
Congrats to them all!