The Office
By Pop Confidential on February 07, 2013
On today's Pop Confidential podcast Jamey Giddens, Luke Kerr and Regan Cellura dish the latest pop culture, movie, music, TV headlines and storylines, including:
Donald Trump and Bill Maher face off, again, over birth certificates. Los Angeles' D.A. wants to revoke Chris Brown's probation.
Beyonce rocks the Super Bowl halftime show and reunites with bandmates Kelly Rowland and Michelle Williams of Destiny's Child.
30 Rock ends its run on NBC, as The Office prepares to say goodbye too. Smash returns for its second season after cleaning house. The Earl of Grantham and Countess of Grantham's marriage continues to crumble beneath the death of their daughter Lady Sybil on Downton Abbey.
With Larry Hagman's death causing Dallas to write off J.R., does TNT's drama need to bring Victoria Principal back as Pamela Barnes Ewing? Spencer finds out Toby is an A on Pretty Little Liars. Jamey is still in love with NBC's Deception. Which "on the bubble" shows could be cancelled soon? Secrets shake Scandal on ABC. Regan isn't happy with Grey's Anatomy, but Luke and Jamey are loving it.
Tim McGraw releases a new album and Warm Bodies tops the Box Office.
All this and much more on today's Pop Confidential podcast!
By Jillian Bowe on February 22, 2012
Forget
The Mighty O
saying goodbye to daytime. Nevermind
Regis Philbin
shooting the deuces to
Live With Regis and Kelly.
iVillage
readers have listed
One Life to Live'
s Jan. 13, 2012 send off
as their saddest TV ending!
The 3rd Annual iVillage Entertainment Award winners were announced and the citizens of Llanview claimed the top spot for saddest TV Farewell, with 32 percent. OLTL was followed by sister soap All My Children with 27 percent of the vote. The Office's so long to Steve Carell snagged 21 percent to finish at Number 3 and Oprah's last episode of her self-titled talk show came in atNnumber 4 with 12 percent. Watch The Today Show anchors dish how much soaps mean to fans at the 3:09 mark after the jump!
By Luke Kerr on May 04, 2011
The Young and the Restless' Billy Miller reunited with his former All My Children co-stars Chrishell Stause and Melissa Claire Egan on the red carpet of Something Borrowed. The romantic comedy, starring AMC grad Colin Egglesfield, Kate Hudson, Ginnifer Goodwin and John Krasinski, hits theaters May 6. READ MORE
By Johnathon on May 04, 2009
It was Infront presentation day at NBC, a day that has shows waiting on the hook for pick up, renewal or cancellation.
NBC picked up six new scripted series, which include two medical dramas, Trauma and Mercy; a family dramady, Parenthood; two comedies, 100 Questions and Community; and a new Post-Apocalyptic drama, Day One. READ MORE
By Luke Kerr on July 17, 2008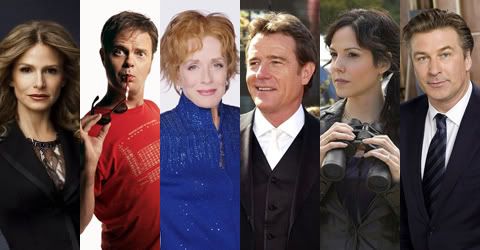 Six soap alum have received Primetime Emmy nomations in the major acting categories at this year's 60th Annual Emmy Awards. From left to right.
Kyra Sedgwick, the star of TNT's The Closer and who once appeared on Another World was nominated in the Outstanding Lead Actress category.
Rainn Wilson, star of NBC's The Office and who once appeared on One Life to Live as Casey Keegan was nominated in the Outstanding Supporting Actor in a Comedy Series category.
Holland Taylor, who stars on CBS's Two and a Half Men as Charlie Sheen's mother once starred on All My Children as Jill Ollinger. Taylor received a nomination in the Outstanding Supporting Actress in Comedy Series category.
Bryan Cranston, the star of HBO's In Treatment once appeared on One Life to Live as Dean Stella. Cranston received an Outstanding Lead Actor in a Drama Series nomination.
Mary-Lousie Parker, the star of Showtime's Weeds and who once appeared on Ryan's Hope received an Oustanding Lead Actress in a Comedy Series nomination.
Alec Baldwin, the star of NBC's 30 Rock and once appeared on The Doctors received an Oustanding Actor in a Comedy Series nomination.
Congrats to them all!