The Mentalist
By Jamey Giddens on April 07, 2009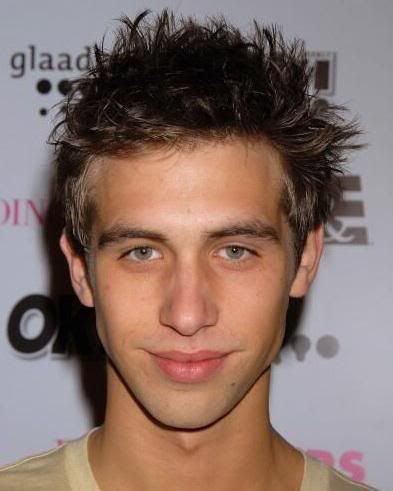 Let the Live Blogging begin!
Never seen this show.
The girl from The Craft is doing some CSI stuff in Hollywood.
Okay, it's a movie-themed eppy. Blake told me that!
Is that Heather Tom's sister playing Marilyn Monroe?
Maybe? Maybe not?
So The Mentalist can tell when people are lying? Ahhh. He should work for a soap magazine.
The Mentalist and the girl from The Craft just discovered dope.
So if I take this pill for arthritis, it will give me a stroke. Ben Gay anyone?
Back on!
Chick from The Craft is questioning some movie guy, with Simon Baker.
Felicia Scott, Love Times Too, Baby Your Mine, Sudden Embrace.
She's an actress. She's part of the plot. I am so floating here. Paging Tina, Mistress of Crime!
Hey! That girl on the phone was on The OC!
Procedurals are like television homecoming parties. Show up and you're bound to see someone ya know!
The mother is lying I bet.
The daughter is sneaky!
Who is that dude in that picture heifer?
Ah the plot thickens!
The Kelly Osborne-esque daughter is the key! READ MORE
By Jamey Giddens on April 07, 2009
From his first appearance in Salem

, USA
in November 2006,
Blake Berris
stole the hearts of legions of Days of Our Lives fans as lovable geek Nick Fallon.
No matter whom the UCLA alum—he graduated in just three short years with his acting degree—shared screen time with, his commitment to his craft was evident. Whether the storyline called for Nick to pretend to be someone else to woo the girl of his dreams, Chelsea Brady (
Rachel Melvin
), or bed her cougarific mother Billie (
Julie Pinson
), Berris sold it every time. He even brought believability to storylines that saw the heroic Nick acting out of character for the affections and/or approval of some of the most annoying bad girls in recent soap memory.
Willow
(
Annie Burgstede
) and Melanie (
Molly Burnett
) anyone?
Through it all, Berris and Melvin's chemistry kept Nick and
Chelsea
fans tuning in to see if the geek would ever get his girl. Unfortunately, in the end he didn't. Instead, Nick's exit storyline saw the character going off his rocker after killing his girlfriend's father, a plot twist the actor reveals was the "coolest" he experienced during his run on the soap when I recently caught up with him for Daytime Confidential.

Berris also talked with DC about his dramatic exit from Salem, what it was like working with real-life pal Melvin, Emmy-winner Suzanne Rogers (Maggie, DAYS) and Debra Messing, who Berris reoccurred opposite during three episodes of the short-lived USA dramedy The Starter Wife. He also gives us a sneak peek at tonight's episode of the hit CBS drama The Mentalist (8 pm C/9 pm ET), where he plays a British film actor who shares scenes, and perhaps a kiss (and more?) with Rebecca Rigg, the real life wife of series lead Simon Baker. Then the passionate thespian shares how thrilled he is that Barack Obama, whom Berris infamously dropped to his skivvies in support of during the Boxers or Briefs for Obama campaign, is now in the White House.
By Luke Kerr on March 17, 2009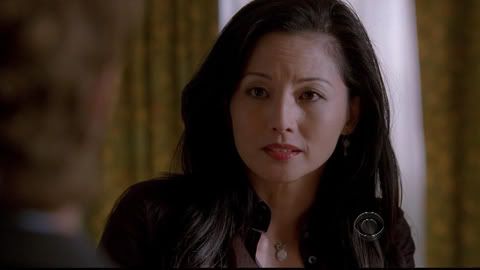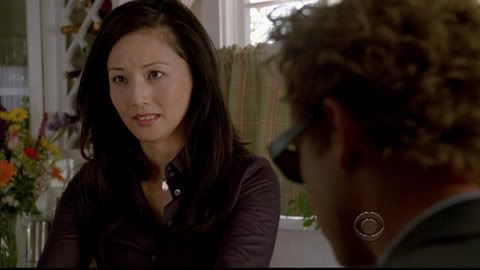 Tamlyn Tomita
, who portrayed Kate Howard's (
Megan Ward
) rival magazine editor Giselle on
General Hospital
, made an appearance on Tuesday's episode of
The Mentalist.
Her character, Lauri Medina, was interviewed by a temporarily blind Patrick Jane (
Simon Baker
) and Teresa Lisbon (
Robin Tunney
) as they worked to solve a murder.
By J Bernard Jones on February 08, 2009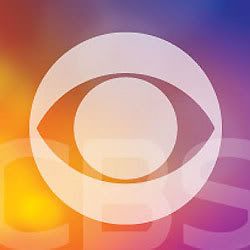 While daytime dramas might be among the hardest hit sectors in entertainment, the ripple effects continue to spread in prime time, too. Among the more high profile moves, NBC gave Jay Leno it's entire 10PM time slot block Mondays through Fridays starting this fall in an effort to save massive amounts of cash: The Tonight Show, which is expected to be the model for the "new" Leno show, costs about $2 million per week to produce compared to $35 million for a typical week's worth of prime time dramas.
Now comes news from Entertainment Weekly's Michael Ausiello that CBS is basically asking its stars to not negotiate salary increases (in effect, a salary freeze) for some of the network's top tier shows:
CBS Paramount is asking the on-air talent on the majority of its dramas to forgo their annual raises and keep their salaries flat next season. (Multiyear contracts typically have standard yearly increases built in.) The unprecedented move, part of an overall cost-cutting measure, is an effort to keep budgets down at the CSIs, NCIS, Numb3rs, and their kin, and prevent further behind-the-scenes layoffs. (CBS dramas produced by outside studios -- i.e., Ghost Whisperer, The Mentalist, and Without a Trace -- won't be affected.)
The article then immediately brings up what I like to call "The Kim Zimmer Paradigm": READ MORE