The Mary Tyler Moore Show
By Luke Kerr on January 17, 2014
America's golden girl and former The Bold and the Beautiful star Betty White celebrates her 92nd birthday today. The actress, who has been recognized by Guinness World Records as having the Longest TV Career For An Entertainer (Female), began her profession in the 1930s on radio. To this day, White is still generating laughs on TV Land's Hot In Cleveland.
Parade compiled some of White's best quotes, which includes:
On men:

"I've always liked older men. They're just more attractive to me. Of course, at my age there aren't that many left!"
Watch clips from Betty White's illustrious career after the jump! READ MORE
By Luke Kerr on June 03, 2013
HBO's The Sopranos topped the list of 101 Best Written TV Series chosen by the Writers Guild of America, West and Writers Guild of America, East. TV Guide Magazine hosted an event for the unveiling of the WGA's 101 Best Written TV Series on June 2.
In addition to The Sopranos, HBO had three other series among the Top 20: The Wire (No. 9), Six Feet Under (No. 18) and The Larry Sanders Show (No.20). NBC also had four series among the Top 20; Seinfeld (No. 2), Cheers (No. 8), The West Wing (No. 10) and Hill Street Blues (No. 15).
Mad Men (No. 7), The Simpsons (No. 11), Breaking Bad (No. 13), Arrested Development (No. 16), The Daily Show With John Stewart (No. 17), Saturday Night Live (No. 25), Curb Your Enthusiasm (No. 30), Modern Family (No. 34), Game of Thrones (No. 40), Downton Abbey (No. 43), Homeland (No. 48), The Colbert Report (No. 50*), The Good Wife (No. 50*), South Park (No. 63), Dexter (No. 66*), The Office (US) (No. 66*), Justified (No. 86), Boardwalk Empire (No. 93) and Louie (No. 101) are the TV series currently on air to make the list.
See the full list of the WGA's 101 Best Written TV Series after the jump and tell us which shows you think deserved to be on the list and which shows you would have cut from the list. READ MORE
By Luke Kerr on March 22, 2013
This is big news for fans of the legendary sitcom Mary Tyler Moore. Betty White (ex-Ann,The Bold and the Beautiful) will reunite with her former MTM co-stars Mary Tyler Moore, Valerie Harper and Cloris Leachman on White's TV Land comedy Hot in Cleveland, according to Deadline. White's other Mary Tyler Moore co-star Georgia Engel already recurs on Hot in Cleveland.
In the Hot In Cleveland episode, which tapes April 5, I hear Elka (White) and Mamie Sue (Engel) decide to get their bowling team, named GLOB: The Gorgeous Ladies of Bowling, back together. They reunite with former team members Diane (Moore), Peg (Leachman) and Angie (Harper). The quintet had a falling-out after their championship season went to their heads. READ MORE
By Luke Kerr on August 12, 2008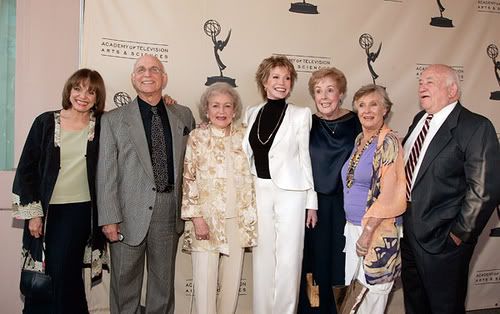 Betty White recently celebreated 60 years in show business with her former Mary Tyler Moore Show co-stars, among others. White, who portrays the mother of The Bold and the Beautiful's Stephanie Forrester, Ann Douglas is an entertainment icon and has legions of fans.
I thought it might be fun for fans to share their favorite moments from her long career. What are your favorite Betty White roles, characters, moments or appearances?