The Mary Tyler Moore Show
By Luke Kerr on March 22, 2013
This is big news for fans of the legendary sitcom Mary Tyler Moore. Betty White (ex-Ann,The Bold and the Beautiful) will reunite with her former MTM co-stars Mary Tyler Moore, Valerie Harper and Cloris Leachman on White's TV Land comedy Hot in Cleveland, according to Deadline. White's other Mary Tyler Moore co-star Georgia Engel already recurs on Hot in Cleveland.
In the Hot In Cleveland episode, which tapes April 5, I hear Elka (White) and Mamie Sue (Engel) decide to get their bowling team, named GLOB: The Gorgeous Ladies of Bowling, back together. They reunite with former team members Diane (Moore), Peg (Leachman) and Angie (Harper). The quintet had a falling-out after their championship season went to their heads. READ MORE
By Luke Kerr on August 12, 2008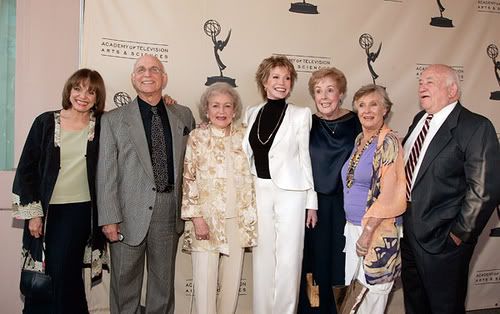 Betty White recently celebreated 60 years in show business with her former Mary Tyler Moore Show co-stars, among others. White, who portrays the mother of The Bold and the Beautiful's Stephanie Forrester, Ann Douglas is an entertainment icon and has legions of fans.
I thought it might be fun for fans to share their favorite moments from her long career. What are your favorite Betty White roles, characters, moments or appearances?