The Biggest Loser
By Luke Kerr on March 05, 2010
Days of our Lives' Alison Sweeney shares tips for living healthy in this month's Shape magazine. Fit Sugar previews five of The Biggest Loser host's tips, including this one:
Splurge on the real thing. "I'd rather have one small bite of something I'm craving than a fat- and sugar-free version of it. My best friend gave me an ice cream maker, so I can whip up a thick, creamy dessert and be satisfied with just a spoonful or two."
By Luke Kerr on March 03, 2010
Tonight is the big night. Alison Sweeney drops by NBC's primetime drama Mercy to guest star in the "I Did Kill You, Didn't I?" episode. Watch Sweeney's interview about the role after the jump.
By Jillian Bowe on January 16, 2010
It seems like one of daytime's hardest working women will be adding yet another gig to her plate. Entertainment Weekly's Michael Ausiello reports that Days of our Lives star and The Biggest Loser host Alison Sweeney will make a guest spot on Mercy in March. According to Ausiello,
Sweeney will play a bus crash victim who appears to have only minor injuries. However, the docs and nurses soon discover (spoiler alert!) that she has shrapnel in her brain causing her to act out of character.
By Johnathon on May 04, 2009
It was Infront presentation day at NBC, a day that has shows waiting on the hook for pick up, renewal or cancellation.
NBC picked up six new scripted series, which include two medical dramas, Trauma and Mercy; a family dramady, Parenthood; two comedies, 100 Questions and Community; and a new Post-Apocalyptic drama, Day One. READ MORE
By Jillian Bowe on April 02, 2009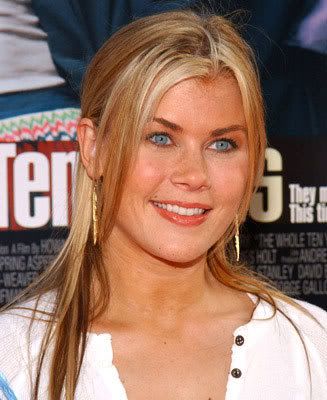 Stars are starting to speak out about the news of
Guiding Light's
cancellation. While in flight to New York promoting
The Biggest Loser
,
Days of Our Lives
star
Alison Sweeney
(Sami) and I had a tweet (chat for ya'll Twitter impaired folks) via Twitter in regards to GL getting the axe. Sweeney said,
It's very upsetting to see such a iconic part of

TV

history say good bye. GL will be greatly missed.

Here here, Ali...
By Luke Kerr on December 05, 2008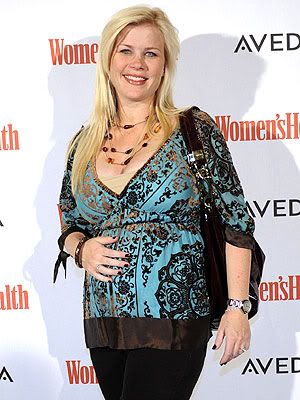 After concerning fans and setting the gossip blogs on fire yesterday by
faking going into labor
on
Ellen
,
Alison Sweeney
is blogging about her appearance on the popular talk show.
I can't believe how many people have called, texted and emailed me, my husband and everyone I know to ask about Ellen today. As if she would really leap over a woman in labor to go open presents! Lol. I was a guest on the show yesterday, and they were so excited to be doing the first day of their big 12 days of giveaways.

For me it's always a blast to be on Ellen's show. She's hilarious, and fun to talk to and of course, it was pretty cool, running into Ludacris in the hallway. He said hi to Ben, and 'pounded' fists with him. While he was performing Ben was totally rocking out to the music too. So cute.

So, anyway, before the show they asked me if I'd be willing to set up the audience gift portion with a gag. I'm always game, and Ellen thought it would be funny to have me mock going into labor at the beginning of that segment. And be sure to sprawl out as much as possible so she really had to leap over me. Lol. So, I did the best I could. As soon as she passed me, I jumped up and laughed and clapped with the audience so everyone would see that I was okay. But I guess that didn't make it on camera. I didn't really think about it beyond that. Next thing I know, my best friend from New York is instant messaging me this morning about it. She wrote that if we hadn't already been emailing that morning she would have thought something had really happened. Then I started getting more and more calls. My mom had me pulled out of a meeting! I said "MOM!!! Come on! If I'd gone into labor, I would DEFINITELY have called you!!!"

The best are the gossip site "reports". Uh huh, clearly lots of thorough reporting going on there. One site even claimed I had gone to the hospital. Now they all have retractions up.

So anyway, it's not true. I'm fine. The baby is fine. I have a check up tomorrow, we're still looking at mid-January when she's expected. Thank you all for your concern. I'm sorry if anyone was alarmed! If I had any idea that it wouldn't be clear that it was a joke, I would have said something, but I just didn't realize how the story would get so out of control!!

I'm prepping for the live Biggest Loser 6 Finale, Tuesday December 16th. Hope you all tune in. There are so many incredible transformations, and wonderful people I look forward to seeing again.
XOXO
Now that you've seen Alison's explanation do you think the stunt was all in fun or in bad taste?