Smallville
By Jillian Bowe on September 21, 2010

TV Guide
is reporting that
All My Children's
Lindsay Hartley
has been cast on
Smallville
. Executive producer
Kelly Souders
tells the magazine:
Her character is a woman who takes matters into her own hands.
READ MORE
By Johnathon on February 24, 2009
The CW
announced six early pickups today, renewing
Gossip Girl, One Tree Hill, 90210, America's Next Top Model, Smallville and Supernatural.
This is really good news and is hopefully a sign of good things to come. We will find out the fate of all of our other favorite
CW
shows in May at the network's upfronts.
By J Bernard Jones on November 23, 2008
Product placement on TV shows are usually tricky, awkward and terribly cheesy affairs. For example, there was the insanely stupid episode of
Smallville
where "krpytonite charged" Stride gum (I am serious, folks) turned Pete Ross into a po' Black version of Plastic Man. I will never in my lifetime buy a pack or chew a stick of Stride because of that hot, sticky mess. What about the current incarnation of
Knight Rider
, which is nothing more than a 60 minute commercial for Ford Motor Company? No wonder the automaker is on the verge of collapse. Who can forget the Pringles induced nightmares on
Guiding Light
or the pallet of Bounty paper towels upon which Dusty & Lucy slept on while on the run on
As the World Turns
. Oy vey!
Every once in a while, shows get it right like the sublimely funny, brilliant product placements on 30 Rock such as these for Bee Movie, Verizon and Snapple. Add to the list of how these placements can be done right the aforementioned ATWT's placement/PSA for veggie juicer V8. Here is how it went down: READ MORE
By Luke Kerr on November 10, 2008
Forget
90210
!
Entertainment Weekly
is reporting that
Tori Spelling
will be making a second appearance on The CW's
Smallville
. Considering the brilliance of this picture you can also take a crack at a Caption This.
By Luke Kerr on October 28, 2008
The Live Feed is reporting that the DVR Live+7 used by primetime TV has helped a slew of TV shows achieve marked gains in ratings. Life, Lipstick Jungle, Heroes, 90210, Grey's Anatomy, Dirty Sexy Money, Private Practice, Smallville, Prison Break, Boston Legal, Terminator and Chuck all had viewership gains of 17 - 36%.
No wonder several of these smaller shows have been picked up by their networks. What I don't understand is why the ratings for daytime soaps, which require an even larger commitment to watch, aren't calculated on Live+7? Imagine the percentage of viewership increases the soaps could have if their ratings were calculated with Live+7?
Visit The Live Feed to find out how much your favorite show's ratings increased with Live+7.


By Luke Kerr on October 23, 2008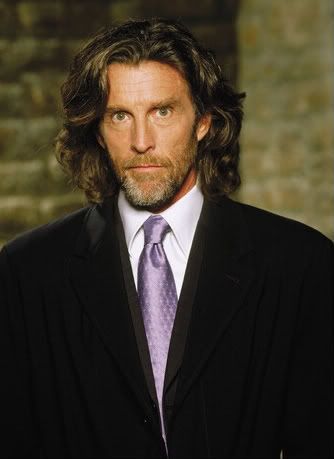 Brothers & Sisters'
Saul (
Ron Rifkin
) has found his man, at least for three episodes, in the form of
Smallville's
John Glover
, according to
Michael Ausiello
.
I've only watched Glover in Smallville as Lionel Luthor so it will be interesting to see him in another role. Maybe Saul is compensating for his lack of hair with a man to could literally be a hair model (and not the bad kind)?