Santa Barbara
By Jamey Giddens on March 22, 2009
Once upon a time, before the days when sexist, ageist trolls ruled the Daytime Kingdom, and before the pervasive, asinine notion that younger viewers only want to watch young, bland models learn how to act, or not, on the front burners of daytime soap operas, there were interesting, romantic, compelling, stories that exemplified the very fact that true love— and sometimes true hate—comes in all shapes, sizes, colors and yes, age brackets. These clips from
Another World
,
Santa Barbara,
Days of Our Lives
and
General Hospital
show soap opera seniors doing what they once did best— fight, love and pass on the torch to the generations to come.
READ MORE
By J Bernard Jones on February 17, 2009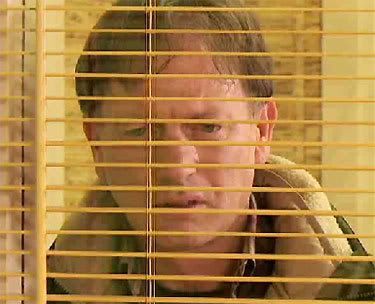 I've been a fan of Guiding Light's Justin Deas (Buzz) for a long, long time.
I don't go back to his days as Bucky on Ryan's Hope, but I vividly remember him as Tom Hughes on As The World Turns (opposite his real life wife Margaret Colin as Margo) where he was brilliant. I watched him rise to legendary soap greatness as the morally bankrupt Keith Timmons on Santa Barbara. I've witnessed him transform Buzz an institution. I think I've seen every moment that has won him those 530 Emmy's he's picked up over the last couple of decades. READ MORE
By Luke Kerr on January 28, 2009
By Jamey Giddens on December 20, 2008
Blogger's Note: I wrote this as a goof in a comments thread, but I figured what the heck, since it got a fairly positve response I decided to make it a separate post. This is of course fan fic and strictly for goofs and giggles.

Eden and Cruz (Marcy Walker and A Martinez) are back together and she has all her marbles (until Sweeps, when one of her alters pays a visit to drive ratings). For awhile Cruz lived in Llanview and had a weird accent. I don't know what was up with that? When Eden first came back to Santa Barbara from Pine Valley, Kelly (now played by Jensen Buchanan) and Cruz had fallen back in love. READ MORE
By Jamey Giddens on December 20, 2008
News of
Beverly Garland
's (ex-Estelle,
Port Charles
) passing brought a name back to my mind that I haven't thought about in years–
Carrington Garland
. According to
We Love Soaps'
Roger Newcomb
, the junior Garland— who was my absolute favorite incarnation of Kelly Capwell (sorry Eileen, if it's any consolation you are the one and only Ashley Abbott!)— was the senior Garland's daughter.
READ MORE
By J Bernard Jones on October 20, 2008
Here we are at Day 2 (or according to ABC's marketing, is it Day 3?) of The Great Pine Valley Tornado of 2008. Before giving my general impressions, this entry calls for a bit of a disclaimer. My initial "The Wind Done Gone" post about All My Children's epic event was a broad critique of the episodes aired to that date based on ABC's marketing machine regarding the special effects work vis a vis the show. This may have left an impression that I was conflating the CGI work with the dramatic aspects of the story. In an effort to streamline things a bit, I will henceforth treat several aspects of The Great Pine Valley Tornado separately.
THE DRAMA: At the end of Friday's episode, Erica and Adam were trapped in the secret passageways of the Chandler Mansion, having discovered that a mysterious stranger had been living there; a jealous Aiden found Ryan and Kendall at the gazebo moments before it was destroyed; the Comeback was demolished, leaving a hysterical Babe bleeding and trapped on top of a suffocating Little A and JR with a terrible choice to make; and Zach made a narrow escape from his overturned car and returned to the decimated beach house to find the boys alive, Kendall missing, and Bianca under a flipped over couch.
Today, the drama continued with a number of rock solid twists, shocks and surprises (mostly involving Bianca) that would have been more twisty, shocking and surprising if one hadn't read them in Soap Opera Weekly, Soap Opera Digest or watched any of ABC's promos over the weekend. And we're off! READ MORE