Santa Barbara
By Jamey Giddens on March 30, 2012
Say it ain't so! One of our fav-o-rite web sudsers,
Miss Behave
, is set to finish its run this summer. Never fear though, part of the sexy teen sudser's universe will live on in creator
Susan Bernhardt's
new series
Reign
.
READ MORE
By Luke Kerr on March 06, 2012
Santa Barbara alum and former Without a Trace star Eric Close is the latest actor with daytime roots to join the cast of the ABC pilot Nashville. According to Deadline, he will play the husband of fading country superstar Rayna James. Former Guiding Light and Heroes star Hayden Panettiere and ex-General Hospital star Jonathan Jackson have already joined the pilot's cast.
RELATED: Guiding Light, One Life to Live Alum Hayden Panettiere to Get Her Honky Tonky on in 'Nashville' Pilot | General Hospital's Jonathan Jackson Cast as a "Sexy, Bad Boy Musician" in ABC's Country Music Soap Pilot!
By Jillian Bowe on August 10, 2010
According to Soap Opera Digest, former Santa Barbara actress Gina Gallego will appear on Days of Our Lives as Warden Smith. Gallego will take over the role Stacy Haiduk was slated to play. This move will reunite Gallego with former onscreen rival Robin Mattson, who played Gina to Gallego's Santana on SB. No word on her first airdate.
By Jenna Dorsi on July 31, 2010
EW.com is reporting that Wanda De Jesus, who played Santana Andrade on the much-missed Santa Barbara, has just joined the new Dick Wolf drama, Law & Order: Los Angeles. She will play the captain of the Robbery Homicide Division, Arleen Gonzales. De Jesus joins the previously cast Regina Hall, Skeet Ulrich, Corey Stoll, Alfred Molina, and Terrence Howard.
By Luke Kerr on April 04, 2010
MSN interviewed The Young and the Restless executive producer Paul Rauch, who is celebrating 50 years in daytime, and asked him about his storied career and his current job at Y&R.
Do you think that sort of out-of-the-box thinking is what it will take to "save" daytime?


It's now a business of hanging on, more than anything else. Though I have to say, this show is not hanging on: We're building on our ratings! We're considerably up over last year in this last week [March 15-19] in the 18-49 category.

Why do you think that is?

Because Maria is making great story and the show looks great on the air. That's basic, right? It is kind of about magic, but it's not magic, because the people know what they're doing.
By J Bernard Jones on September 18, 2009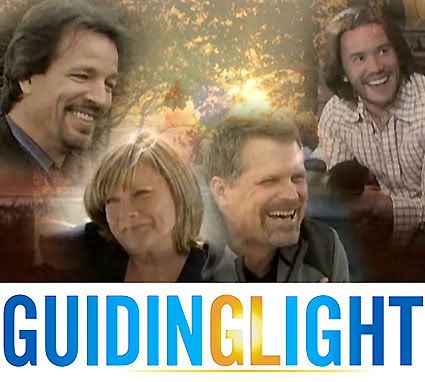 The final part of a highly personal, non-objective series highlighting various aspects of the last episodes of Guiding Light, which which ended its 72 year run on September 18th.
What was it that got me first?
Was it the opening flurry of Guiding Light's logos throughout it's 72 year history or was it the show's last "Only Love" opening featuring the most of the current cast as it had never done before? Whatever it was that first triggered a torrent of emotions that ran through me, this is what happened on Guiding Light today:
In the wake of Alan Spaulding's death, Fletcher whisked Alexandra away to see the world. Doris pulled strings and got Ashlee into a writer's program at Berkeley; Daisy and Ashley went to California together for school, while James stayed behind and bonded with his father. Mindy informed Billy that she was moving back to Springfield. Remy and a newly pregnant Christina got married in the quickest wedding in soap opera history. Olivia & Natalia settled on a name for the baby — Francesca, named after Frank. Maureen played matchmaker for Matt and one of her pretty school teachers. After weeks of online dating, Frank & Blake finally hooked up for their date, with seemingly all of Springfield stalking him. Beth gave Phillip, who once had great dreams of being a writer, a journal in which to put his every thought.
Finally, there was everything involving Josh (Robert Newman) & Reva (Kim Zimmer).
It wasn't what happened "today" that was most important; it was what happened "one year later" in Springfield that truly mattered. As I sit a home, with the television now turned off and with more than a few tears in my cynical eyes, I cannot help but be amazed that I bore witness to what I believe was one of the greatest series finales of an American institution as has been produced during the long — and now endangered — life of a uniquely American genre. READ MORE