Past Life
By Luke Kerr on May 11, 2010
Now this sounds like something to check out. NBC has picked up the Jerry Bruckheimer drama Chase starring former All My Children star Kelli Giddish and Passions eye candy Jesse Metcalfe, according to Broadcasting & Cable. Chase is "a fast-paced drama amid a game of cat-and-mouse as a team of U.S. marshals hunts down America's most dangerous fugitives."
Since leaving their respective soaps each has spent time in primetime. Metcalfe had a memorable stint on Desperate Housewives as Gaby's (Eva Longoria) lawn boy lover, while Giddish starred in FOX's quickly cancelled Past Life.
By Luke Kerr on May 21, 2009
Kelli Giddish's
(ex Di,
All My Children
) new show
Past Life
is set to premiere on FOX in the midseason. From the trailer it reminds me of
Fringe
, FOX's hit new show from the 2008 season. I really liked Giddish on
All My Children
and was sorry to see her go. Hopefully
Past Life
is a success for her. What do you think of the
Past Life
trailer? Will you tune in?
By Jamey Giddens on May 15, 2009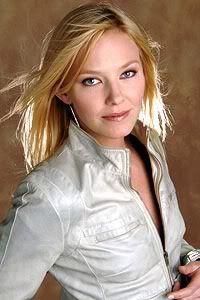 She may not have been Dixie Cooney, but she just might be a primetime star. FOX has
picked up
the supernatural crime drama
Past Life
, featuring
All My Children
alum
Kelly Giddish
. Good for Giddish, I always liked her as Di. Even though the storyline stunk to high heaven, the stellar actress almost made me believe she could be JR's long lost mama, even though she and
Jacob Young
are like the same age—I said almost.