One Tree Hill
By Luke Kerr on December 03, 2008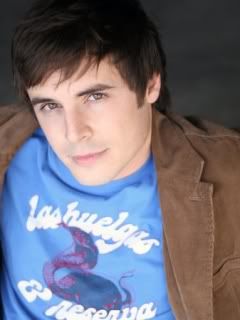 We Love Soaps
is reporting that
Brett Claywell
ha been cast as Llanview High's newest teacher. Claywell, who is most noted for his role as Tim Smith on
One Tree Hill
, also appears in
Babysitter Wanted
which premiered at the Edmonton International Film Festival.
By Luke Kerr on November 04, 2008
No matter what your party affiliation is I would encourage everyone to go vote.
As a kid growing up I was always told jokingly by my parents and grandparents that if you don't vote you don't have the right to complain about what happens in the next four years. Nothing could be more true today.
Oh, and since I probably can't convince you to go vote maybe the stars of One Tree Hill can.
By Regan Cellura on October 22, 2008
Here we go again with the Primetime Spoiler Round-up. Remember to comment away with questions and requests for your favorite Primetime show to get a little Spoiler love.
Grey's Anatomy: There were a few of you asking about the new doctor. When will he be back? Dr. Major McHottie SHOULD be making a brief appearance this week and then next week Major McHottie checks in to Seattle Grace. Melissa George is also checking in as the new bisexual intern. Look for her mid-November. Sad Stuff... they are casting a young boy around 10-years-old who in an upcoming episode is knocking on death's door. This character COULD be around for a few episodes while the story plays out. Counseling session? Not Meredith, although I do love her scenes with the therapist. But this time it's Callie getting the counseling and her therapist is Dr. Sloane so we all know what that means... Callie is getting a little McSteamy lesson on how to treat a woman in bed. Hopefully they've given that little treat some much deserved screentime. McSteamy needs a good storyline STAT! Oh and I must say while I was not a fan of the flood, last week's episode was great! READ MORE
By Regan Cellura on October 15, 2008
Since it was a hit last week... here we go again. Remember, comment away and if there's a show we're not covering that you'd like to get the SCOOP on, let me know!
Last week's big winner was 90210... this week, not so much to SCOOP on. Brenda Walsh will make her return to the zip code for two more episodes. Look for Ms. Walsh in the 11th and 12th episodes.
How about a little One Tree Hill? One of my personal favorites is getting a visit from another fave of mine. Dawson! James Van der Beek of Dawson's Creek fame is going back to North Carolina for a guest spot on OTH. DC used to shoot in the same little NC town that OTH now calls home. Remember I mentioned a producer who wants to turn Lucas' book into a movie? Van der Beek will play the director. I also mentioned last week that One Tree Hill will be around for a seventh season and it looks like the cast has signed on as well. All but one that is. According to the SCOOP, Chad Michael Murray (Lucas) has not signed on for a seventh run. Will he? It looks like he will as Michael Ausiello over at EW says they've given the actor some time behind the camera and behind the scenes. READ MORE
By Regan Cellura on October 10, 2008
Love Spoilers? Love Primetime TV? If you've noticed we drop some Primetime related news for our Daytime Confidential readers, especially those soapy Primetime shows like One Tree Hill and 90210. So in my Spoileriffic ways, I decided to do a little Primetime Spoiler Round-Up.
90210: Annie mentioned her old boyfriend back in Kansas. The LATEST? The boyfriend will pop up in the zip code and I'm hearing he's a HOT one. His first scene should have him coming out of the pool so you all know what that means? Hot and shirtless. Annie will have another visitor, sort of. The brother her dad fathered with Naomi's mom is said to be coming. RUMORS say the parents who adopted him died in a car crash. Are Dixon and Annie ready for a new sibling? Adrianna survives her overdose and like any good child star, she takes a turn in rehab. Will it work? Maybe the love of a good man will help her out as Adrianna gets a love interest soon. It looks like the Prince of Porn might be getting the key to Adrianna's heart. Good! That boy needs his own storyline. Love Silver? I do I do! She's a wild one with no adult supervision. Remember Kelly left her all alone in her quest to recconnect with Dylan. Hmmm... no adult, wild child? I smell a party! Hot for Teacher? RUMORS start hitting the West Beverly campus that Mr. Matthews is having a relationship with the new kid in school. Behind the Scenes: 90210 is getting a little Gilmore Girls action. A former writer from Gilmore Girls is now a writer for 9-0 and a producer from the CW hit is also taking a chair in the writer's room. READ MORE
By Luke Kerr on September 29, 2008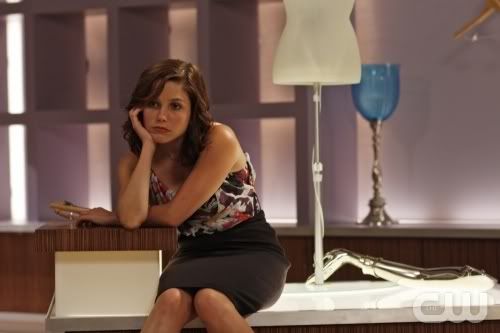 Check out this great pic or the one after the jump from tonight's episode of One Tree Hill, "You've Dug Your Own Grave, Now Lie in It." I couldn't help but think that one or both could make excellent Caption This. READ MORE