Murder She Wrote
By Pop Confidential on November 13, 2013
On today's Pop Confidential Jamey Giddens, Luke Kerr, Jillian Bowe, Melodie Aikels and Jenna Dorsi dish the latest twists and turns of the fall television season, including:
Is The Good Wife the best show on broadcast television? What is up with an evil Peter Pan on Once Upon a Time? Why is Jafar on Once Upon a Time in Wonderland? Is Olivia Pope's mother really dead on Scandal? Could Congresswoman Josephine Marcus (Lisa Kudrow) be Sarah Palin, but with a brain on the ABC sudser?
The Vampire Diaries has too many doppelgangers. Tyler crosses over to The Originals to go after Klaus. Downton Abbey gets another season. NBC wants to reboot Murder She Wrote. Is Dracula good, or do you find it boring?
What's up with Justin Bieber, tagging and whoring his way through Brazil?
All this and much more on today's Pop Confidential episode!
By J Bernard Jones on May 20, 2009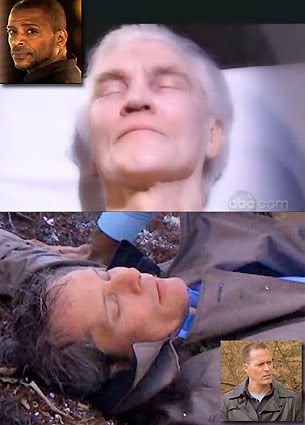 Hot on the heels of my admittedly scathing review of Friday's ultra-campy, Scooby Doo meets The Munsters inspired episode of All My Children which culminated in the murder of Stuart (Not Adam) Chandler, I finally had the opportunity to catch up with Guiding Light, which had its own less heralded "Who Killed Edmund Winslow?" whodunit kick off.
Since I received a little bit of blow back for my harsh (and well-deserved) criticism of AMC, I'd like to take the opportunity to explain why Springfield's simultaneous murder mystery is infinitely superior to Pine Valley's. READ MORE