Melrose Place
By Jamey Giddens on July 12, 2008

Former soap diva Lisa Rinna (Days of Our Lives, Melrose Place, Soap Talk) recently did a video blog for Access Hollywood telling her fans how she keeps her bodacious body in Dancing With The Stars-shape. Wouldn't it be great for the "real" Billie Reed to make a visit home to Salem on Days of Our Lives?
By Jamey Giddens on June 29, 2008
I just finished watching the first two episodes of Canadian soap import MVP on SOAPnet and I am crazy impressed! After seeing previews of the show, I was intrigued yet a part of me was afraid MVP-jam packed with hopelessly-beautiful babe-izons and buffed studs in white boxer briefs who likely spent more time at the gym than at Summer Shakespeare workshops-might have proven to be more Models, Inc. than Melrose Place, but I am glad to say the land that gave us Degrassi and Maple Syrup doesn't disappoint. MVP is icy hot!
From Damon, the tormented, David Beckham-esque male slut, to she-devil Daddy's girl Molly, to fresh-from-the-farm rookie Trevor (he of the aforementioned boxer briefs), MVP has plenty of interesting characters and juicy plotlines.
At the center of the saga is a classic Cinderella storyline featuring reformed bad guy-turned-team captain Gabe and virginal child care worker Connie. The pair gets off to a promising start before Gabe gets roped into a sex scandal involving Trevor. I won't ruin the surprise since SOAPnet plans to air all three eppys of it's new gem next Friday for the Fourth of July, but I will say I hope Gabe has his face insured! Check out MVP: He Shoots, She Scores Thurs. at 11 pm. ET.
By Jamey Giddens on May 21, 2008
We told you weeks ago it was a very likely possibility, now it's official! According to Soap Opera Network, All My Children's head writing team of James Harmon Brown and Barbara Esensten have been replaced by former General Hospital scrbe Charles Pratt, Jr. Pratt's last daytime stint was as co-head writer of GH with Robert Guza. Since that time he has worked on such primetime shows as Desperate Housewives and Ugly Betty. An inside source revealed to us ABC daytime head Brian Frons was unhappy with longterm projections recently submitted by Esensten and Brown for the 38-year-old sudser and had given Pratt, who along with Guza also wrote for Melrose Place, the opportunity to submit his own storylines. Apparently Pratt's vision for the show proved more to the exec's liking.
By Jillian Bowe on May 19, 2008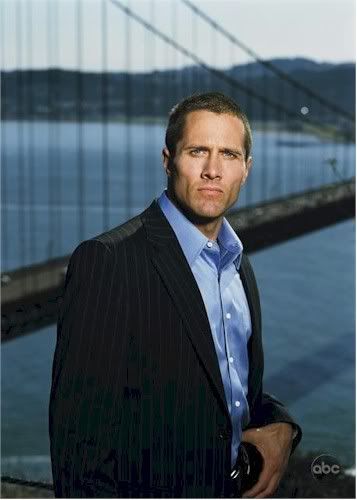 He sure knows how to bounce back on his feet… Former Melrose Place and the now defunct Women's Murder Club star Rob Estes has been casted in the updated version of the 90's cult classic teen soap 90210.
Estes will play Harry Mills, West Beverly High school alum who moved to Kansas after he graduated high school only to reappear back to West Beverly as the school's principal when his mother needs help.
Just like the original zip code, Mills' kiddies will also be Midwestern teens that are trying to learn the ins and outs of hobnobbing inside of the Beverly Hills elite.