Las Vegas
By Jillian Bowe on January 13, 2012
How would Brenda Barrett get out of this one? TMZ is reporting Vanessa Marcil Giovinazzo is being hauled to court by ex-boyfriend/baby daddy Brian Austin Green! According to the site, the Beverly Hills, 90210 star has slapped a lawsuit on Marcil Giovinazzo, claiming she defaulted on a loan he gave her for over $200,000. READ MORE
By Luke Kerr on December 09, 2009
Check out these scorching images of General Hospital and Las Vegas alum Vanessa Marcil from the set of her new Crackle.com web serial The Bannen Way. Marcil plays Madison, a sexy, street smart thief, who proves a ready match for series protagonist Neal Bannen (Mark Gantt). Here's what the Crackle.com PR peeps have to say about Marcil's character:
"Madison is a beautiful street thief and brilliant con-artist. No one can be sure what she's up to, where she's from, or if her name is even Madison. She proves to be Bannen's match when he tries to recruit her for a job but his manipulative tactics don't work on her. Their relationship is a constant chess match that usually ends in a stalemate. She can be his greatest asset but often times turns out to be his foil."
This show looks FIYA! Take a look at the pics below. READ MORE
By Jamey Giddens on December 08, 2009
Uh, wow! Check out this ridiculously-hot trailer for
The Bannen Way
, an upcoming web series from
Crackle. com,
costarring
General Hospital
alum
Vanessa Marcil
! The series stars
Mark Gantt
(who also serves as co-writer and executive producer) as Neal Bannen, a "charming con-man with a police chief for a father, a mob boss for an uncle and a weakness for fine women, who wants to turn his life around and leave the criminal lifestyle for the straight and narrow. But after gambling away the funds he had earmarked to pay off his final debts, Bannen must accept one more job working for his uncle, Mr. B, to retrieve a mysterious black box."
READ MORE
By Luke Kerr on January 14, 2009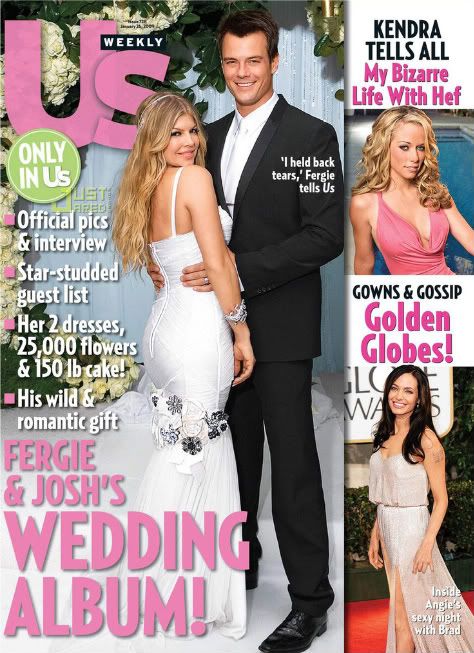 Check out the
Us Weekly
cover of
Josh Duhamel
and
Fergie's
wedding. For more wedding photos and coverage pick up
Us Weekly
on stands.
By Jillian Bowe on January 10, 2009
Josh Duhamel
and
Black Eyed Peas
singer
Fergie
are officially husband and wife. The couple said I do yesterday in a ceremony held in Malibu, with family and friends in attendance at the Church Estates Vineyards. The
All My Children
alum and the singer have been together since 2004 when they met on Duhamel's now defunct show
Las Vegas
. This is the first marriage for the two.
By Jamey Giddens on December 20, 2008
General Hospital
and
Lipstick Jungle
star
Vanessa Marcil
spoke out to
TV Guide.com
's
Matt Mitovich
about the sudden passing of
Todd Homme
, one of the contestants on her Lifetime reality competition
Blush: The Search for the Next Great Make-up Artist.
Homme, who was 23,
died Dec. 13
in his home of yet-to-be-determined causes, Mitovich reports.
Marcil shared she was "totally floored" by Homme's death.
The interesting thing is that I, for some reason, had this huge connection with Todd — which of course now is really sad. But something about him was just really kind and beautiful and open."
Our thoughts are with Marcil, as well as Homme's family and friends.