Imaginary Bitches
By Jamey Giddens on August 16, 2008
Eden finds herself sliding up and down the Kinsey Scale on the second part of the first season finale of
Imaginary Bitches
.
Last week, Eden created a new imaginary friend, who was more likely to listen to Indigo Girls, than sit around talking with her gal pals about the marvels of penises and body hair (as Eden does with Besties Erin, Connie and Lizzie in a scene that would make Michael Patrick King proud).All of this this leads to Eden embarking on her first potential adventure in Muff Land.
Eden meets a sexy blond, with lips created for sex (or same sex, sex) played by Chandra West (soon-to-be, 90210) and just when you think they're about to rush home from the restaurant and live out the fantasies of every Womens' Studies professor and frat boy in America, something happens. Make that someone-Jessalyn! (Jessalyn Gilseg). That's right the bitch is back and she ain't imaginary either. READ MORE
By Jamey Giddens on August 14, 2008
I've heard of people doing a lot of weird things to deal with the parts of their sexuality they aren't quite ready to face, but I must say creating three unique imaginary friends er bitches to ease the transition from hetero to homo is a new one.
Not that we're saying Imaginary Bitches' Eden (Eden Riegel) is definitely a Xena: The Warrior Princess fanclub member (we'll all have to wait until Friday night's explosive-they always have to be explosive-season finale of Imaginary Bitches on You Tube to find out!) But from the looks of these pics, Eden just might be in for some Same Sexual Healing.
By Daytime Confidential on August 11, 2008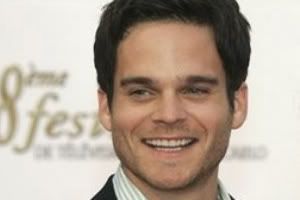 On today's special episode of the Daytime Confidential podcast The Young and the Restless' Greg Rikkart visits with Luke and Jamey about his hilarious guest appearance on Imaginary Bitches and whether or not it would be possible for his character to return.
Find out his thoughts on his The Young and the Restless' character Kevin Fisher, and how the character has evolved since first arriving in Genoa City. Hear what it is like for him to work with Christian LeBlanc, Tracey Bregman, Emily O'Brien, Ted Shackelford and Judith Chapman as part of the crazy Baldwin-Fisher-Bardwell family, and where he would like to see Kevin in five years.
All this and more on today's special episode of Daytime Confidential.
Visit these great related websites: Greg Rikaart.net, Emily O'Brien Official Website and Christian LeBlanc Official Website.
Have a question or comment for the Daytime Confidential podcast? Leave us a voicemail by calling (917) 677-9757.

Listen to Daytime Confidential by clicking on the Daytime Confidential Player at the bottom of this post or Download us for FREE via iTunes. Vote for us on Podcast Alley. Add us as a Friend on MySpace. Drop by our sister site TV Fan Online and visit with other soap fans in the TV Fan Online Forums.

By Jamey Giddens on August 09, 2008
There's a new (imaginary) kid on Eden's block on the latest installment of
Imaginary Bitches
. No, I don't mean Danny Wood. He wasn't imaginary, he was
invisible
, there's a difference.
Much like Heather and Catherine showed up when Eden's real life Besties (Elizabeth "Lizzie" Hendrickson, Connie Fletcher Staton and Brooke Nevin) weren't there for Eden when she needed them, Jennifer appears just as Eden is growing weary of Catherine's bitchy barbs and Heather's not-so-subtle psychic attempts to see Eden land a moral's charge.
Jennifer only seems to want the best for Eden, and maybe to act out the kissing scene between Shug and Miss Celie in The Color Purple. The question is, why did straight Eden invent an imaginary lesbian? The other question is, why aren't pay cablers camped out outside Andrew Miller and Eden Riegel's SoCal home like geeks in anticipation of the latest superhero flick to turn this id-tastic web show into a TV series already? READ MORE
By Jamey Giddens on August 08, 2008

There's a new pretend lady canine in town on tonight's episode of Imaginary Bitches and she has her make-believe sights set on Eden in a way that is much different from Catherine and Heather's complicated relationship with our plucky-yet-slightly in need of a good SSRI prescription heroine. For more news on IB, check out this week's The Sud's Report at TV Guide Canada.

By Jamey Giddens on August 02, 2008
Ever met that perfect someone? From Date 1.0 on things seem to be going swell. They laugh at all your jokes, you laugh at theirs, they get goose pimples at the sound of the Season 11
Knots Landing
theme music-okay well maybe that last part is specific to just me- and the sex is so good you NAMED it (re: last two episodes of
The Golden Girls
)! Then all of the sudden your potential Ikea shopping partner, who had seemed so destined to be "The One" drops off the face of the Earth faster than Denise Richards' career, without so much as a forwarding address to his or her new planet.
READ MORE