General Hospital: Night Shift
By Regan Cellura on October 31, 2008

Fans of the
General Hospital
spin-off,
Night Shift
, saw Touissant (
Billy Dee Williams
) holding a picture of a little boy in the Season Two finale who was supposed to be Touissant's son. The picture used was of a 6 year old boy who had been kidnapped and murdered in 2007. SOAPnet has issued an apology for this mistake.
"We offer our deepest condolences to the Barrios family for their loss, and our sincerest apologies for any pain caused by our mistake," said a statement from the networks. SOAPnet will be running PSAs to raise awareness about missing and exploited children and will permanently edit out the photo from the episode.
For More: Soap Opera Digest I We Love Soaps


By Regan Cellura on October 16, 2008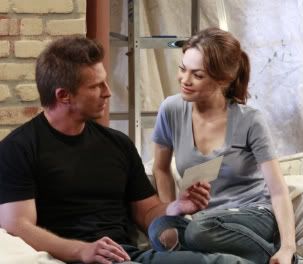 Here's the Scoop! 10.16.08
There is next to nothing out there today which is typical for a Thursday. We can do a Q&A if you guys are up to it, I have some extra time today. Leave your questions in the comments and I'll answer them to the best of my SPOILER abilities. Here's what I got...
Liason Day! Elizabeth SHOULD be calling Jason over to the Studio today. From what I understand, the scenes go into Friday as well, so enjoy my fellow Liason fans.

Jax and Nikolas at war? They're definitely engaged in a battle. Who comes out the victor?

Sonny finds out about Dante! Well... he finds out that Olivia has a son.
MOC... Anthony wants Claudia to marry Sonny. Keep your friends close make your enemy your son-in-law? Claudia isn't too happy when she first finds out but she starts thinking, marry a powerful man, gain some power yourself. IF those RUMORS are true, this is when Claudia should be going to Jason with her plan. Marry me and we have most of the power. Let Sonny run the Z empire and go after Karpov.
Sonny and Jason... Old Sonny returning? Jason teaming up with someone from his past? Lots of RUMORS swirling around. READ MORE
By Regan Cellura on October 10, 2008
Take a look at the promo for
General Hospital: Night Shift
with the return of Tiffany, Sean and Luke! Check out the SPOILER PICS after the jump!
READ MORE
By Luke Kerr on October 08, 2008
I'm sure many Scrubs fans have fantasized of having Patrick Drake (
Jason Thompson
) in their beds, but for
General Hospital: Night Shift's
Claire (
Carrie Southworth
) it's a hilarious nightmare. Check it out.
By Luke Kerr on October 03, 2008
General Hospital's
Kimberly McCullough
attended the 2008 AIDS Walk LA reception. Check out the clip.
By Regan Cellura on September 30, 2008

How about some Night Shift Scoop?
Tonight, Anna Devane makes the jump from Daytime to Primetime as Finola Hughes takes a turn on Night Shift. Robin calls in Mom for the assist when her Dad, Robert, is rushed in for emergency surgery.

Grey's re-do? Remember the racist EMT? Looks like Night Shift is stealing a page from the ABC Primetime hit. A group of racists take over the ER and Chief of Staff Dr. Patrick Drake must step in.

The aftermath of Claire and Leo... can Kyle forgive his brother? What about his roomie?
The Finale... with all the returning greats does the script really matter? Of course it does as everyone is singing Sri Rao's praises. Robert will be in a coma and his friends come back to see him. Now, what isn't clear to this SPOILER Guru... will Tiffany, Sean and Luke be there in real life or in Robert's dreams? I am hearing that the Finale is quite the cliffhanger.
Tonight's Episode Description:
ANNA RUSHES TO ROBIN'S SIDE WHEN ROBERT TAKES A TURN FOR THE WORSE ON "GENERAL HOSPITAL: NIGHT SHIFT" AIRING TUESDAY, SEPTEMBER 30 AT 11 PM ET/PT READ MORE