Friday Night Lights
By Jamey Giddens on November 10, 2010
As if my DC/PC cohort
Regan Cellura
didn't have enough reasons to drool over
The Bachelor
star-turned-daytime talk show host
Dr. Travis Stork
, now the hunky E.R. physician has
admitted
his favorite series is Regan's beloved
Friday Night Lights
.
"'Friday Night Lights' is my favorite show for the last few years. That's the show that I can't miss," says Dr. Stork. "I've never seen a show that was of higher quality that people didn't watch." READ MORE
By Johnathon on May 04, 2009
It was Infront presentation day at NBC, a day that has shows waiting on the hook for pick up, renewal or cancellation.
NBC picked up six new scripted series, which include two medical dramas, Trauma and Mercy; a family dramady, Parenthood; two comedies, 100 Questions and Community; and a new Post-Apocalyptic drama, Day One. READ MORE
By Johnathon on April 10, 2009


The season finale of Friday Night Lights airs tonight on NBC at 9 p.m. Eastern/8 p.m. Central.
By Johnathon on March 30, 2009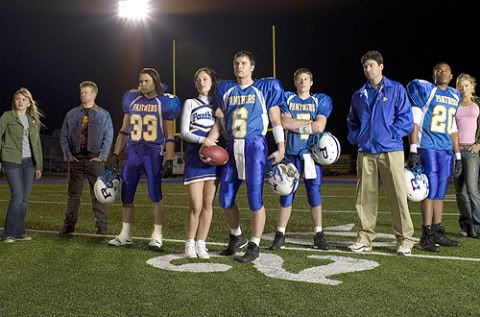 Good news for Dillion Panthers fans!
Variety.com
is reporting that the rumor that
Regan posted
is official,
Friday Night Lights
has been picked up for two more seasons, securing the show for 26 more episodes. Are you happy to have at least two more years with your favorite high school football team?
By Regan Cellura on March 10, 2009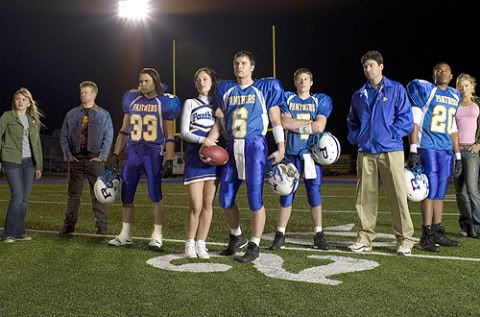 I know I am not the only DC'er in love with the critically acclaimed
Friday Night Lights
so I will spread the hopeful news that has me smiling from ear to ear:
FNL
may be getting a two season pick up! According to
Michael Ausiello
(EW.com), who has the
exclusive news
, it's looking good that
FNL
will get a fourth season as NBC and DirecTV try to work out a deal. Season three, airing now on NBC, had its first run on DirecTV.
Sources confirm to me exclusively that NBC is engaged in active talks with DirecTV to extend their unique shared-window experiment with Friday Night Lights. But there's a catch -- and it's a good one. According to an insider close to the negotiations, DTV and NBC might only seal the deal if they can get – holy Connie Britton Taylor! -- a two-season pickup.
By Regan Cellura on February 19, 2009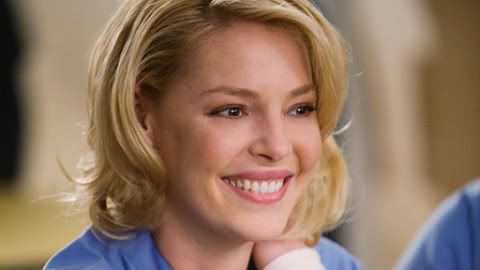 Primetime Spoiler Round-Up

So many shows are in repeats (remember that digital conversion was set to be happening right about now) that I didn't have much to scoop on. Let's see what's out there in the land of Primetime
.

Grey's Anatomy…
McSteamy and McDreamy in a McScuffle? Apparently these two beat the hell outta one another. Is it over Little Grey? What's up with Izzie and her clean bill of health? Well it's not so clean after all. I mentioned a few weeks back that it looks like those interns messed up the blood sample and Izzie is indeed sick. Will the third time be a charm for Callie?
The cross-over event concludes tonight but that doesn't mean there isn't some separate Private Practice scoop. Sheldon and Violet lead a couples counseling group together. Looks like the therapists become the patients. Who's the daddy? I'm not sure but Lord help me if it's Sheldon. His character bores me to tears.
I'm a huge fan of BONES but I'm not so sure I'm ready for a Brennan – Booth hook-up. RUMOR has it the pair will hit the sheets before the season ends. First though, something's up in the lab and the main characters are all suspects. READ MORE