Another World
By J Bernard Jones on February 20, 2009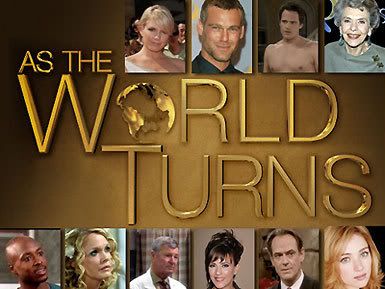 As the World Turns is something of a mystery to me these days. I haven't been blogging regularly about the show because, honestly, I am kind of flummoxed about what to actually write about from day to day.
I love ATWT. The show is blessed with some of daytime's strongest actors. In this age of massive cost cutting, ATWT found an arguably better production alternative than Procter & Gamble sister show Guiding Light. Speaking for myself, I find most days, most characters, most stories and most events to be sufficiently captivating to keep me coming back.
Nonetheless, something is badly amiss in Oakdale. The usual criticisms of ATWT are all-too-familiar: far too many recasts, underused vets, storylines that turn on a dime, compressed storytelling and ever shrinking production values to name a few. While those issues are real and important, they are only symptons of several larger problems that encapsulate the issues that I, other Daytime Confidential bloggers and commentators all over the internet have found themselves dismayed about over the last several months. After trying to put a finger on these issues while attempting to "figure out" what's going on at ATWT from a larger perspective, several things have jumped out as serious structural flaws, like a cracked foundation in a beloved old home. READ MORE
By Jamey Giddens on February 12, 2009
My absolute favorite soap opera actress of all time,
Another World
alum
Anne Heche
has landed the female lead in HBO's upcoming phallic-centric sitcom
Hung
. According to the
Hollywood Reporter
, the best Vicky Hudson and Marley Love
ever
will play the ex-wife of
Thomas Jane
's character, a guy who is pretty much a loser, blessed with a big...personality. I don't know about the rest of you, but I cannot wait. Heche was born for an HBO project! Here's hoping Heche finds success in Jane's trousers with this one.
By Luke Kerr on January 23, 2009
Why does some news have to be so bittersweet?
Nelson Branco
is reporting in the
Suds Report
that one of my all time favorite actresses from the
Another World
days,
Anna Stuart
, is returning to
All My Children
as the mother of Greenlee Smythe (
Rebecca Budig
). Apparently Mary is going to stay in Pine Valley until Greenlee bites the big one and joins Leo and Gillian in soap opera heaven. With a multitude of pointless characters that could be or need to be killed off, of course it is Greenlee and her many connections they choose to do in.
Let's add up all the great actors that have written off since I started watching (in no particular order and not including diceased actors): Billy Miller, Eva La Rue, Julia Barr, Cady McClain, Terri Ivens, John Callahan, Josh Duhamel, Justin Bruening, Alexa Havins, Elizabeth Hendrickson, Kelly Ripa, Mark Consuelos, Leven Rambin, Jesse McCartney, Jeff Branson, Esta TerBlanche, Kate Collins, Marj Dusay, William deVry, James Scott, Linda Dano, Finola Hughes, Michael Nader, Tanisha Lynn, Kelli Giddish, Robin Christopher, Robin Mattson, Olivia Birkelund and Marcy Walker.
I really shouldn't think about all those actors not being on the show anymore or I'll need to admit myself to Oakhaven.
By Luke Kerr on January 20, 2009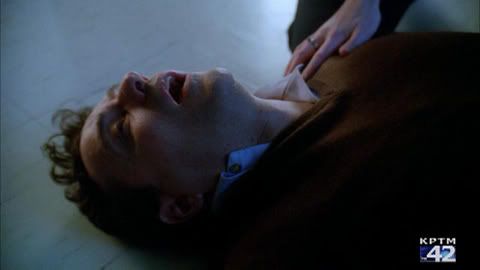 I don't know why it is that
Stephen Schnetzer's
voice has stuck with me all these years after
Another World
ended, but it has. That's why, while watching tonight's new episode of
Fringe
on FOX, I unexpectedly heard his voice and rushed to get screencaps. Schnetzer portrayed one of two scientists that die after drinking water that unknowingly contains something it that rapidly grows into a giant slug after mixing with a human's stomach fluids. I wasn't quick enough to get pictures of the bug coming out of the mouth of Schnetzer's character but I did of the other professor. Check out more pictures after the jump.
READ MORE
By Jamey Giddens on December 19, 2008
As sorry as I will be to see talented actor
Kamar de los Reyes
vacate the role of Antonio Vega on
One Life to Live,
I would hate to see the recently-revitalized Vega clan or Antonio's red hot, interracial romance with Thalia (
BethAnn Bonner
) sacrificed. So to prevent that from happening, I am offering up a perfectly caliente solution to the Antonio Conundrum–
Diego Serrano
.
Serrano shot to soapy fame as Tomas, the foster son of John and Sharlene Hudson on Another World in the mid-90's. He was well on his way to achieving teen supercouple status on AW before leading lady Robin Griggs' (ex-Maggie Cory) real life friendship with the man who was once attached to the peter Lorena Bobbit sliced and diced, allegedly got her tossed from the NBC soap. Ah, those P&G moralists and their pitch forks!

Serrano later turned up on The Young and the Restless, where he originated the role of Diego, Raul (David Lago)'s older brother who later gave Sharon Newman (Sharon Case) a little Latin lovin' in the back room at Crimson Lights. Although by the time Diego did the do with Nick's randy wifey the role was being played by a post-Charmed, pre-LuSam Greg Vaughan. READ MORE
By J Bernard Jones on December 16, 2008
One of the most underrated soaps of all-time is quite possibly NBC's Texas, one of Another World's many spinoffs. Although little watched during its inital run, the Dallas-style soap has gained something of a cult following online in recent years. The serial was a showcase for the legendary Beverlee McKinsey (the only soap actress ever to receive "starring" billing in the opening credits) who played the equally legendary super-bitch Iris Carrington on both series. McKinsey left Texas midway through its two year run and went onto great glory as Alexandra Spaulding on Guiding Light. The acting by McKinsey and Lisby Larson (Paige) is top notch, as is the scorching writing. This, friends, is classic soap opera.