Another World
By Daytime Confidential on January 19, 2011
On today's Daytime Confidential podcast Luke, Jamey and Jillian are joined by special guest Larry Flick from Sirius OutQ's The Morning Jolt.
A long time soap viewer, Flick brings his hilarious commentary and a Top 5 list that has Jillian and Luke wondering if they should re-work their lists. During the laugh-filled 600th episode, the DC gang and The Morning Jolt's Larry Flick cover the genre's best stunt casts, from The Secret Storm to Sunset Beach and General Hospital.
Check out The Morning Jolt With Larry Flick at Sirius OutQ, follow Larry Flick on Twitter and visit Feel the Spin for the latest in pop music.
By Jamey Giddens on December 01, 2010
One of the beautiful things about daytime soap operas is the five-day-a-week format often allows daytime dramas to explore topics in a much broader fashion than their primetime counterparts, thus providing storytellers and actors alike a powerful medium to address what's going on in the world. That has definitely been the case with daytime's portrayal of the AIDS epidemic.
From daytime's first AIDS victim Dawn (Barbara Tyson) on Another World in 1988, to the tragic romance of Cindy and Stuart (Ellen Wheeler and David Canary) on All My Children and the death of Robin's (Kimberly McCullough) first love Stone (Michael Sutton) on General Hospital, soaps have offered up some of the most powerful storylines concerning the devastation of this disease on any screen—big or small—but what they've also done is offer hope.
No, GH doesn't show Robin taking her meds, or struggling with complications as much as some fans and critics (this one included) would like, but through Robin's ability to live a full life, complete with love, humor and even the occasional battle with a psycho rival, we are reminded that while HIV is still something we must all remain vigilant about in order to one day find a cure, it is no longer a death sentence.
On this World AIDS DAY, Dec. 1, 2010, join us in saluting all the daytime soap executives, producers, writers, actors and publicists who have done their part to spread awareness about this often misunderstood disease via their art. Also, let's take a moment to remember the ones we've lost and to be thankful for how far treatment and research has brought us. After the jump, watch clips from a few of the AIDS storylines that have touched us over the years.
By Luke Kerr on September 17, 2010
Well, this is like a punch in the gut at a funeral. We Love Soaps is reporting classic Another World, As the World Turns and Guiding Light content will no longer be available on YouTube after October 21. They will also be removing their content from Hulu. Enjoy clips of your favorite Bay City, Oakdale and Springfield families, couples, villains and heroes while you can.
By J Bernard Jones on September 16, 2010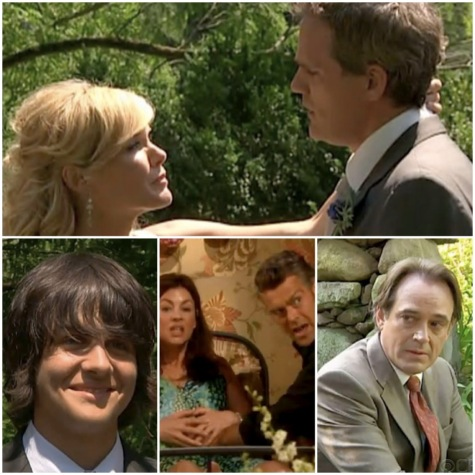 Several days ago, I posted an entry about the fallout from the death of Dr. Reid Oliver (Eric Sheffer Stevens) on As The World Turns. There were three central ideas in that piece. First, despite the very legitimate complaints that any given fan might have, ATWT is providing great human drama here at the end of its run. Second, Reid's tragic passing and donation of his heart to Chris (Daniel Cosgrove) encapsulated that goal mainly by thrusting the Hughes'— the show's core family since its very debut— front and center toward its conclusion. Third, given the soap opera wrapped production months ago, the idea of kicking a dead horse with unrelenting criticism isn't going to make it win the Kentucky Derby.
I have not budged one iota from any of those positions and I am about to incur the wrath of a whole lot more of you by making what I know will be a very controversial statement to many: I believe that in these final days, executive producer Christopher Goutman has made mostly the right decisions.
By Daytime Confidential on August 30, 2010
Former Another World star Kyra Sedgwick (pictured above with husband Kevin Bacon, who appeared on Guiding Light) took home the Emmy for Outstanding Actress in a Drama for her role on The Closer, Sunday night at the 62nd Annual Primetime Emmy Awards. Sedgwick and Bacon weren't the only former or current soap stars shining on the red carpet. Former All My Children favorite Eva LaRue, The Bold and the Beautiful guest star Betty White, The Young and the Restless' Kate Linder, former Y&R star and one-time Brenda Bot Eva Longoria Parker and AW grad Jane Krakowski were also on hand. Glee's former Mrs. Schuester and Imaginary Bitches guest star Jessalyn Gilsig also looked fantastic on the red carpet.
See more Emmy red carpet photos after the jump! READ MORE
By Daytime Confidential on April 28, 2010
Daytime Confidential goes primetime for this special episode, featuring Josh Appelbaum, one of the creators of Happy Town, the spooky, primetime drama debuting tonight on ABC. Check your local listings. Download this episode to hear Appelbaum chat with Luke and Jamey about how his love for Twin Peaks informed the development of the kooky, fictional town of Haplin, Minnesota (where Happy Town is set), while explaining what sets his supernatural sudser apart from the classic, cult hit. READ MORE