Another World
By Jamey Giddens on July 26, 2008
Well, sort of. TeleNext Media Inc., in conjunction with Proctor and Gamble Productions, Inc., is making classic episodes of
Another World, As The World Turns
and
Guiding Light
available for viewing on Hulu.com.
According to Michael Fairman's new website, MichaelFairmanSoaps.com, 18 episodes of AW, ATWT and GL will air initially, followed by three additional episodes per week.
GL episodes starting with June 1, 2007 began airing July 25th. ATWT episodes from that same day will begin on July 28th, with AW episodes beginning with the May 10, 1991 showing will begin airing July 29th.
By Luke Kerr on July 17, 2008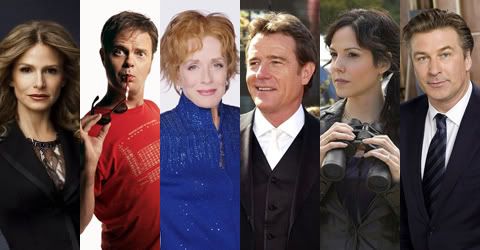 Six soap alum have received Primetime Emmy nomations in the major acting categories at this year's 60th Annual Emmy Awards. From left to right.
Kyra Sedgwick, the star of TNT's The Closer and who once appeared on Another World was nominated in the Outstanding Lead Actress category.
Rainn Wilson, star of NBC's The Office and who once appeared on One Life to Live as Casey Keegan was nominated in the Outstanding Supporting Actor in a Comedy Series category.
Holland Taylor, who stars on CBS's Two and a Half Men as Charlie Sheen's mother once starred on All My Children as Jill Ollinger. Taylor received a nomination in the Outstanding Supporting Actress in Comedy Series category.
Bryan Cranston, the star of HBO's In Treatment once appeared on One Life to Live as Dean Stella. Cranston received an Outstanding Lead Actor in a Drama Series nomination.
Mary-Lousie Parker, the star of Showtime's Weeds and who once appeared on Ryan's Hope received an Oustanding Lead Actress in a Comedy Series nomination.
Alec Baldwin, the star of NBC's 30 Rock and once appeared on The Doctors received an Oustanding Actor in a Comedy Series nomination.
Congrats to them all!
By Jamey Giddens on July 15, 2008
Be sure to check out The Young and the Restless today. According to TV Guide Canada's Nelson Branco, Hogan Sheffer's first co-head writing efforts air today and are "amazing"!

In other Genoa City News, veteran producer Paul Rauch (Another World, Santa Barbara, One Life to Live, Guiding Light) has been brought on as an executive consultant, according to TV Guide's Michael Logan.

It appears CBS and the Bells are pulling out all the stops to restore daytime's once grandest treasure. First bringing on Sheffer, who revitalized As The World Turns, as co-head writer, then hiring Thom Racina aka King of the 80's Supercouples to pen scripts and now bringing on one of the most successful producers in the genre's history to consult.
Rauch most notably helmed Another World during its unstoppable 1970's period of ratings domination, yet his tenure at Guiding Light proved controversial as he greenlit several over-the-top storylines ( i.e. Reva's cloning, San Cristobel). However it must be noted that those larger-than-life stories did result in ratings surges for the soap. Stay tuned folks!
By Luke Kerr on July 14, 2008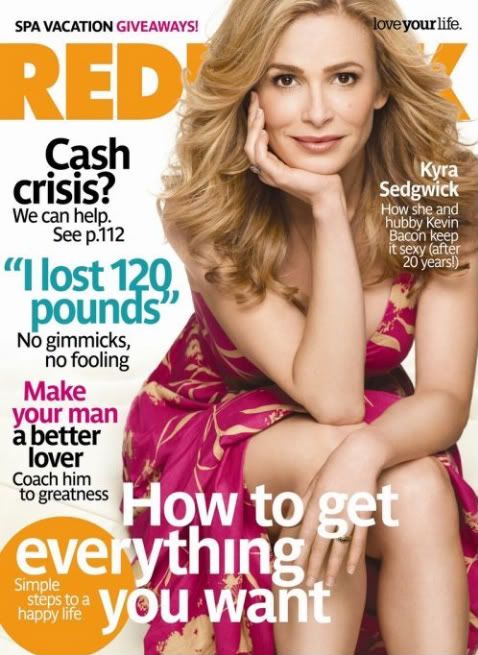 Kyra Sedgwick's hit TNT show The Closer returns tonight and the former Another World alum is on the August cover of Redbook magazine. The Closer is one of my favorite summer series and I can't wait for it and Saving Grace to return tonight.
In other The Closer news former General Hospital and Guiding Light star Stephen Martines will be making a guest appearance on the show.
By Jamey Giddens on July 13, 2008
Daytime and primetime soap alum-turned-mega-star Brad Pitt (
Another World, Dallas
) is a proud papa once again. T
he Associated Press
reported today that Pitt's lady love Angelina Jolie delivered fraternal twins-a boy (Knox Leon) and a girl (Vivienne Marcheline) late Saturday night. Congrats to the couple on welcoming perhaps the most genetically-blessed children in the history of mating.
By Luke Kerr on May 15, 2008
People is reporting that former Another World star Anne Heche is up a tree...er creek, now that her ABC show Men In Trees has been canceled. Heche told a judge that she can no longer pay the $15,000 a month in child support she was paying while starring in Men in Trees. This is what she wrote in cour papers.
I am continuing to look for work, but I have no offers pending and the impending strike by the Screen Actors Guild reduces my prospects for work even further...Since January 18, 2008, I have been unemployed and had no income from employment except for one very short-term contract for a movie role for which I received a total of $65,000, approximately the amount I received for one episode of Men In Trees."
Fun fact: Anne Heche is the all time favorite soap star of Daytime Confidential's Jamey.