90210
By Jamey Giddens on February 13, 2009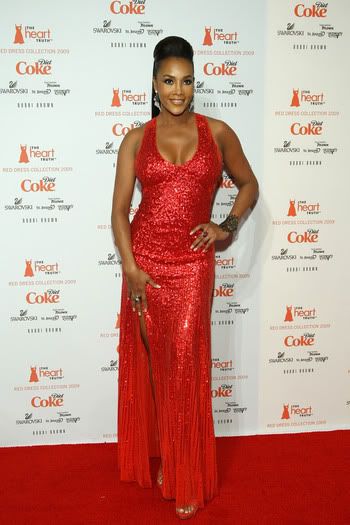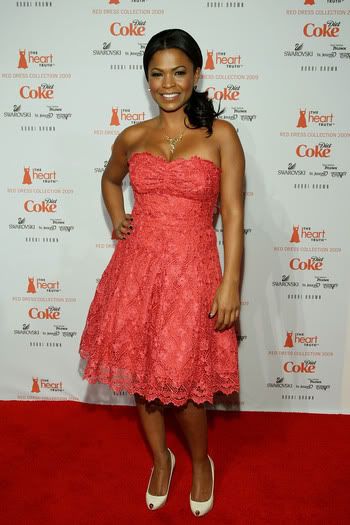 Susan Lucci
wasn't the only soap diva dropping it like it was red hot at the Heart Truth Red Dress Collection Fall 2009 Fashion Show tonight in New York. Former soap starlets
Vivica A. Fox
(
Days of Our Lives, Generations, The Young and the Restless, Beverly Hills, 90210
) and
Nia Long
(
Guiding Light
) also tore in up in red. All that's missing is
Ugly Betty
's
Vanessa Williams
and
we would have a
Soul Food
Movie Reunion in Red!
By Jamey Giddens on February 13, 2009
Since it's for a good cause, I wanna play nice, but
90210
's
Tori Spelling
needs her old ass whupped for going out to the Heart Truth Red Dress Collection Fall 2009 Fashion Show looking like somebody's burlesque show kewpie doll on acid! Tori is my age, so it's high time she left that kind of foolishness to the
Mylie Cyrus's
and the
Katie Perry's
of the world. I don't know how
Jennie Garth
can stand there with a straight face, but then she did get through Kelly's gunshot induced-amnesia on the original
Beverly Hills, 90210
circa Season 8 (Or was it 9?).
By Regan Cellura on February 04, 2009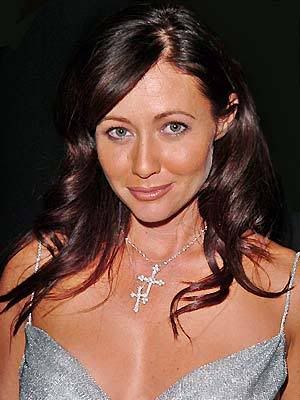 I mentioned her possible return in the
Primetime Spoiler Round-Up
and now
People.com
has confirmed the news.
Shannen Doherty
is making another return to the zip code that made her famous.
Brenda is back! Again.

Shannen Doherty, who played Brenda Walsh on the original Beverly Hills: 90210, signed on to return for another episode of the CW's 90210, according to a source close to the show.
By Regan Cellura on February 04, 2009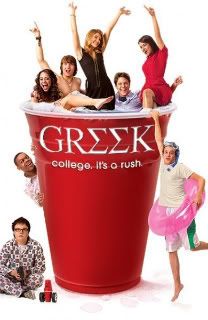 Primetime Spoiler Round-Up!
GREEK… I'm just crazy about these kids at Cyprus Rhodes. They've been picked up for a third season but their friends at Kyle XY got the AX. GREEK returns with the second half of the second season on March 30th with Max! Casey's boyfriend has ditched grad school in favor of sticking in Ohio with Casey. Will he constantly remind his girlfriend what he's given up for her? The craziest GREEK news comes from an exclusive on EW.com courtesy of Mr. Michael Ausiello. Apparently the third season will be light one cast member. Frannie, the rogue ZBZ, will not be a series regular. She's in a pretty major storyline as the season finale cliffhanger was Frannie setting up a new sorority and taking a bunch of ZBZ's with her. With Frannie leaving campus, what does that mean for Evan? Will we get a Casey-Evan reunion? What about Casey and Cappie? Will they ever get back together? SPOILERS say Casey and Cappie spend time together when Max is away. All MY Children fans, well Jesse McCartney fans, remember the heartthrob is also slated to appear this season on GREEK.
I'm adding a new show to the Round-Up. Army Wives is a great show on Lifetime from the same folks that gave us Grey's Anatomy. If you haven't seen it, check it out. They are adding two new African American cast members to the upcoming season and Roger Newcomb at We Love Soaps says one role MAY be what Real Andrews (ex-Taggart, General Hospital) auditioned for. READ MORE
By Jamey Giddens on January 27, 2009
Say it ain't so! Word on the street is Donna Martin's marriage to Kelly Taylor's stepbrother David Silver will be on the skids when Tori Spelling reprises her signature role as primetime's latest bloomer on 90210. E! Online's Kristin says:

I'm hearing Donna (Tori Spelling) comes back to Bev Hills and reveals she's having problems with David (paging Brian Austin Green!). Seriously, have any of these women been lucky in love?! I feel for the old school 90210-ers! The upside, though, is that their careers all appear to be going well (and global). Word is, Donna is thinking about opening a clothing store in Los Angeles and she's already a huge success in Japan."

Now you mean to tell me, it took that boy what, eight years to hit that, and now they may break them up? Poor BAG didn't even get to experience Tor-Tor's new boobies (I wonder if she named them Claire and Emily Valentine?). READ MORE
By Regan Cellura on January 23, 2009
Friday Night Lights
'
Aimee Teegarden
(Julie Taylor) will appear on three epiodes of
90210
. Look for Coach and Tami's daughter to appear in March.
And... this gives me the perfect excuse to remind you all that Friday Night Lights is on tonight on NBC.