90210
By Luke Kerr on July 28, 2008
The first
promo
images for the
90210
REDUX are out and they seem a lot more like something from
The O.C.
than
Gossip Girl's
more "scintillating" campaign. Is it that with
Gossip Girl
we've come to expect something a bit more "cutting edge" with our teen soaps than something as plane jane as kids standing in a pool?
What do you think of the new images? Do you like them, hate them or do they bore you?
By Jamey Giddens on July 19, 2008
It looks like Shannen Doherty has wisely decided to reprise her career-making role as Brenda Walsh for the upcoming
Beverly Hills, 90210
update-this time simply titled
90210
- for The CW next fall.
Doherty has been in talks with the spinoff's producers for weeks, but now both Entertainment Weeky's Michael Ausiello and Perez Hilton are confirming that the baddest chick ever to order a BLT at the Peach Pit (sorry Tiff Amber) is indeed in!
The storyline will have Brenda, now a famous director, returning to stage a musical at good old West Bev. In the words of the Pink Ladies and T-Birds, tell me more! Tell me more!
As skeptical as I am about the full court press to basically convince every original alum of the Class of '93 to return for the new show, I have to admit I am pretty pumped at the thought of a Brenda/Kelly smackdown/reunion. These original frenemies will definitely show the Blairs and Serenas of the world a thing or three and that's precisely what the struggling CW is hoping for.

By Jillian Bowe on July 02, 2008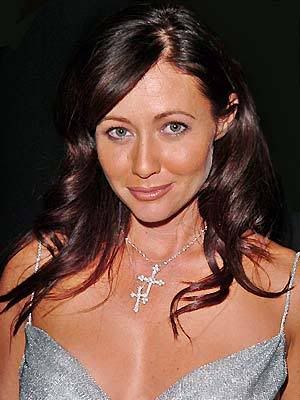 Seems like The CW's not pulling any punches in making their network shine. According to web reports, Beverly Hills 90210 alum Shannen Doherty is in talks to reprise her role as Brenda Walsh for the updated version.
Fans of the older show may remember that bad girl Doherty was let go from the sudser due to her off screen behavior and her tendencies to not get along with her castmates.
Set insiders are saying that Ms. D's very interested in slipping back into the role that made her a household name, but she wants more money and, "she wants to know what the story is going to be first," before signing on.
I guess time heals old wounds because her former castmate and bitch fest partner Jennie Garth is oK with the idea of Doherty returning. Garth was quoted by Entertainment Weekly saying, "A lot of time has passed, and I'm a big girl. I'd have no problem with her coming on the show." This is very interesting since other returning alum Tori Spelling stated in her book, So NoTORIous that the two ladies got into altercations on the set of the original 90210.
First Jennie, then Tori, now Shannen all I need is Dylan and David and everything will be gravy!

By Jillian Bowe on June 18, 2008
Tori & Dean: Home Sweet Hollywood
If you can't wait for the remake of the show that made her a household name, check out former 90210, star Tori Spelling along with her husband actor Dean McDermott and their adorable son Liam on their reality show, Tori & Dean: Home Sweet Hollywood.
The show follows the family as from spending a year in Fallbrook, CA running their bed and breakfast Chateau La Rue (named after the family dog Mimi La Rue); they make their way back to Hollywood to embark on their return to the industry that made them famous while also dealing with a new baby on the way and Tori's first book, "sTori Telling."
Don't fret people, the show aired last night but you can catch an encore presentation on Oxygen and see the show every Tuesday night at 10 pm EST. Here's a lil' taste of what's to come.
My how Donna Martin Silver's grown!
By Jamey Giddens on May 27, 2008
What would a 90210 update be without a Spelling involved? Victoria "Tori" Spelling will indeed reprise her signature role as television's latest bloomer Donna Martin Silver for The CW's re-imagining of the 90's teen soap Beverly Hills, 90210 next fall.
Spelling's Donna now owns the coolest shop in Beverly Hills, which will no doubt be frequented by the new crop of adolescent sexaholics. No word yet on whether Donna's series-ending marriage to David Silver (Brian Austin Green) will be addressed.
Okay, I am glad to see originals involved in the update, but I don't want the new 90210 to become cameo-central. Garth was a smart choice as guidance counselor Kelly (lord knows the girl went through enough on the parent soap) and since Donna was a budding fashionista when we last saw her having her guest star as a trendy shopkeep makes sense, but if the next thing I read is that Steve Sanders has bought the Peach Pit After Dark and Emily Valentine's teaching Home Ec. I'm going to start getting a little worried that what could be a hot companion for Gossip GIrl might turn into an ooey, gooey, Made-for-TV cheesefest.
By Jamey Giddens on May 20, 2008
File this under OH HELL YES!!!!
The CW has released a promo clip of next fall's spinoff of television's first successful teen soap-No, not
The Life and Times of Jamie Lynn Spears and Miley Cryus-Beverly Hills, 90210
!
Thank GAWD TPTB have the good sense to utilize the original theme song. I tell you I haven't been so stimulated by an audio track since I heard Optimus Prime call for the Transformers to roll out last year!
Also major props to producers of the update for adding a splash or two of color to good old West Bev. The original show was always great about having people of color in recurring or guest roles, but I have to admit I found it a bit odd that eight friends who more or less hung from high school through college only managed to pick up one Asian character in a contract role along the way and no blacks or Latinos. Oh wait wasn't Andrea's hubby Jesse on contract one season??? I forget, anyway with reports of The CW possibly faltering if it doesn't increase ratings next season, here's hoping the second, more diverse and apparently hyper-sexed version 90210 does for the struggling netlet what the first one did for Fox almost 20 years ago...Damn I'm old.
Gush 900 you KNOW you're the man for finding us all this good soapy dish!