60 Minutes
By Luke Kerr on December 04, 2012
Daytime talk show host and star Anderson Cooper was temporarily blinded while on assignment. Cooper shared a photo of himself on Instagram, teasing more details on today's Anderson Live.
"Temporarily blinded last week while on assignment," he said. "UV light bouncing off water. Much better now. Details today on #andersonlive."
By Luke Kerr on June 30, 2011
We should start a Daytime Confidential pool betting how long it will take for The Real Housewives of Atlanta's NeNe Leakes to appear on Anderson Cooper's new talk show Anderson, after it premieres this fall.
In a report from Promax BDA, Ad Week addresses Cooper's discussion with The Early Show's Erica Hill about whether-or-not interviewing such reality stars during the daytime would undermine him at Anderson Cooper 360 on CNN or as a contributor to 60 Minutes on CBS.
Cooper, unsurprisingly, thinks that his reportorial reputation will remain untouched no matter how many reality stars he interviews during the day. "You can be very serious and very passionate about [serious news] and still like [Real Housewives of Atlanta star] NeNe Leakes," he said. "People know that you can juggle different things." READ MORE
By J Bernard Jones on September 13, 2009
On Sunday evening, 60 Minutes paid magnificent tribute to Guiding Light.
Viewers were treated to a retrospective segment featuring brief interviews with Tina Sloan, Frank Dicopolous, Ron Raines, Grant Aleksander, Michael O'Leary, Peter Simon, Beth Chamberlin, and of course, Robert Newman & Kim Zimmer. There was also a sure-to-be lambasted short sit down with Ellen Wheeler and GL's last de facto headwriter Jill Lorie Hurst, which will probably send ex-headwriter David Kriezman (now at As the World Turns) into a soap-style catatonic state. READ MORE
By Jillian Bowe on September 12, 2009

Veteran journalist Morley Safer gives his insight on the cancellation of Guiding Light and what it means for the current status of soaps.
By Johnathon on August 24, 2009
A New York Daily News story has just come out about the late, amazingly talented and forward thinker, Don Hewitt, creator of CBS's 60 Minutes. In the story former CBS News producer and now arts commentator and essayist Liz Dribben says that Hewitt still valued and respected radio while he was working at CBS News. READ MORE
Whenever he'd be out in the field with a correspondent, particularly Mike Wallace, and they found something that could be breaking and exclusive," says Dribben, they'd call in to the CBS radio desk to file a story - no matter what, where or when."
By Jillian Bowe on June 10, 2009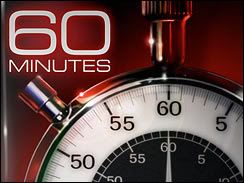 Get ready to break out your hankies folks. Television news magazine
60 Minutes
will air a special tribute to
Guiding Light.
There is no word yet on when the show will air. Sources are saying the show will be a great one for fans. The backdrop of the segment will reportedly be the Bauer BBQ. So does this mean
Andy Rooney
will re-enact Reva (
Kim Zimmer
) baptizing herself the slut of Springfield? Keep checking DC for the air date. Thanks to
Rocki345
for the tip!