Sweeps
By Regan Cellura on October 07, 2008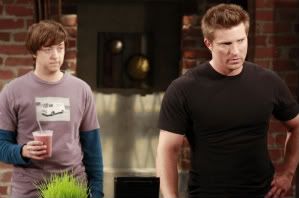 Here's the Scoop! 10.07.08
RUMORS of a traitor within the Morgan Organization. It wouldn't be the first time someone close to Jason was playing for the other team. Some SPECULATED it was Cody who was the traitor. What if it's Bernie?
Jerry and Alexis and more of this Jerm mess... I can't wait for this to all end. I wasn't against JLex but now, I am. Is there anyway for Jerry to be redeemed? He'll still protect Alexis and talk Karpov out of killing the D.A. Remember, Alexis catches Jerm in the hot tub. Peace offering? RUMORS say Jerry goes to Alexis with information on Karpov. Will Sam fill Lucky in on what happened with Jerry? She MIGHT. There are RUMORS that he finds out at the PCPD. IF you are a JLex fan, I am hearing there are some good scenes for them before it all goes downhill.
Some of you were happy yesterday when I backed off the MOC RUMORS. There are a few THEORIES on how this COULD play out. One is that when Claudia takes her information to Sonny, the plan is worked out to work Anthony over from the inside. Another is that Sonny and Jason team up to take ZaCrazy down and there MAY be a fake death in the near future. One more THEORY? This one says that Sonny considers marrying the mafia princess but he's not the only one who considers making Claudia their bride. READ MORE
By Regan Cellura on October 04, 2008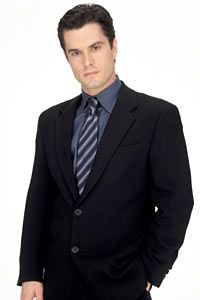 Hi guys! Blogging on the road so this will be a quick hit! Here's the Scoop!

Ric and Claudia.... finally give in to all that very hot sexual heat. According to the SPOILERS they will and guess who catches them? Johnny!
Kate really wants Patrick to spill the secret. Will he do it?
Has Dante been given a face? Some are reporting that they have cast the role, others say they're scrambling to find someone as Dante starts popping up in script soon.
Ditching work for Elizabeth again? It looks like Jason runs past Diane once again to meet his lady.
Sweeps stuff.... shocking murder? Shocking murderer? Is Kate somehow involved?
Jason and Sam in the interrogation room together? Remember she's pinched thanks to Jerry.
Lucky to Sam..."I Love You" will she say it back? RUMORS say yes.
More Cody coming!
I mentioned Johnny solving the crime.... he'll see the rifle.
That's all for now kids. Time to hit the road to Madison for the game! GO BUCKS!
By Regan Cellura on October 01, 2008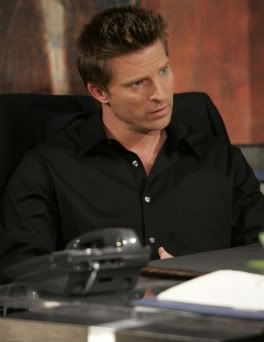 Here's the Scoop! 10.01.08

The love story of Jason and Sonny MAY be coming to an end. Sonny wants his organization back and Jason's not in the giving mood. Would Kate stay with Sonny if he goes back to the biz? RUMORS say she'll tell Jax that she can't. No worries, he has that MOC with Claudia coming up.
Will Kate ask Diane if Sonny's back in the mob? It looks like that's what's happening. Olivia MAY tip her cousin off but it's Diane that confirms what Kate's been told.
It's Carly selling out! Carly sells her half of the Metro Court to Nikolas!
Olivia meet Claudia... I bet you don't like her. Olivia will see Claudia and Sonny in a close moment together and she'll confront him about consorting with mobsters.
Jason takes Elizabeth to see Kate today. Is he a little mean with her? There are RUMORS that he throws a low blow and asks her if she wants to leave her children motherless. Elizabeth tells Jason this does not change anything as far as she's concerned. They argue, she leaves and he thinks he's finally gotten through to her. READ MORE
By Regan Cellura on September 29, 2008
Here's the Scoop! 09.29.08
Karpov's not the guilty party. Who will all learn that Anthony was the one holding the gun? Well it looks like Ric will know the truth eventually. Claudia will figure out that Karpov didn't pull the trigger and Jason wants to investigate despite Sonny ordering him to take action. Looks like ZaCrazy's plan is working pretty well. Will Jason declare war?

So we know that Sonny and Kate never make it to the "I Do" part of their wedding. What about those pesky RUMORS I posted last week? According to these RUMORS, Sonny will take a bride it's just not Kate. Is the newest Mrs. Corinthos going to be Olivia, Claudia or Carly? My money is on Claudia. Would Guza really have Sonny in a Marriage of Convience with the woman responsible for his son being in a coma?

What about the former dynamic duo of Sonny and Jason? As we've mentioned, Sonny wants the biz back. Will Jason give it up? It's not likely. READ MORE
By Regan Cellura on September 26, 2008
Here's the Scoop! 09.26.08
Night Shift News: How cool is this! According to SOAPnet, In the October 14 episode, you'll notice something so exciting, it has inspired us to set alarms so we don't miss it: Instead of the regular "Night Shift" opening theme, the show will use the 1980s title sequence from "General Hospital."
Wedding Day! Today's the day and it continues into Monday.
Pickle in the middle? Ric is caught in the middle of a brewing mob war between Sonny and Anthony. What about Anthony making it look like Karpov pulled the trigger?
Lulu and Johnny break up. I can't remember where I dropped it yesterday, it may have been in the comment, birthday blur. Johnny thinks ending things with Lulu is what's best for her. Lulu is heartbroken and done with love. A RUMOR hit a few days back that Lulu would be the one to first meet Sonny's bad boy son Dante. It didn't make sense until the break up SPOILERS popped up.

Luke's back! Tracy fills him in on what he's missed while globe trotting. It'll be Scotty vs. Luke once again. TPTB have been teasing a HUGE TWIST in Laura's story. READ MORE
By Regan Cellura on September 25, 2008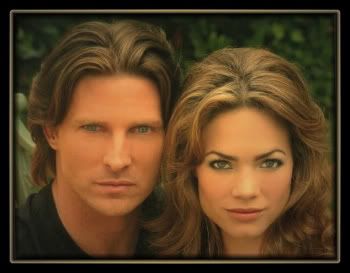 Here's the Scoop! 09.25.08
It's a Liason Day! Today is when Jason lays it all out on the table for Elizabeth. I love that he picked her over the biz! If I didn't already love Spinelli, I want to marry him now! There SHOULD be more nods to their history then just Italy. Pay close attention to their dialogue.

Carly meet your new best friend...Olivia! She'll be spilling Kate's secret today to a very pleased Carly.
More Secrets... well more on Patrick learning that Sonny has a secret son. What's he to do with that information? He has his own family drama to deal with. It looks like Kate thinks she's dying and tells Patrick that she's been keeping this HUGE secret from the man she loves. RUMORS broke that the son MAY NOT be Olivia's child. Who's is it? It APPEARS that he does have a name though. RUMOR has it, Sonny's son is named Dante.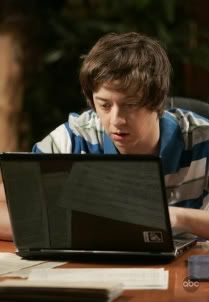 CRAZY CRAZY RUMOR ALERT... and it very well COULD BE fanfic. There is a RUMOR that Bradford Anderson will be in a dual role. These RUMORS say he'll be Dante. Get a salt boulder and check your blood pressure.
We haven't seen the last of him. Olivia's brother SHOULD be coming to Port Chuck. READ MORE