Sweeps
By Regan Cellura on October 22, 2008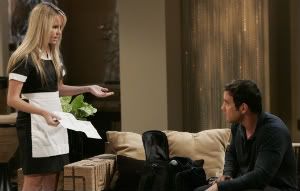 Here's the Scoop! 10.22.08
LooLoo Lulu is back to being onscreen all the time. Spixie spy Trevor at Shadybrook and think he's behind the blackmail notes. He's not. It's Scotty who blackmails Laura into leaving town with him. What's Trevor doing at Shadybrook though?
Scotty and Laura... it looks like Scotty takes Laura back to where they honeymooned. Hollywood! Location shoot? Not sure. The Spencer Family Adventure to find Laura begins. Popping up in the mags soon...Scotty and Laura exit on November 10th. Will it be together or are both characters just checking out on the same day? Again, not sure. There were RUMBLINGS that Genie Francis will return once again and that when she does it'll be a longer stint.
Trevor Lansing... is he a Sweeps death? They haven't used him much and like I mentioned earlier, he's popping up at Shadybrook. OLD RUMORS had said it would be revealed that Johnny is his son. Those seem to be popping up again with Trevor revealing the truth right before he dies. Who's he making his death bed confession to? RUMORS say it's Johnny and Ric. Hmmm... so that would mean Ric has two brothers that hate him. READ MORE
By Regan Cellura on October 21, 2008
Here's the Scoop! 10.21.08
Multiple Explosions? That's the Sweeps RUMOR. I'm hearing there could be as many as four explosions total. There will be injuries and people missing. RUMORS say two will die during Sweeps. IF Jerry is one of the deaths, who's the other one? What's exploding? There are plenty of RUMORS out there about this so keep your salt shakers handy. The docks, hospital, Karpov's ship and of course a warehouse are all said to have bombs planted by Jerry.
Scotty Confesses! It appears that Scotty finally fesses up to killing Rick Webber and he'll explain how killing Rick was an accident. Was letting Laura take the blame an accident as well? Will the former flames take a trip down memory lane?
Liason... will there be a "moment" before the Scrubs wedding? It looks like that MAY be happening and in true Guza form, it's cut short.
ZaCrazy has a stroke! He SHOULD be seized by the stroke while arguing with Claudia. He's rushed to GH where Patrick decides to operate.
Spencer Family Adventure... I pray this is as good as it should be. We will see how the writers handle it. Tracy SHOULD be on the trip with the fam and there SHOULD be some Tracy - Laura interaction. READ MORE
By Regan Cellura on October 20, 2008
Here's the Scoop! 10.20.08
The Scrubs Wedding ends when baby Drake wants to make her entrance. Patrick arrives just in time...remember he's playing Doctor to ZaCrazy who according to RUMORS has a stroke!

Do Jason and Elizabeth share the screen at the wedding? There are some RUMBLINGS that the angst ridden couple MAY be giving their fans more angst. SUPPOSEDLY there are Liason scenes at the altar. Fanfic? Maybe.
The shootout... The talk is that it happens on a Friday (the 31st?) with Sam and Jason involved. Possibly happening on the docks. JaSam fans... there are RUMBLINGS that the former couple will discuss Sam and Sonny's dead daughter. Is the anniversary of her death coming soon? I don't remember.
MOC... who is the new Mr. Claudia Zacchara? Jason or Sonny? Anthony wants Sonny to be his new son-in-law, Claudia proposes to Jason but who actually marries the Mafia Princess? IF the RUMORS are true, Jason and Claudia never make it to the husband and wife part of the deal as the Justice of Peace SUPPOSEDLY refuses to marry two people who obviously don't want to be married. Does that mean it's Sonny who weds Claudia? READ MORE
By Regan Cellura on October 15, 2008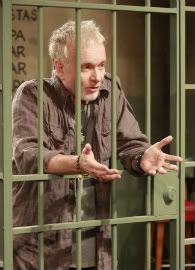 Here's the Scoop! 10.15.08
Luke's Back! I'm hearing the Tracy and Luke scenes are great. What about Laura? It looks like Luke learns his angel has made a breakthrough. Laura's not happy with Luke and his at arms length approach to parenting. Will Laura learn about the real Mrs. Luke Spencer? I'm hearing yes.
See ya later Maximus. Max and Milo's dad heads back to Italy.
Jerm hot tub.... you've been warned.
Dante... Online RUMBLINGS say the deal is almost done and it's a big name. We're waiting on official confirmation. Early RUMORS had Dante as your typical Brooklyn kid. The LATEST? Dante has done pretty well for himself and he's not happy that his dad is a mobster.
LuSam Break-Up? For real? It's all because of this Jerm mess. Lucky's not convinced that Sam wouldn't have slept with Jerry to get the information needed to bring the drug smugglers down. RUMORS say they argue and Lucky leaves. Will he come back intending to kiss and make-up? Not sure what Lucky's plan is but according to RUMORS when he comes back, Sam's gone. Remember, Sam is SUPPOSED to be arrested and Karpov's attorney MAY be the one springing her. READ MORE
By Regan Cellura on October 10, 2008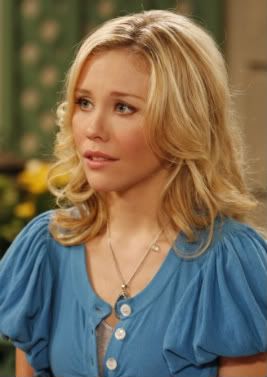 We brought you the news of
Amanda Baker
's (Babe,
All My Children
)
departure
a few weeks back and now the actress has confirmed her exit to
Soap Opera Digest
. Baker tells the mag that she is "going out with a bang."
Will Babe perish in the big tornado event for Sweeps? Will she be re-cast yet again? RUMORS have hit the internet that Alicia Leigh Willis (ex-Courtney, General Hospital) MAY be the next Babe. Tamara Braun just joined All My Children and is close friends with Willis. Will Tams and ALW be reunited? Weigh in!


By Regan Cellura on October 08, 2008
Here's the Scoop! 10.08.08
Typical Guza Sweeps? There's the "flash forward" to the coffin and then back in time to tell the tale. RUMORS of an explosion and some special effects. Now the word on the street is the explosion turns into a fire that lasts a better part of the beginning of Sweeps. What else is Guza been known for in his Sweeps stunts? Pairing up people that are not normally paired up.
CRAZY RUMOR of the Day... is Elizabeth snatched? Anyone remember those OLD RUMORS of Elizabeth being kidnapped? The LATEST to come across my screen is that Sonny has Elizabeth grabbed as a little payback on Jason. Salt Boulder, go find one.
Dead Jerry Jacks? RUMORS are saying that Sebastain Roche has been released from his contract. Is he the RUMORED death? These RUMORS go on to say that Jerry loses it and he is killed. Those OLD RUMORS of Sam's rape are popping back up. This time it's Jerry attacking her and someone coming in and killing him.
LuSam Fans... sex scenes, coming. "I love you's," coming. Moving in together, coming. READ MORE