SOAPNET
By Regan Cellura on September 15, 2008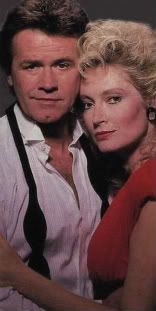 UPDATE:
It looks like Tiffany and Sean will pop in just in time for
Night Shift
's Second Season Finale. Remember it was said to be so good they had to break it up in
two parts
! Look for Luke Spencer (
Anthony Geary
) to be reunited with his friends on the finale as well!
ORIGINAL STORY: Don't be surprised if you see General Hospital supercouple Sean and Tiffany Donely (John Reilly and Sharon Wyatt) returning to Port Charles via Night Shift. Strong RUMORS have them coming back to check in on their old pal Robert Scorpio (Tristan Rogers) who is battling colon cancer.
For longtime General Hospital fans this is huge-yet-bittersweet news. One would hope a reunion of this magnitude would play out on the mother-ship and not on the spin-off. Especially when you factor in a significant number of fans who do not get SOAPnet.
Here's hoping Sean and Tiffany get abducted by the mother-ship and return home.
RUMORS of their return have the Donely's returning with their son in tow.
By Regan Cellura on September 11, 2008

General Hospital Night Shift
will end Season Two with a two part finale! The first episode of the two part ending airs on October 14th! Need to catch up on your
Night Shift
episodes? No Worries! SoapNET has planned a
Night Shift
Marathon with the first twelve episodes of Season Two airing on Sunday October 12th starting at noon.
Apparently, the finale was so good and explosive, it had to be broken up into two parts! Tell us what you think of Night Shift so far! I've finally caught up and minus a few misses, there's been plenty of hits on the prime time spin off. Weigh in!

By Regan Cellura on September 05, 2008

Ready for the SOAPnet sneak peek into your ABC Soaps? Here's a peek at what SOAPnet is dishing on your ABC Favorites!
A Martinez (Cruz Castillo!) starts on the show as Ray Montez, Langston's (Brittany Underwood) uncle. Jared (John Brotherton) goes to visit Ray in a Colombian prison on Clint's (Jerry verDorn) orders. Clint wants to use Ray as a threat to take away Langston, which gives him leverage against Dorian (Robin Strasser). But Jared's not the only familiar Llanview face down in Colombia. Not one, but two other characters are there. For sinister purposes. Not, like, on vacation or anything.
Shane wants Rex to stay away! Tina is forced to help Tess with her plans for revenge. READ MORE
By Regan Cellura on August 29, 2008

It's
One Life to Live
's turn! Here's the
Sneak Peek
at the latest drama to hit Llanview!
That Tina, always getting into trouble. Next week, she (and her little dog, too) stumbles right into the secret room that Tess is constructing in the basement ... only to get busted by Tess. Which is really not good. Better hope you're wearing comfortable clothes, Tina, considering what Tess has in store for you (and we don't mean that chiffon robe with the fur and high heels that doubles as sleepwear). By the end of the week, Tina's not alone in terms of Tess's victim count.
Rex, Gigi, Brody and a paternity test? Starr is getting ready for birth. Marty and Todd... kiss? Check it out!


By Regan Cellura on August 29, 2008

Here's the
Sneak Peek
at what's happening in Pine Valley!
It's the launch party for Bella, Amanda and Babe's (Chrishell Stause and Amanda Baker) new perfume, which means the entire cast will be in the same room with sleek clothes and good hair. But tensions are running high, especially between Aidan and Ryan (Aiden Turner and Cameron Mathison). Makes sense, given that Ryan admitted he still loves Aidan's wife, Greenlee (Rebecca Budig). Despite her commitment to her hubs, Greenlee can't help but grow closer to Ryan, who's as sensitive and kind as ever (although we're dubious as to the romantic appeal of telling Greenlee that, if they had kids, Greenlee would never act mental like Annie [Melissa Claire Egan] does).
Marital Troubles all over town? What has Jesse been up to while he's been away? Taylor has a secret and someone pulls a Lulu and becomes a killer. Check it out!


By Regan Cellura on August 29, 2008

SOAPnet
has a great
Sneak Peek
into what's coming up on
General Hospital
. It answers a few of the unanswered from the daily SPOILER grind. Here's a glimpse:
Just when things get bad in Port Charles ... they get worse. Johnny's (Brandon Barash) trial for Logan's murder begins, but he's still determined not to let girlfriend Lulu (Julie Marie Berman) take the fall, even though she did it. If we lived in Port Charles, we'd be totes suspicious of Lulu. I mean, she's been flipping out every two seconds while Logan's supposed killer, Johnny, is cool as a cucumber. Johnny's black-leather-loving big sis Claudia (Sarah Brown) gets wind of the truth, so the secret may not last too long. Especially when Scott (Kin Shriner) forges some documents to make it look like Logan was an undercover cop, meaning his murderer automatically gets the death penalty.
How does Clarice find out about the Limo Sex? She overhears Max and Diane!
Laura reunited with her sons? Maybe a just miss?
Alan returns? Liason too good for SOAPnet to spill? Check it out!