SOAPNET
By Regan Cellura on December 18, 2008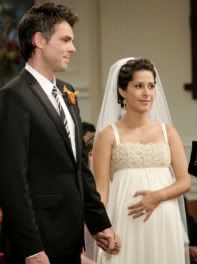 Here's the Scoop! 12.18.08
Robin and Patrick's Wedding... Mac tells Robert this is his moment to walk Robin down the aisle. So we'll get to see John J. York and Tristan Rogers in a brotherly scene. Epiphany, Kelly, Lainey, The Q's, Mac, Robert and Anna will all be there. Matt and Maxie will stand up for the Bride and Groom (although one source says Anna is asked to be Matron of Honor). Patrick makes it there on time although Maxie is stressed about Patrick taking his time to get ready.
Is the Post Partum storyline over? Not sure as it seems it MAY go into the New Year. Patrick and Robin have work, married life and baby to balance. There is also that little hospital tragedy coming.
Calling out Carly? Is that how Sonny sees his son for Chritmas? Carly never ended her friendship with Jason but she keeps Morgan away from Sonny. Will Sonny point that out to his hypocritical ex? We thought this MAY be a one time deal for Sonny and Morgan but some are SUGGESTING that Sonny will get more access to his son. Sonny and Carly are still SPOILED to be running into each other when they go visit Michael and the former spouses MAY be working out a plan for future visits for Sonny and Morgan. READ MORE
By Regan Cellura on October 31, 2008

It's a twist on the weekly SOAPnet Sneak Peek! With Sweeps upon us, SOAPnet is giving us a November Peek!
On General Hospital:
THE event of November is the fact that Luke and Laura are together again! Yes, face-to-face, doing their Luke and Laura thing. Which means getting into life and death scrapes (this time it's a car going off a cliff) amidst that undeniable chemistry.
All this PLUS a marriage, a murder, a big exit, a career change, a Thanksgiving that shows you a very different Port Charles and Spinelli's on a mission, for, as he'll say, "Maximista will be avenged!" Now what could that mean?
On All My Children:
David's newly arrived back in town and is already plotting revenge against half of Pine Valley. Fate (or the writers, depends on your POV) make that easier when he joins the hospital staff because (irony alert!) the head of cardiology dies of a heart attack! JR is not buying anything David says, but what about Krystal? And how does Amanda fit into all of this?
Erica takes over Fusion in Kendall's absence. Really, do we need to say anything else? I mean, just think about the scenes that are coming. READ MORE
By Regan Cellura on October 31, 2008

Fans of the
General Hospital
spin-off,
Night Shift
, saw Touissant (
Billy Dee Williams
) holding a picture of a little boy in the Season Two finale who was supposed to be Touissant's son. The picture used was of a 6 year old boy who had been kidnapped and murdered in 2007. SOAPnet has issued an apology for this mistake.
"We offer our deepest condolences to the Barrios family for their loss, and our sincerest apologies for any pain caused by our mistake," said a statement from the networks. SOAPnet will be running PSAs to raise awareness about missing and exploited children and will permanently edit out the photo from the episode.
For More: Soap Opera Digest I We Love Soaps


By Regan Cellura on October 28, 2008
Luke has already begun the mourning process and as most fans already know,
Rebecca Budig
(Greenlee,
All My Children
) is heading out of Pine Valley. The actress confirmed the news herself in an
interview
with SOAPnet.com.
"It's true," Rebecca said with a little bit of sadness. "I'll be leaving 'All My Children." When asked why, Rebecca explained, "Well, my life is in California (where she relocated after leaving "AMC" in '06). I had hoped it would be a lot easier than it was to live bi-coastally. But it's really tough -- our (she and husband Bob Guiney) life is enmeshed there. We put down roots there."
For the full interview, check out SOAPnet.com. Budig is said to be leaving AMC in the early Spring of next year.
RELATED: Confirmed: Rebecca Budig Leaving AMC
By Regan Cellura on October 27, 2008
Take a look at the upcoming storylines on
General Hospital
!
By Regan Cellura on October 10, 2008
It's that time again ABC Soap Fans... this week's SOAPnet Sneak Peek!
On General Hospital:
On a lighter note, we are so excited because Luke (Anthony Geary) is coming back! Tracy (Jane Elliot) manages to track down her absent ex to Mexico where, shockingly, Luke is in trouble with the law. Tracy thinks she's coming to the rescue, but she only makes Luke's law troubles worse AND gets herself thrown in the klink at the same time. Tracy. Mexican prison. Think about it.
Sonny tells Jason, do what I say or I'll play on ZaCrazy's team. READ MORE