Soap Opera Weekly
By Luke Kerr on December 05, 2007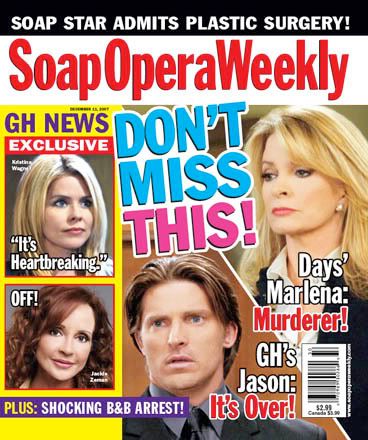 It's Wednesday which means its time to pull the mags off the stands and see what's on the covers. This week it looks like Soap Opera Weekly is running with almost all General Hospital coverage on the cover. Why is it that it's never the "big" pictures or headlines that catch my attention? I don't know either, but this week I'm more interested in the Kristina Wagner coverage. Supposedly the scenes are really intense. Rumors on the net have it that she cried almost all day during them.
Last but certainly not least Jackie Zeman. We reported it earlier this week or last week but no matter when it's discussed it still frustrates the living hell out of me that she is put on recurring and we have a bunch non heritage characters on the show that we don't care about. The only glimmer of hope in all this is that it seems people on recurring get more air time than when they had actual contracts these days.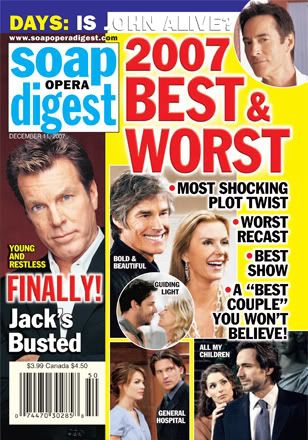 Ooooh....I love Best and Worst lists and we'll be doing them here on the blog and on the Daytime Confidential podcast later this month. Needless to say, this will be a must read issue of Soap Opera Digest for me. I want to compare what the main stream soap press thinks is the Best & Worst of 2007 as opposed to what we here at Daytime Confidential consider to be the Best & Worst of 2007.I was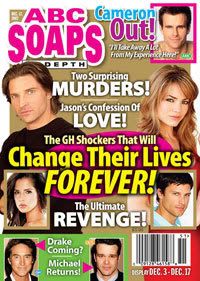 How sad is it that I can honestly say there is nothing of particular interest to me on the cover of this week's ABC Soaps In Depth? Sure there is the Liason vs. LuSam but we discuss that all the time here on the blog and in the
TV Fan Online Forums
so I'm not sure I'm interested in reading it in a magazine.
Well that's this week's look at what is on the stands. What's of interest to you?