Soap Opera Weekly
By Melodie on May 21, 2008
Earlier this week, we reported a possible scenario for Beth Ehlers' exit from Guiding Light. This scenario has turned out to be true according to an article appearing in Soap Opera Digest this week. The article titled "Rafe Shoots Jeffrey" explains Rafe's reasons for shoooting Jeffrey and exactly how Harley becomes involved. Harley not only takes Rafe out of town, but out of the country. Rafe doesn't tell a soul where he is going, leaving Natalia in hysterics. Harley tells Buzz and Buzz only where she is going, but swears him to secrecy. How Harley and Rafe end up back in Springfield is still on the fuzzy side. The article ends with a representative from Guiding Light stating that there will be a "great story" behind Harley's exit and her last airdate is June 23. Be sure to stay tuned to Daytime Confidential for more updates on this story.
By Luke Kerr on April 25, 2008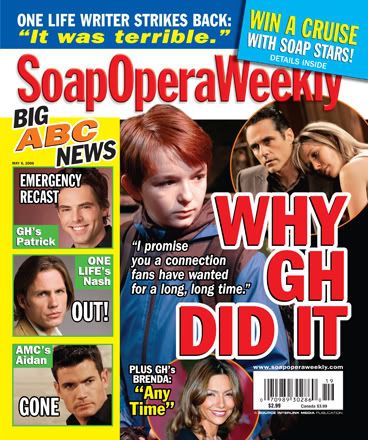 It seems to be ABC week at
Soap Opera Weekly
, or at least it is on the cover. As we
reported
earlier Forbes March is out at
One Life to Live
. I wasn't a big fan of his character Scott Chandler on
All My Children
a few years back but I did like him on
Mutant X
and as Nash on
One Life to Live
. Hopefully another show will snap him up. Who knows, maybe he could return to
All My Children
as Scott (hopefully better written) to give JR a run for his money?
Speaking of All My Children, anyone who has listened to the Daytime Confidenital podcast knows I've always thought the character of Aidan Devane was/is pointless. The character's connection to the canvas is tenuous at best. He isn't from a core family. Every romantic pairing he's been in has bombed for one reason or another, which is saying something considering he's been paired with Kendall Hart, Greenlee Smythe, Maria Santos, Di Henry, Erin Lavery, Mia Saunders and Amanda Dillon. I don't know if Soap Opera Weekly's "gone" means "out" but it should be interesting to see how this turns out.
Finally the magazine has a General Hospital headline "Why GH Did It", referring to the shooting of Michael Corinthos III and the letting go of Dylan Cash. Considering Guza's recent comments about "making characters pay for actions" the skeptic in me doubts this will be anything more than spin. That or the fact that General Hospital probably figured it was a whole lot cheaper to SORAS the character with a new or unknown actor who isn't getting the kind of pay that Dylan Cash was allegedly receiving than to keep him in the role like One Life to Live has Kristen Alderson as Starr. Can you imagine the outrage if One Life to Live shot Starr, put her in a coma, and then SORASED her?
By Luke Kerr on April 21, 2008
This week's Soap Opera Weekly is "exploding" with
Days of Our Lives
headlines about Patch and Kayla, Bo and Hope, and John's "stunning confession." If you've listened to the Daytime Confidential podcast you know we're loving Robo John but I can't help but think that the most interesting thing on
Days of Our Lives
these days is the ticking time bomb that is Nicole Kiriakis. Her scenes with John this past week were awesome and its obvious that Arianne Zuker is having a blast being back and helping to shake things up.

One Life to Live's
Marty Saybrook alive? We all knew she was. What is the old saying "If there isn't a body (and even when there is sometimes), then they aren't dead"? I think its safe to say that it was only a matter of time before one of the mags confirmed the rumor of Susan Haskell's return as truth.
Of course then there is the picture of Guiding Light's Beth Ehlers and the question of whether or not she might be jumping to All My Children. We've been discussing that rumor for a while now
By Luke Kerr on March 28, 2008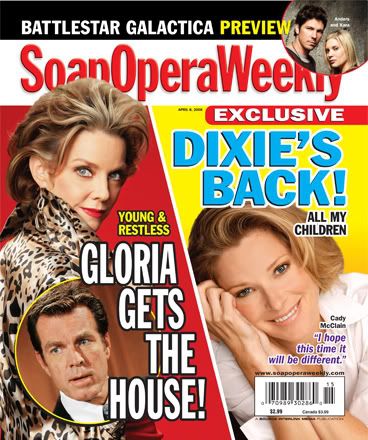 Forget marketing cosmetics, the
Young & Restless'
Gloria can really sell soap magazines. I went back and looked. Gloria has been pictured or mentioned on at least five covers of Soap Opera Weekly, Soap Opera Digest and CBS Soaps In Depth combined, since the beginning of the year.
This week's issue of Soap Opera Weekly also has an exclusive interview Cady McClain which should be an interesting read considering Cady's returning to All My Children as a ghost.
P.s. Can someone explain the connection between Battlestar Galactica and soaps?
By Luke Kerr on March 25, 2008
Let's take a look at the headlines. "AMC's Erica Gone!" Uh yeah, she's headed for the poky. "Y&R's Gloria Scheme Backfires." When hasn't one of her schemes backfired? "One Life's Starr Pregnant." Oh yeah, we didn't see that one coming from a mile away. Young teen girl's father accuses her boyfriend of raping her. Of course she's going to lie about sleeping with him. And what in Erika Kane's ugly red scarfy looking thing is an American Idol "reject" doing on the cover of Soap Opera Weekly? What type of soap connection does he have?
By Luke Kerr on March 17, 2008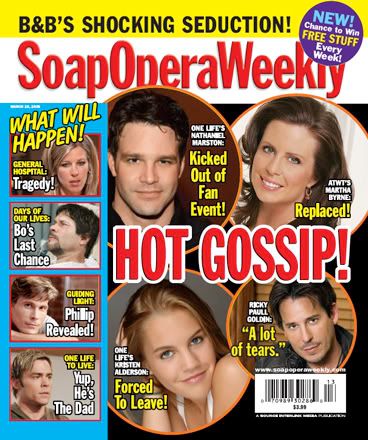 So many faces, so little time to discuss what is on the cover of this week's Soap Opera Weekly. I'll take a swing at the Martha Byrne issue. When word first broke CBS made it sound like Martha Bryne was demanding all kinds of things. Of course there are always two sides to a story and in a chat last night Martha told her
side of the story
and it wasn't quite how CBS made things out to be. Needless to say, losing Martha Byrne will be a huge loss to As the World Turns.