RIP
By Daytime Confidential on November 17, 2007
Martha Stewart's mother Martha Koystra passed away. Martha Stewart made the announcement on her blog. Stewart called her "my favorite guest" and said she led an "amazing life." Her mother was 93.
Our heartfelt sympathy goes out to the Koystra and Stewart families.
By Daytime Confidential on October 25, 2007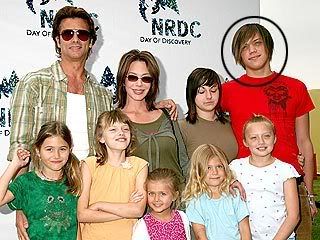 Update: The Michael Tylo II Memorial Website has been set up where fans can give the Tylo family their well wishes and condolences.
Terrible news for Hunter Tylo and her family came Thursday when her son Michael Tylo Jr. died in an drowning accident at 11:55 in Henderson Nevada. Clark County Coroner Michael Murphey told People that "Looking at the report, it appears that he fell in the pool after having some sort of medical event. It says on the report that he had a seizure disorder."
Our hearts and prayers and deepest condolences go out to her and her family.
Picture: Hunter Tylo and family with Bold and Beautiful costar Lorenzo Lamas