On the Web
By Jillian Bowe on June 04, 2008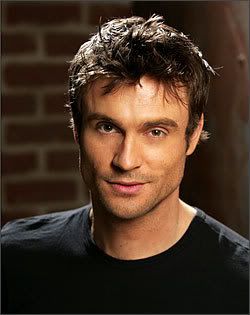 Score one for Nelson Branco! TV Guide Canada online has a great interview with eye candy Daniel Goddard (Cane), where he dishes on everything from Cane's relationship with Lily, to if Mr. Ashby is really Jill's (Jess Walton) son and Katherine's (Jeanne Cooper) stepson/grandson, er family on the The Young and the Restless
The interview also has a lil' dish on the cast and crew's feelings in regards to new co-head writer Hogan Sheffer rolling into Genoa City.
I have to say Nelson's rolling around in my head because the part about my girl La Diva Drucilla is something that I am definitely tickled pink to see.
By Jillian Bowe on May 30, 2008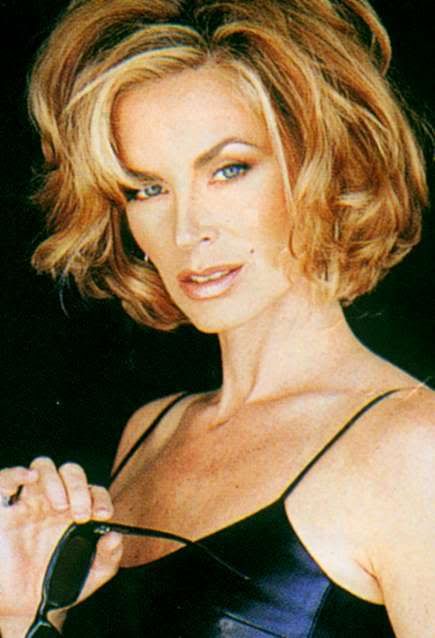 Looks like the The Young and the Restless is pulling out the big guns once again!
TV Guide Canada's reporting that Elieen Davidson (Ashley; Y&R/B&B) will be doing double duty when she swings by Genoa City and go head to head against Gloria (Judith Chapman) on Y&R.
Look for Ash to show up on your TV screens June 19 andamp; 20. For more info check out Nelson Branco's Suds Report.
Hmm.. Maybe Ash heard about Glo being down and out or maybe she's not so keen on Gloria's new residence that I reported on earlier this week...
By Lisa K. on May 28, 2008
Who knew Thorsten Kaye, All My Children's Zack Slater, was a Detroit Red Wings fan? Thorsten is an avid rugby and hockey fan and is chronicling the Detroit Red Wings run for the Stanley Cup...which they seem to be doing very well against the Pittsburg Penguins. I'm jealous already as Thorsten has met legends of the National Hockey League including all-time coaching great Scotty Bowman (pictured above with Kaye) and the "Terrible" Ted Lindsay.
When reading through his blog and interviews, I'm quite amazed by Thorsten's thorough knowledge of hockey history...very impressive. Also you can check out the Stanley Cup final series between the Red Wings & the Penguins tonight with Detroit leading the best of seven series 2 games to 0.
You can check out Thorsten's NHL Connect blog here.
By Jillian Bowe on May 20, 2008
For anyone thinking that The Powers That Be aren't trying to woo fans back into watching their shows think again... Check out the latest article by Entertainment Weekly online soap watch section. It has some interesting things said by The Young and The Restless' executive producer Josh Griffith talking about pulling out all the stops, to lure viewers back into the fold along with the man everyone loves to hate or hates to love, President of ABC Daytime Brian Frons.
I do like the fact that daytime's bringing the hottest stars onto their shows to grab viewership but maybe they can do that by I don't know… WRITING FOR US!? Although I must say that All My Children's attempt at rekindling viewership is working on me..

For AMC fans, you have a lil' treat at the bottom of the article... A clip of tomorrow's show with R&B singer Ne-Yo!
By Melodie on May 19, 2008
Daytime Confidential has just received some great scoop on Beth Ehlers'(Harley) possible exit story from Guiding Light. Here is how everything is rumored to go down. Harley smuggles Rafe out of town after she learns some disturbing news about the troubled teenager. Allegedly, Rafe shoots Jeffrey O'Neal and Harley gets him out of town to protect him. The two are on the lam for an unspecified period of time. How Rafe ends up back in Springfield and Harley doesn't, is still up in the air. Oh and all you Jeffrey fans have nothing to worry about, he survives the bullet. Message boards are sure to be a Buzz about this spoiler, as one in particular with a well known insider is already ahead of the game. Keep your eyes peeled to Daytime Confidential for the latest updates on this developing story.
By Melodie on May 16, 2008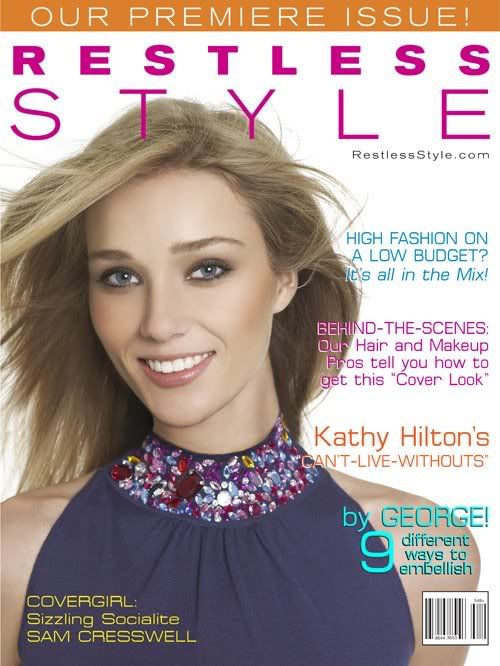 It's Official! RestlessStyle.com is up and in business. The website ties in with The Young and The Restless storyline about Nick, Phyllis, Jack and Sharon's business endeavor Restless Style Magazine. RestlessStyle.com features fashion, beauty and lifestyles of the rich and the famous. The fashion component highlights designs from actual designers such as Christian Dior and Ivana Omazic. You can also view videos of the Restless Style Launch Party and photo shoots. Interviews with Kathy Hilton and Samantha, the model on the cover, are also available with comments from Phyllis, Sharon and Jack. Phyllis is now a fashion expert with her own advice column, Ask Phyllis. There is also an option to subscribe to Restless Style Magazine. The site is complete with advertisements for Crimson Lights and changeable background music that follows you to every page.
In my honest opinion, RestlessStyle.com is very well put together. The site is very appealing to the eye and the pages flow nicely together. It looks like a website for an actual magazine. The Young and The Restless did a nice job with the addition of real fashion designers work, and interviews of people from the fashion world. Also, the advertisement for Crimson Lights is a very nice touch. However, that background music has got to go! The music is annoying and takes away from the websites feel. It also doesn't help that you can only mute it for so long before it comes back on. Another thing that bothers me is when did Phyllis become a fashion expert? Someone please refresh my memory because I missed that whole thing. Besides these two things and the Your Style section not being up yet, the website is not bad at all. You can tell that The Young and The Restless put some time into the website and I, as a soap fan, appreciate that. I guess the question here is: Why can't the storyline be as enjoyable as the website?