On the Web
By Regan Cellura on August 11, 2008
Tristan Rogers
(Robert Scorpio,
General Hospital / Night Shift
) is talking
Night Shift
on his
blog
. It's an interesting look as to where Robert Scorpio is heading.
My first show was an introduction. From here on in it gets gritty. Maybe a little to real. I have just shot some scenes which were quite disturbing for me, so I can't gauge how the public are going to deal with them. We are looking at the mortality of what, till now, has been an iconic hero. What's approaching will alter some of that.

Some people are qoing to feel quite uneasy at the upcomming material. I can't remember a person in daytime, much less any other time, ever putting themselves in the pathway of reality quite like we have here.

I think it's quite unique. How it will be percieved, I have no opinion on right now.

There's no question NS is breaking some interesting story. It may in fact be a first. But soap stories don't usually confront issues like this with characters like me. I cannot imagine Gloria ever allowing something like this to take place on her watch.
But the challenge, as an actor, was just plain undeniable. And I am for it.

We'll talk further as it develops.

lovenkisses

Tristan
Visit Tristan Rogers blog here.
By Brooke on August 11, 2008


In my youtube travels for fun and interesting Days of Our Lives clips, I came across an awesome fan-made promo for the upcoming Stefano vs Marlena battle! I know, I know, I've been all about the Stefano love lately, but when you think about the potential - which this vid maker has - how can you not get excited!? Ok, ok, maybe it's just me, but check out the clip, you wont be disappointed!
By Jillian Bowe on August 05, 2008
In case fans were wondering what former
The Young and the Restless
, star
Michael Damian
was up to, look no further. The singer/actor took the time out to speak with
OK! Magazine
to discuss his past on
Y&R
, his stint on Broadway and his movie,
Moondance Alexander,
he wrote based off his wife's life in Mississippi.
The heartthrob states, "It's the story of a young, unpopular girl who finds this pinto pony who is a bit of a renegade and a down-and-out horse trainer," he tells me. "These three come together to pursue their dreams of coming together to compete in elite horse competitions."
Fans interested in viewing the movie can check their local video store, the DVD is currently available.
By Regan Cellura on July 31, 2008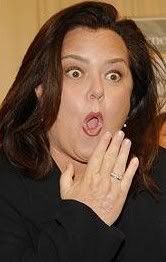 According to
People.com
, former View co-host Rosie O'Donnell is taking a break from her super popular blog at
Rosie.com
. Fans immediately took to Rosie's haiku form of blogging and that's exactly how she told her fans she was taking some time away from the computer to be with her family.
i am taking off august
in blog-ville
2 c if i can
rosie unplugged
happy summer peeps
peace in
peace out
The comedian also gave People a comment on her time off of the keyboard. Saying "I'll take the month off and then see what it feels like to come back to it."
By Regan Cellura on July 31, 2008
On my morning hop, I found a few updates regarding
General Hospital: Night Shift
's ratings and news of a possible third season in the works. There has been no official announcement of the third season pick up, however, the ratings look good enough to warrant one.
Solid Returns for General Hospital: Night Shift:
Two episodes two-date, season two of SOAPnet's General Hospital: Night Shift is averaging a healthy 466,000 total viewers, with a 170,000 key women 18-49. Comparably, this is an increase over the prior four-week time period average by a significant 81 percent in households and 68 percent among adults 18-49.
Congrats!
Marc Berman

Night Shift is back exactly where they left off last season! The surprise hit for SOAPnet last year is still pulling in the best numbers the network has ever had. With an 11pm viewing time SOAPnet is exceeding their numbers for that time slot by over 70%.
Look for the network to start production on a third season of Night Shift, that will most likely air in the beginning of the new year.
Also, fans of the Canadian produced MVP can look forward to more new episodes as the show is continuing with production.
Stay tuned....
K. Sagin
Assistant Executive Producer, SOAPnet
READ MORE
By Jillian Bowe on July 30, 2008
It just doesn't pay to be Nikki Newman these days....