Mags
By Luke Kerr on February 27, 2008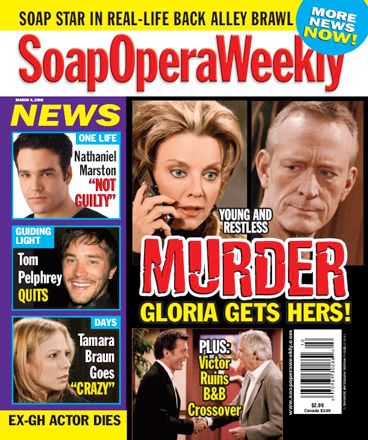 Anyone who has listened to the CBS/Days edition of Daytime Confidential knows that I am a Gloria fan while my co-hosts are often not. However, I also know that a large percentage and the Young and Restless fanbase have a burning, passionate hate for the character of Gloria so if one is to assume the cover of this week's Soap Opera Weekly would make them extremely happy. However, for some reason I highly doubt that Gloria is going to bite it. I wouldn't put it past Jeff to make an attempt on her Gloria Abbot Bardwell Bardwell's life but I don't believe for one minute she actually dies.
On a different topic. What do the Days of Our Live's fans think of Tamara Braun on the show? I know that she's extremely popular amongst a large segment of General Hospital fans but how are our Days of Our Lives fans enjoying her?
By Luke Kerr on February 04, 2008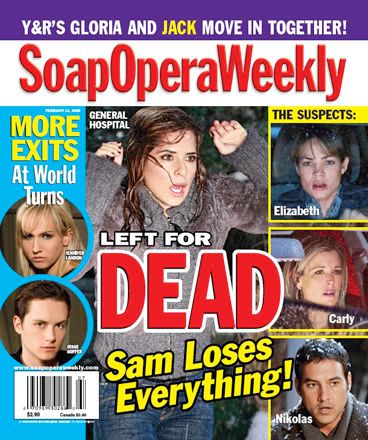 Well its time to take a look at this week's magazine covers. I'll probably end up regretting saying this but the moment I saw the cover of Soap Opera Weekly I inadvertently started humming "Grandma got ran over by a reindeer" except it was more along the lines of "Sam got ran over by 4x4". I know, I know, such fantasies are futile but I'm just being honest.
Moving on to more somber topics. 2007 may not have been Jesse Soffer or Jennifer Landon's most stellar year in terms of storylines but they will be missed if they do leave As the World Turns.
Of course I can just imagine how many emergency rooms filled up when Young and Restless fans had coronaries from the thought of Gloria moving back into the Abbot mansion. Let's hope that they and she has medical insurance because for some reason I have a feeling she's going to be in for a bumpy ride (no puns intended) living with Jack.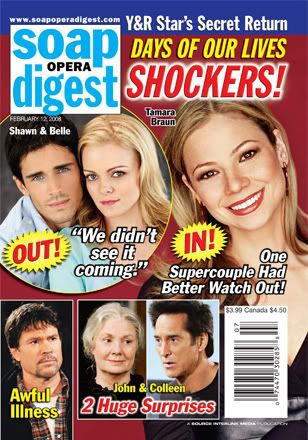 Soap Opera Digest may quite possibly have the understatement of the year on their cover in the form of the quote from Martha Madison and Brandon Beemer. "We didn't see it coming." No shitaki mushrooms Sherlock. No one saw that coming. In fact I'm not sure that anyone could have predicted last November when Martha Madison put in her best work to date that she'd be fired the following January. Days of Our Lives is getting an ugly reputation for renewing actor contracts and then firing those same actors a short time later.
So what is everyone thinking of Shirley Jones so far? Personally, I'm impressed but John's fingering the knife in every other scene is a bit much if you ask me.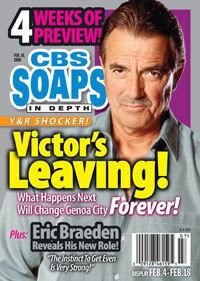 "Victor's Leaving!" Sure he is. Probably because Eric Braden is going on vacation or has a side role in the works. Not really so shocking when you think of it that way is it? Personally, I'd be more interested to see a cover with Jeane Cooper on it to help clear up these rumors about whether or not Katherine Chancellor is going to be killed off we're hearing. Now that would be a headline.
By Luke Kerr on January 21, 2008
Oh boy I'm not sure where to start with the cover of Soap Opera Weekly this week. Obviously Scott Bryce fans are upset about his firing. Melissa Gallo leaving the role of Adrianna on One Life to Live is old news. So that pretty much leaves us with the Young and Restless Victor and Nikki's divorce. I don't read the Young and Restless spoilers so if there is a twist that Victor doesn't see coming then I am all for it. Other than that, this week's cover is a bit blah for me this week.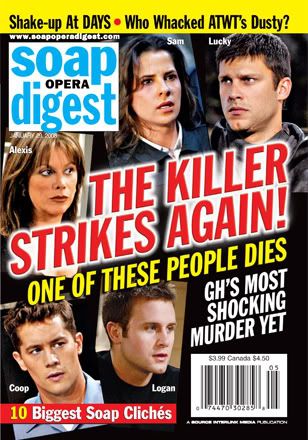 Soap Opera Digest on the other hand does have my immediate attention. With each passing week my belief that General Hospital's Coop was supposed to be the Text Message Killer before the Writers Strike but that a major storyline change was made by scab writers that makes him the hunted instead of the hunter. To be honest I'm not sure the writers know who the Text Message Killer is. Who do you think the Text Message Killer is?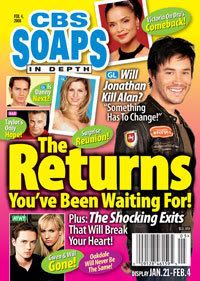 Then we have the CBS and ABC Soaps In Depth Covers. Obviously Tom Pelphrey fans are ecstatic at his return to
Guiding Light
and I must admit It will be great to have him back.
What really bothers me is that Jesse Soffer and Jennifer Landon are leaving As the World Turns. Sure they're character's couple is the most boring thing on the show under 30 but why couldn't the writers break the couple up and then give them something juicy to sink their teeth into?
And what about the ABC cover. As someone who has only been watching All My Children for ten years I didn't have the "pleasure" of watching them the first time around and I am more than a little intrigued to see what their return does for the show. Granted, a successful return is dependant in no small part on the ability of the people who are writing for them (and lets face it we have a huge question mark when it comes to that) but I'm definitely looking forward to what is in store for this couple.
By Luke Kerr on January 10, 2008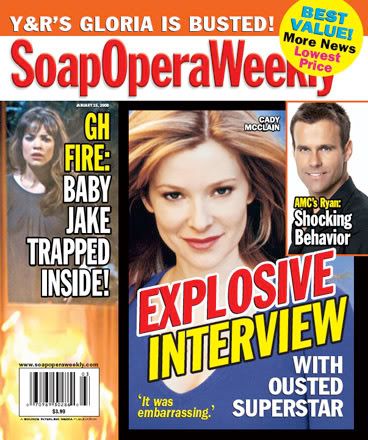 It's that time of week again. Time to check out what is on the cover of all your favorite mags. This week on Soap Opera Weekly I thought it seemed a bit ABC heavy but then I realized the "explosive interview" has to be about
As the World Turns
, not
All My Children
. Needless to say Cady McClain deserves to be able to "spill the beans" if that what she does. Needless to say I'll be checking out the interview. Then we have the big fire on General Hospital which I think could be very interesting, especially to see how it plays into the custody battle over Lucky and Liz's kids. Oooh, Gloria haters on the
Young and Restless
should be happy about headline at the top of the page.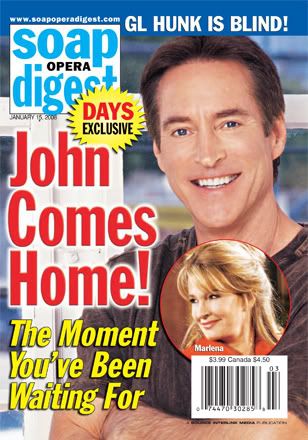 Ok, I know a
LOT
of
TV Fan Online Forum
members and Daytime Confidential readers are over the top excited about having John Black on
Days of Our Lives
but personally I can't help but feel that bringing Drake back so quickly is a bit of a cop out. Unlike other soaps which have one or two characters that come back to life periodically, say
General Hospital's
Helena,
Young and Restless'
Shelia, or
As the World Turns'
James Stenbeck
Days of Our Lives
is really getting a bad reputation for not really killing off characters.
After everything that has happened with Jack's many deaths, Stephano's multiple returns from the dead, the whole Salem Slasher and Island debacle, and now Johns not really death, it's not surprising that fans just role their eyes any time someone is killed off on Days of Our Lives. It's only my opinion but couldn't they have at least kept John dead for six months to a year instead of six weeks? Wouldn't that made his return that much bigger? Say for May Sweeps?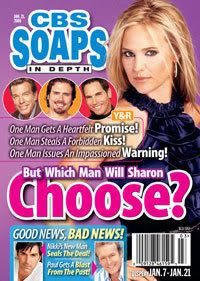 I know this sounds a bit unsympathetic but I don't really care who Sharon chooses. I like her with Jack. I like her with Nick. And I like her with Brad. I suppose if I was really pressed I would choose her for Jack because Jack needs some love in his life but I don't really expect her to stay with him long term.
By Luke Kerr on January 02, 2008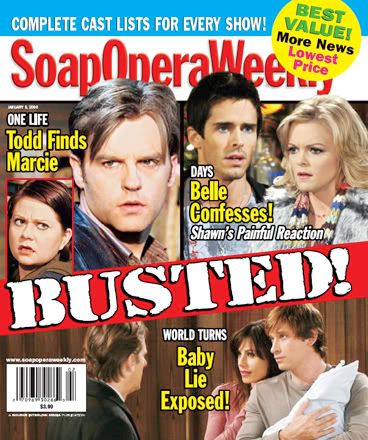 I can honestly say the only thing of interest to me on this cover is Marcie and Todd. You all know my thoughts on snoretacular Craig/Meg/Paul and the brainless Brady and wife so I'll leave it at that. The stuff this week with Marice in Paris Texas looks AWESOME.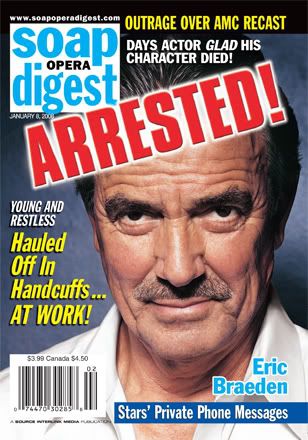 Uh, does anyone really, I mean really believe that Victor's actually going to stay in jail for long? When the headline says convicted and on death row then I'll actually be interested. In the mean time we all know Victor will weasel his way out of this.
By Luke Kerr on December 27, 2007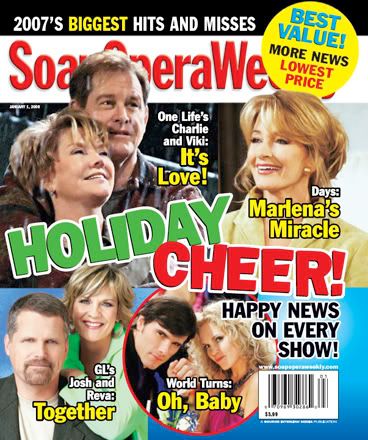 It's that time again. On the cover of Soap Opera Weekly I'm especially interested in One Life to Live's Viki and Charlie's romance. It really is being written very well and I'm loving their connection. Speaking of "connections", lets hope and pray that 2008 brings back the connection between Reva and Josh on Guiding Light. Please oh please put Josh and Reva back together!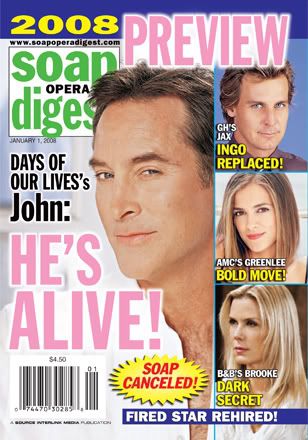 Obviously the most important thing on the cover of Soap Opera Digest is teasing of John's return to Days of Our Lives. Personally, I think Drake has become the next Vanessa Marcil and this is just a ploy to sell issues. However, what has me curious is Brooke's "dark secret" on Bold & Beautiful. Now what could she be hiding now? Does her latest line of panties have to much lace? Has she secretly married Thorne, thus providing him an actual storyline? Does she have a love child with someone other than a Forrester or Maroni that we don't know of? I'm intrigued. Though you know what they say, "curiosity killed the cat".