Mags
By Jillian Bowe on May 20, 2008
For anyone thinking that The Powers That Be aren't trying to woo fans back into watching their shows think again... Check out the latest article by Entertainment Weekly online soap watch section. It has some interesting things said by The Young and The Restless' executive producer Josh Griffith talking about pulling out all the stops, to lure viewers back into the fold along with the man everyone loves to hate or hates to love, President of ABC Daytime Brian Frons.
I do like the fact that daytime's bringing the hottest stars onto their shows to grab viewership but maybe they can do that by I don't know… WRITING FOR US!? Although I must say that All My Children's attempt at rekindling viewership is working on me..

For AMC fans, you have a lil' treat at the bottom of the article... A clip of tomorrow's show with R&B singer Ne-Yo!
By Lisa K. on May 04, 2008
Wow! Talk about some serious drama going down over at Days Of Our Lives! The tabloid Globe Magazine is reporting that Joseph Mascolo who plays the ultimate and extremely popular soap villain Stefano DiMera was FIRED after the writers decided to put his character into a coma at the beginning of February Sweeps with no plans for bringing his character back for a final exit story.
This is sure to anger many fans who were hoping for the Phoenix to rise once again considering the lengths to which Days Of Our Lives executives went to lure the actor back to his most popular role last year. This is such a sad state of affairs, considering how former headwriter Hogan Sheffer had written the story of Stefano's resurrection with EJ's involvement, followed by the discovery of John being his half-brother. So much potential of a DiMera power struggle within the family now seems to be lost as new headwriter Dena Higley has gone in a totally different direction with the show.
This is what the Globe article mentioned about the firing:
"Longtime soap star Joseph Mascolo is furious after Days` bosses axed him from the show out of the blue-and did it with a cold phone call. "A show exec called and simply told him his contract isn't being renewed,"says an insider. 'He's furious and in a state of shock. He flew into a rage over the phone.'
The 73-year-old actor who plays baddie Stefano DiMera first joined the NBC drama in 1982 and worked there nearly 20 years until 2001, when he joined the Bold and the Beautiful for five years. He returned to Days last June reprising his popular role.
The storyline put his character in a coma for the past month. "Joe believed DAYS would be his swan song" says the insider. 'He's been at the center of a strong storyline since he came back. What's worse is he's not even being brought out of the coma for a major finale. He's worked his last day on the show. "
Joseph Mascolo has played Stefano DiMera on and off Days Of Our Lives since 1982. His other most notable role was on Bold & The Beautiful where he played Massimo Marone from 2001 to 2006.
By Luke Kerr on April 21, 2008
I always love it when the soap mags do one of their preview episodes. Usually one can find at least one or two good tidbits that haven't made it into the online rumor mill so I'm sure that Soap Opera Digest will have something of interest for pretty much everyone in this week's issue.
Now to the cover... General Hospital "Surprise"? Could it be that Sarah Brown is really Carly and not Claudia and that Carly is Claudia? Ok, now I'm giving myself a headache. I'll just be content with having Sarah Brown back on General Hospital, even if I have some issues with her returning as another character.
Apparently the EJ/Sami/Lucas triangle on Days of Our Lives will be heating back up. Hard to imagine sparks not flying when Lucas returns to find Sami living in the DiMera mansion and in the midst of a pretty good relationship with EJ. Oh, and here's a question. What will Lucas think of Nicole's return to Salem?
"So I guess your hair can grow three inches in heaven?" Was Daytime Confidential's Jamey's comment on the All My Children promo heralding the return of Dixie to Pine Valley. They say that when one dies and goes to heaven they get their wings, do they also give out hair extensions? Who knew that heaven was a five star salon? One has to find a bit of humor in the fact that Dixie is returning but as an angle, don't they?
Finally we have The Young and Restless' "hottest" triangle Phyliss/Nick/Sharon. YAWN! Can I just say I'd love to have seen Lesli Kay's Felicia Forrester in that picture with them. Now that would be headline.
By Luke Kerr on April 21, 2008
This week's Soap Opera Weekly is "exploding" with
Days of Our Lives
headlines about Patch and Kayla, Bo and Hope, and John's "stunning confession." If you've listened to the Daytime Confidential podcast you know we're loving Robo John but I can't help but think that the most interesting thing on
Days of Our Lives
these days is the ticking time bomb that is Nicole Kiriakis. Her scenes with John this past week were awesome and its obvious that Arianne Zuker is having a blast being back and helping to shake things up.

One Life to Live's
Marty Saybrook alive? We all knew she was. What is the old saying "If there isn't a body (and even when there is sometimes), then they aren't dead"? I think its safe to say that it was only a matter of time before one of the mags confirmed the rumor of Susan Haskell's return as truth.
Of course then there is the picture of Guiding Light's Beth Ehlers and the question of whether or not she might be jumping to All My Children. We've been discussing that rumor for a while now
By Luke Kerr on April 11, 2008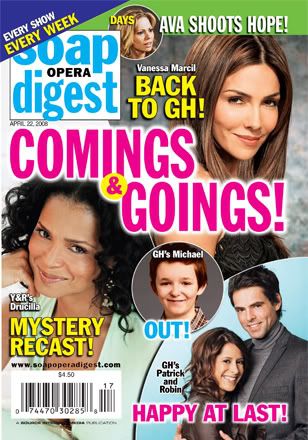 No Whammy! No Whammy! Talk about a double whammy cover. Soap Opera Digest is going all out this week with two of the biggest former daytime stars on ABC and CBS on its covers.
Up first we have Vanessa Marcil who we know is a sure bet when it comes to boosting General Hospital falling ratings. Then we have have Young and Restless' Victoria Rowell who it has been rumored could return very soon, but the mag talks about a mystery recast. However, in today's Suds Report Nelson Brano sheds some further light on the topic asking why Y&R is casting a Dru look-a-like?
When I read this my first thought is could this be an All My Children Di/Dixie story? I loved Kelly Giddish as Di Henry on All My Children and I realize that long time Y&R fans may have no desire for yet another "doppelganger" type storyline but I'm not sure I'd be opposed to it. Especially if the #1 rated soap does it right and doesn't ruin it like All My Children did.
Of course we also have one of General Hospital's most popular couples on the cover with the headline "Happy At Last". Normally, this would make me ecstatic but considering I read our own General Hospital Spoilers and Scoop by the wonderful Regan one knows that it probably won't last.
By Luke Kerr on April 11, 2008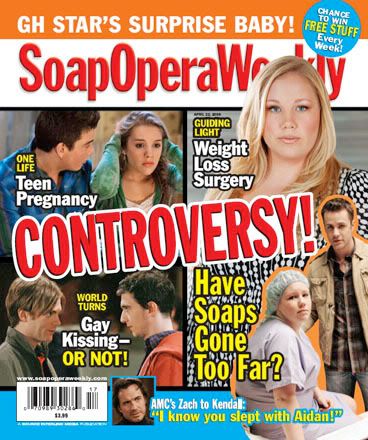 Have soaps gone too far? That is the question that
Soap Opera Weekly
is asking on this week's cover. I think
As the World Turns'
Nuke (Luke & Noah) fans would argue that their show hasn't gone far enough by allowing the characters to kiss once again. Instead
As the World Turns
has resorted to
3-year-old antics
.
Then there is One Life to Live's pregnancy storyline involving fan favorite Kristen Alderson's Starr who we've watched grow up on screen. We discussed this topic on this week's ABC edition of Daytime Confidential and here on the blog. Obviously the age of the actress and character is a mitigating factor that has caused more than one raised eyebrow amongst fans. The jury is still out on how this will all play out.
Now we have Guiding Light's latest attempt at telling a socially relevant storyline. Telling the story of an individual who is insecure with being overweight and needing the assistance of a weight loss surgery has the potential to be one of the most gripping and socially relevant storylines to come out of Guiding Light , possibly daytime, in some time. Anyone who has watched the show knows that Caitlin Van Zandt is a gem of an actress and more than up to the challenge of story. If told right this story has the potential of garnering Van Zandt an Emmy nomination next year.
The question is, is Guiding Light up to the challenge or will they go to far?