Mags
By Jillian Bowe on June 14, 2008
'Tis the summer to reunite families with loved ones on your favorite shows.
Soap Opera Digest online is reporting that the following will be headed to your favorite soap:
On Bold and The Beautiful, Patrick Duffy (Stephen) will reprise his role of the Logan patriarch starting June 20. His arrival's just in time for him to meet his long lost grandson Marcus (Texas Battle) and his estranged wife in La La land.
On All My Children, the Van Peebles family has another family member to have soaps added onto their phenomenal resumes. All around Renaissance man Melvin Van Peebles will be joining his son Mario (Samuel) in Pine Valley. Melvin will play Samuel's dad named appropriately, Melvin starting July 10.
The elder Van Peebles is known for not only being a actor/director/screenwriter playwright and composer but also for his groundbreaking film, "Sweet Sweetback's Baadasssss Song," where he wrote, produced, scored, directed by, and starred in the film making it the top grossing independent film that was released in 1972.
By Melodie on June 10, 2008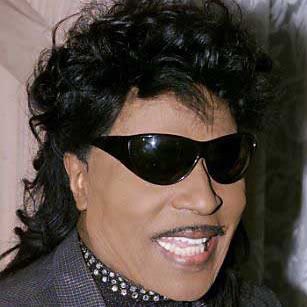 Mashed potatoes, gravy, and cranberry sauce! Soap Opera Digest is reporting that Little Richard will appear on The Young and the Restless. The Rock and Roll Legend is set to perform at an upcoming wedding. However, it's not the wedding you're thinking of. Jeffrey and Gloria elope on June 30th, and Little Richard performs at the ceremony. In the words of the legend himself: "Shut Up!"
By Melodie on June 07, 2008
Summer brings a lot to the table in the world of soaps. You can always count on make ups, break ups, betrayal, danger, and enough drama to give Broadway a run for its money. Check out these summer previews that will turn the Guiding Light red hot!
Olivia/Alan/Dinah: It's a summer of bickering and revenge for these three. Not only with Dinah have Bill and Ava living in the Spaulding Mansion, but Olivia as well. That's right, Olivia moves into the big house at Ava's request. Naturally, two women as strong as Dinah and Olivia are going to butt heads. Expect a few cat fights to explode between the women. However, these two should focus there attention on Alan rather than themselves. Alan wants to be back on top by all means necessary this summer. The way he goes about reclaiming his fortune and power will be "strange" to say the least.
Bill/Lizzie/Ava/Remy: Bill wants to have the American Dream this summer. He figures the best way to do that is to marry Ava! No, I'm not kidding. Bill proposes to Ava. Just guess what her answer is. When Lizzie finds out Bill and Ava's news, she is crushed. She still loves Bill with all her heart but things are just beyond messed up right now. To keep her mind off Bill and Ava, Lizzie searches for a new love and continues her plan for revenge on Bill. Let's go back to Ava for a bit. She may want to have a dream life with Bill, but Remy is the one she's dreaming about. Ava finds herself getting closer and closer to Remy. Will something happen between these two? Here's a better question: When will Ava's secret come out so Bill can kick her to the curb and go back to Lizzie?



Blake/Coop/Ashlee: I apologize to the fans of Coop and Ashlee right now, because you aren't going to like what happens. All of Blake's pursuing pays off because she gets Coop. Coop connects with Blake on a higher level than he and Ashlee are on. Speaking of Ashlee, the poor dear is still having self-esteem issues. Even though she is losing weight, she continues to be unhappy. Right as Blake and Coop are connecting, Ashlee finds a new innovative activity to focus on. Will this activity pull her further away from an already wandering Coop?
Reva/Jeffrey/Cassie/Josh: Reva's movie ignites some serious drama. The recreation of Josh and Reva's first wedding at Cross Creek has Cassie and Jeffrey squirming in their skin. The wedding brings Josh and Reva closer together, entirely too close for Cassie and Jeffrey. How will the closeness of "Always" affect the relationships of Josh/Cassie and Jeffrey/Reva? Staying on Reva for a bit, she finds herself at a crossroads. She loves Jeffrey but the memories of Josh are really getting to her. What will she ultimately do to solve her dilemma? Will her solution involve Joshua in any way? Speaking of Josh, he is still having a problem dealing with Cassie's betrayal. Cassie is desperately trying to keep her tryst with Cyrus a secret. She better hope that when Josh finds out that it was Cyrus, it doesn't push him into Reva's arms.
Mallet/Marina: Things get pretty hot and heavy for these two during the summer months. Look for them to be steaming up your screens in the near future. Mallet is truly falling for Marina and Dinah knows that. It tears her up to see Mallet with another woman. However, don't think Mallet is completely over Dinah yet. Mallet and Dinah had a true love affair and feelings like that don't go away in the blink of an eye.
Daisy/G/Cyrus: Cyrus has nothing but trouble on his hands in the upcoming summer months. His brother, G, is the root of most of his problems. Cyrus wants to keep G and Daisy apart, but doesn't do a good job of it. Daisy is drawn to G and The Coopers, Reva, and Cyrus can't understand why. Daisy slips further and further down that dark path of trouble with G. Cyrus is torn on protecting his brother or Harley's daughter. He feels responsible for the both of them. Who does he choose? Anything is possible in this situation. On top of all that, Cyrus still has to deal with Cassie. His brother killed her daughter. How will Cassie react when she discovers this tidbit of information? More importantly, how will it affect an already stressed out Cyrus?
Harley: Here's an extra Harley scoop for all of you. Even though she may not be in Springfield, her presence will still be felt. RUMORS say that a Harley return is possible. So Harley won't make a permanent exit from the show. More RUMORS say that GL is looking to recast Harley. Names like Cady McClain have been considered for the role. It is still unclear if Harley will return to town after her June 23rd exit date.
Hopefully, it will be one spicy summer on daytime's longest running drama.
By Melodie on June 02, 2008
According to the current issue of Soap Opera Digest, Nia Peeples(Karen Taylor) is returning to Genoa City. The magazine reports that there is a "new storyline coming up that Karen will definitely be apart of." Digest also confirmed that the actress has now been placed on recurring contract status.
The last time we saw Karen, she was headed for New York City. Look for Peeples to head back to Genoa City in the next few weeks.
By Jillian Bowe on May 22, 2008
And the beat goes on……
Pick up next week's copy of CBS's Soaps in Depth, in there you have some juicy tidbits on what's going down with David/Nikki/Paul straight from Young and The Restless headwriter Maria Bell's mouth! She answers the burning question that fans such as myself asked, "Why did Nikki marry David when she has inklings that he's back to gambling!"
Bell says, "I think Nikki really loves David and is committed to him....but what we have to realize is that Nikki is an addict herself so she has alot of compassion for David's struggles, more than someone else might." Uh ok.. Says Ms. Bell, "Nikki is fully committed to David, but unbeknownst to her there are definitely some clouds forming over their relationship."
Bottom line kids, there's more to Mr. Nikki Reed that meets the eye and this story's starting to heat up! Like did you know that Paul meets with David's stepdaughter, Mina.......
By Melodie on May 21, 2008
Earlier this week, we reported a possible scenario for Beth Ehlers' exit from Guiding Light. This scenario has turned out to be true according to an article appearing in Soap Opera Digest this week. The article titled "Rafe Shoots Jeffrey" explains Rafe's reasons for shoooting Jeffrey and exactly how Harley becomes involved. Harley not only takes Rafe out of town, but out of the country. Rafe doesn't tell a soul where he is going, leaving Natalia in hysterics. Harley tells Buzz and Buzz only where she is going, but swears him to secrecy. How Harley and Rafe end up back in Springfield is still on the fuzzy side. The article ends with a representative from Guiding Light stating that there will be a "great story" behind Harley's exit and her last airdate is June 23. Be sure to stay tuned to Daytime Confidential for more updates on this story.