Classic Soaps
By Brian Peel on March 29, 2009


In an earlier post from Jamey, the highlights brought to the forefront was a mix of wanted Days of Our Lives storylines to bring this show back from the brink. With a show such as this riding on a prestigous history, we can't help but long for the Days we grew up with back in the day of bliss and glamour. I scrambled upon this video tonight which reminded me how much I enjoyed scenes between the characters of Alex and Marie, a comic duo one moment, then a lovestruck the next - really shows why Days has so much opportunity to bring some of it's best characters back and relive some of the magic. Alex Marshall and Marie Horton had a daughter Jessica, who inturn is Nick Fallon's mother. Story potential? You betcha! The beginning of rebuilding the Horton family - the cornerstone of the show.
By Jillian Bowe on March 26, 2009
Greetings kids! Action is headed our way on The Young and the Restless!
Katherine/Jill: Its official, former enemies turned mother and daughter are NOT related! The saga unfolds when Jill of all people gives the idea to Nikki when the latter pushed for another DNA test. Jill denies this request and tells Nikki to have Brock come back in town for the testing. Nikki loves the idea and brings it up to Katherine. This is delightful for Katherine because she knows that Brock will prove who she's been saying she is, but at the same time, Katherine's also scared to have the test because it means that Jill will no longer be her daughter.
Katherine would love for them to keep their relationship as is, even though they've had fights the ladies still had some good times. Katherine will miss the close relationship they've created. Meanwhile, Jill is rejecting the thought of not being Katherine's daughter but as time goes on, it starts to look that way and Jill is very hurt and starts to act out in anger. Brock comes to town and he heads to Murphy's trailer where he sees the woman in question and knows that she is his mother. Mother and son share a heartfelt reunion and Katherine knows that she doesn't have to go all out to prove who she says she is to Brock. READ MORE
By Jamey Giddens on March 22, 2009
Once upon a time, before the days when sexist, ageist trolls ruled the Daytime Kingdom, and before the pervasive, asinine notion that younger viewers only want to watch young, bland models learn how to act, or not, on the front burners of daytime soap operas, there were interesting, romantic, compelling, stories that exemplified the very fact that true love— and sometimes true hate—comes in all shapes, sizes, colors and yes, age brackets. These clips from
Another World
,
Santa Barbara,
Days of Our Lives
and
General Hospital
show soap opera seniors doing what they once did best— fight, love and pass on the torch to the generations to come.
READ MORE
By Jillian Bowe on March 17, 2009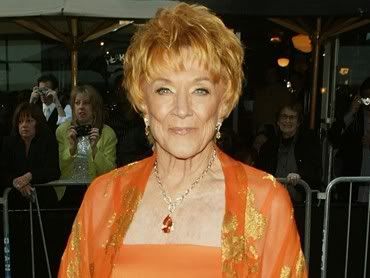 Now before you ask, no Aunt Maria and Uncles Hogan and Scott aren't channeling the late
James E. Reilly
. According to
TV Guide
, on March 26,
The Young and the Restless
will dedicate a special show around the hustling hash slinging waitress Marge (
Jeanne Cooper
). Marge will be exhumed for DNA testing. Kudos to the fab four over at
Y&R
for showing that young bucks in the industry aren't the ones that fans are clamoring to see and should be centered upon. Remember folks, do as our Uncle Jamey says:
"VOTE WITH YOUR REMOTE,"
because this is going to be a episode you will not want to miss!
By Brian Peel on February 03, 2009
Extra! Extra! Read All About It! -
Thaao Penghlis
is out as
Tony DiMera
on
Days of Our Lives
. One could now ask where this would leave several Days storylines - a show of drama, surrounded in drama. Does this spell the end of the true authentic DiMera empire? We have been privileged to see Tony and Stefano opposite eachother on screen for many years in the 80's and have since been reunited on screen in recent times. Rumour has it that Tony will leave the show in a 'blaze of glory' or big Salem murder mystery. I see the potential of this being a major sweeps storyline, but the question now arises as to where
Leann Hunley
fits into the
Days of Our Lives
equation. Will Anna stay in Salem and find herself a new beau? Or will the almighty Executives at NBC further chop the cast list and send Leann packing - just like they have
Drake Hogestyn
and
Deidre Hall
?
READ MORE
By Jillian Bowe on January 17, 2009
Remember when the announcer at the end the show Fridays would say, "Tune in next week for another episode of (insert your favorite show)," and you'd be so anxious for Monday to come? Welcome back to those days. This is the true "Must See TV!"