Classic Soaps
By Brian Peel on October 16, 2009
On January 14 2007,
The Bold and the Beautiful
, and the entire soap fraternity, mourned the loss of actress
Darlene Conley
. Conley played the role of Sally Spectra from 1988 right up to her death in 2007. We lost an icon of the genre, a true diva that would light up the stage no matter what the occasion. Sally was a fan favourite and would captivate the world with her outrageous outfits, big red hair and passion for the fashion industry. Sally's rivalry with Stephanie Forrester was what established
The Bold and the Beautiful
as having two mighty fashion labels going head to head for supremacy.
READ MORE
By Brian Peel on October 15, 2009
Whether you are a crazy woman on the loose firing 3 bullets into the heart of a Genoa City villain, a woman admitted to a loony bin and giving birth to a child at the same time, or an Abbott family member on life support,
The Young and the Restless
has had it all over the last month. Ratings might not be proving favorable for Y&R, but the writing quality, and the acting, is outstanding. If you had to ask me who I thought deserved the chocolates, I'd have two words -
Beth Maitland
portraying Traci Abbott.
READ MORE
By Brian Peel on October 13, 2009
Ok, so it's been a while since you last heard from me writing for Daytime Confidential. I am making a comeback. A comeback similar to that of
Crystal Chappell
in the role of Carly Manning on
Days of Our Lives
. On Friday October 2nd, Carly stuck a knife into Lawrence in the closing scenes of the show. It was a show-stopping cliffhanger that soaps almost fear to have in the Common Era. It was a Friday left hanging, with fans wondering who she was, struck with an "Oh My God" impression that quickly starts to trigger the heart aflutter, with the hope viewers will return in droves on Monday to witness the conclusion. Brilliant writing, brilliant direction and, as they say, surprise is always the greatest element of attack.
READ MORE
By J Bernard Jones on September 18, 2009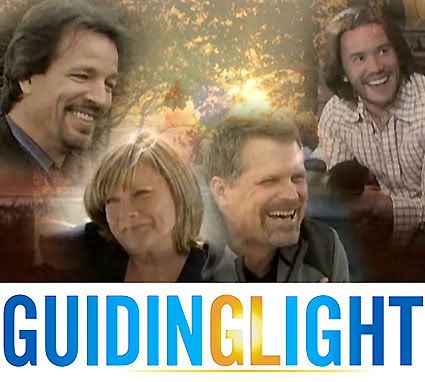 The final part of a highly personal, non-objective series highlighting various aspects of the last episodes of Guiding Light, which which ended its 72 year run on September 18th.
What was it that got me first?
Was it the opening flurry of Guiding Light's logos throughout it's 72 year history or was it the show's last "Only Love" opening featuring the most of the current cast as it had never done before? Whatever it was that first triggered a torrent of emotions that ran through me, this is what happened on Guiding Light today:
In the wake of Alan Spaulding's death, Fletcher whisked Alexandra away to see the world. Doris pulled strings and got Ashlee into a writer's program at Berkeley; Daisy and Ashley went to California together for school, while James stayed behind and bonded with his father. Mindy informed Billy that she was moving back to Springfield. Remy and a newly pregnant Christina got married in the quickest wedding in soap opera history. Olivia & Natalia settled on a name for the baby — Francesca, named after Frank. Maureen played matchmaker for Matt and one of her pretty school teachers. After weeks of online dating, Frank & Blake finally hooked up for their date, with seemingly all of Springfield stalking him. Beth gave Phillip, who once had great dreams of being a writer, a journal in which to put his every thought.
Finally, there was everything involving Josh (Robert Newman) & Reva (Kim Zimmer).
It wasn't what happened "today" that was most important; it was what happened "one year later" in Springfield that truly mattered. As I sit a home, with the television now turned off and with more than a few tears in my cynical eyes, I cannot help but be amazed that I bore witness to what I believe was one of the greatest series finales of an American institution as has been produced during the long — and now endangered — life of a uniquely American genre. READ MORE
By Melodie on September 18, 2009
Well, it's finally here! The last day EVER of the longest running scripted drama is television history, Guiding Light! I Live Blog this today with heavest of hearts. I'm sure by the end I won't be able to type through the tears so if I drop out for a few seconds at th end y'all know why. How about we start this blog the way GL used to. The way MY GL Starts! Hit it! Special Appearances by Beverlee McKinsey and Kimberly Simms as Alexandra Spaulding and Mindy Lewis!
Look at the opening with all the GL Logos. I'm already tearing up.
The Cooper/Rivera-Spencer clan trying to come up with names for the baby. Henrietta! LOL! Daisy telling everybody she's going to school!
Doris and Ashlee! It must be the last day of GL because Caitlin looks SUPER Beautiful in this dress. Doris told Ashlee she can go with Daisy to college!
Christina freaking over having a baby and NOT being married! Boo Boo this is Springfield NO ONE will care. Everybody has a kid out of wedlock. I don't remember the last time someone had a baby IN wedlock.
OMG FLETCHER AND ALEX!!! Anyone else LOVE how he's wearing that same hat. Those two just make me happy!
Jon, Sara , and Reva! So cute!
Josh NEEDS to talk to Reva at Cross Creek! GO REVA GO!!! NOWWWWW!!! READ MORE
By Melodie on September 11, 2009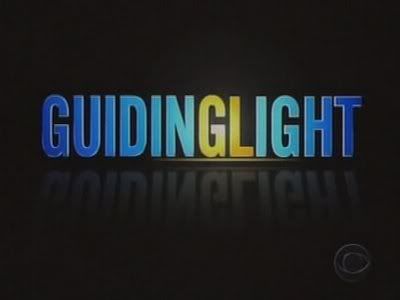 During the Bauer Barbeque,
60 Minutes
Correspondant
Morely Safer
visited the set of
Guiding Light
to film a tribute on the 72-year-old sudser. The tribute will feature classic GL clips and interviews from the cast and crew. Be sure to
check it out
this Sunday, September 13th at 7p.m. ET/6p.m. CT.
For long time Guiding Light fans like myself, be sure to bring the tissues!