Cheesy Goodness
By Lisa K. on January 29, 2008
Ok it was another great episode of As The World Turns! Not only did Casey come home, Lily remembered that she didn't kill Dusty, but Dr. Bob Hughes finally came out of his coma! Oakdale just wasn't the same without Dr. Bob around. Now lets hope Bob can kick his creepy son Chris to the curb and get his old job back as Chief of Staff at Memorial Hospital.
By Lisa K. on January 10, 2008
OMG! Brad Snyder had the best one-liners today! The whole lingerie scene had me rolling on the floor!

Katie: Brad, have you met dena donatello? Hi, good to see you. She was just named lingerie legend at the chicago loop sleepwear awards.
Brad: Big fan of your work. It comes off beautifully. Can you excuse us for -- just for a second?
Then that was followed by the best blurt out to Katie on his intentions....
Brad: I can't wait to get you back in the sack!
I LOVE Brad & Katie!
By Lisa K. on January 08, 2008
Hurray John Black is Back! Although I have no clue as to how Stephano got his hands on John or how this miracle has happened. All I know is that I'm so glad he is alive and 'well'. However it remains to be seen how much control Stephano has over John as it appears that some sort of mind control measures must be in place as Stephano keeps referring to him as his greatest soldier.
But is that really John or did the real John die at the hospital by Marlena's side and this person is another imposter (twin brother perhaps?) or did John secretly make a deal with Stephano for reasons yet to be made clear to us and stage the whole hit and run? I haven't kept up with the spoilers out there myself but I am really looking forward to what is in store as now Days Of Our Lives is getting very exciting now!
The only thing that really got me yelling at my TV once again is EJ not telling Sami what she saw at his father's house. All he told her was that he saw his father 'in a different light'. What kind of bullcrap is that? Just tell her the truth and be done with it. If EJ wants to win the heart of Samantha then he's got to be completely honest with her no matter the circumstances! And wouldn't him telling her that John is alive and under the control of Stephano be proof enough of his sincerity and good nature? I don't think Sami will be pleased to hear John is alive and EJ knew all along and never told her! So tell her already!
By Luke Kerr on January 07, 2008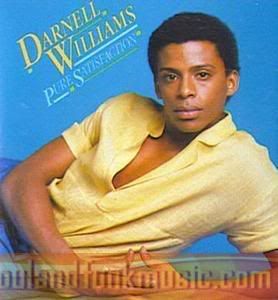 Daytime Confidential listener Equarter found this classic goody from Darnell Williams in 1983. It's his song Pure Satisfaction.
As Equarter put it "I found out that Darnell Williams had a minor (and I mean minor) hit in the 80's with a track called "Pure Satisfaction." Let's hope the writer's at All My Children catch some common sense and we all can have some
satisfaction."
By Lisa K. on January 05, 2008

Oh I love these classic promos! Erica and Adam look so intense. Also its nice to see Holy, Robert & Luke...oh those were the days! Remember that ABC...it was called adventure and love!?!
By Lisa K. on January 04, 2008
I was going to call this one: Who has the worst hair? But I think both Lucas & EJ have terrible haircuts right now on the show. It is a new year and I think a new look is needed for both men! Both of thier furry tufts are driving me mad everytime I see them on screen. Lucas I can forgive because he's in jail. EJ however seriously needs to spend the day at the spa...he really needs the full package deal including mudbath, facial, manicure & pedicure, and not to forget to have his oh so beautiful locks cut and trimmed!