Cheesy Goodness
By Jillian Bowe on September 17, 2008
Carly becomes Cupid for her one true love?

By Brooke on September 14, 2008
I'm starting a petition. I want to see more of Kate's assistant, Chris (
Ross Mathews
)! How funny was he in episodes aired on
Days of our Lives
last week? He's like a breath of campy fresh air and I'm loving the breeze! Please sir, can I have some more?
I don't know what his continued storyline would be, or who you'd get him to interact with apart from Kate, but I don't care! Please Days, figure something out. This character could be what you need to bring back some of the humor into your storylines.
Agree? Disagree? I'm starting the petition here so make sure you have your say! Who's with me?

By Jillian Bowe on September 10, 2008
BACKBONE people! What were YOU thinking?

By Jillian Bowe on August 18, 2008
For years, whenever Stefano DiMera would refer to Marlena as his "Queen of the Night" I'd snicker because I thought someone at
Days of Our Lives
or the peacock network were closet Whitney Houston fans. Every time Stefano uttered the phrase I would wait for Whitney to jump out and start singing her smash hit - along with Deidre Hall as a backup dancer.
Even though it's late in the game, I want to give a shout out to Days for the return of Stefano DiMera. The iconic supervillian proves time and time again he knows how to make a grand entrance and that revenge is best served cold...

By Brooke on August 11, 2008


In my youtube travels for fun and interesting Days of Our Lives clips, I came across an awesome fan-made promo for the upcoming Stefano vs Marlena battle! I know, I know, I've been all about the Stefano love lately, but when you think about the potential - which this vid maker has - how can you not get excited!? Ok, ok, maybe it's just me, but check out the clip, you wont be disappointed!
By Sean on July 15, 2008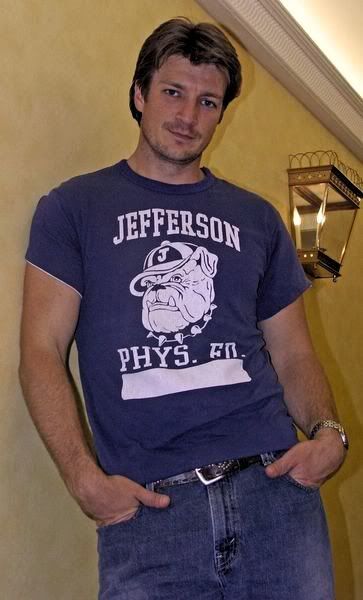 OK so this isn't all about Nathan Fillion (ex-Joey OLTL, ex-Dr Mayfair DH) but i needed him to post this here. :)
So Joss Whedon, genius behind Buffy, Angel, Firefly and the upcoming Dollhouse. had an idea that he thought would be fun to do. He called his brothers and his friends Nate Fillion and Neil Patrick Harris (Doogie Howser, M.D, How I Met Your Mother) and talked them into doing this short project called "Dr. Horrible's Sing Along Blog"
From Sci-Fi.com : "Whedon (Buffy the Vampire Slayer) wrote the musical series during last year's Writers' Strike. Co-writers for the Internet feature are Whedon's brothers, Zack and Jed, and Jed's fiancee, Maurissa Tancharoen. The story centers on a low-rent supervillain (Neil Patrick Harris), the hero who keeps beating him up (Nathan Fillion) and the cute girl from the laundromat he's too shy to talk to (Felicia Day). READ MORE