Cheesy Goodness
By Melodie on May 27, 2009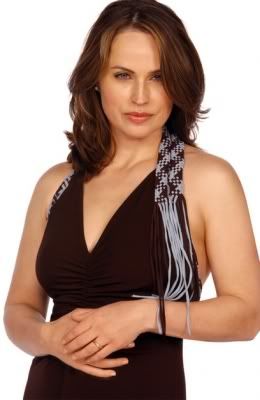 Have you ever wanted to know what soap actors are thinking on the set? Well, here is your chance.
Crystal Chappell,
who portrays Olivia Spencer on
Guiding Light,
decided to use the power of the internet and
Twitter
live from the Bauer Barbecue today. So far, there have been guest appearances from
Beth Chamberlin
,
Frank Dicoopoulos
,
Paul Anthony Stewart
,
Nancy St. Alban
, and
Tina Sloan
. I'm sure there is much more to come. Check it out!
By Jillian Bowe on December 29, 2008
Remember the good ole' days when Jill Foster Abbott (
Jess Walton
) always had a man who had her sweating up the sheets? Katherine (
Jeanne Cooper
) had the right idea in mind for her daughter's Christmas gift. She told her daughter to embrace life and find someone to share it with, instead of being the town's Scrooge 365 days a year.
Now that TPTB have put it out there, maybe in 2009, Jill will again find that special someone to spend her nights with and to assist her in bringing down the Bardwell?
For everyone waiting for Jill to finally get her back blown, here's a lil' taste of what Jill was working with a few years ago. Warning, this is not for the faint at heart.
By Darren Lomas on December 21, 2008
Back in 1994, the cast of
The Bold and the Beautiful
released a Christmas album in Europe. Here's the video for the single,
Love Is The Gift
, featuring
Darlene Conley
(Sally),
Bobbie Eakes
(Macy),
John McCook
(Eric),
Schae Harrison
(Darla) and
Jeff Trachta
(Thorne).
I want a follow-up single featuring Bridget singing I Saw Mommy (And Auntie) Kissing Santa Claus.
By Darren Lomas on December 16, 2008
Check out this, ahem, "classic" trailer for
The Bold and the Beautiful
from the early nineties. It features the following jingle/rap/hot mess:
"His eyes seduce you, you yearn for his kiss,
He's hurt you before, you've just got to resist.
Imagine the desire, imagine it's you,
If temptation embraced you, what would YOU do?"
If Ridge embraced me, I know what I'd do...
By Darren Lomas on November 30, 2008

The Soup
weighed in on
The Bold and the Beautifiul'
s latest shenanigans. This time it was Brooke (
Katherine Kelly Lang
) and Ridge's (
Ronn Moss
) "sexy" sushi dinner.
By Darren Lomas on November 21, 2008
Which rival soap star does Ridge (
Ronn Moss
) dig up instead of Taylor (
Hunter Tylo
)? Check out this hilarious B&B skit to find out.