CBS Soaps In Depth
By Jillian Bowe on January 30, 2009
A little birdie has told me that Stacy Haiduk (ex-Hannah, All My Children) has been cast in the role of Smilin' Jack's (Peter Bergman) new love interest and has already started taping scenes. No word yet on when they will air.
The latest edition of Soaps In Depth is reporting that Mackenzie Browning, the beloved granddaughter of Katherine Chancellor (Jeanne Cooper), will be heading back to town in March. As it was reported by yours truly last week, the rumor mill was hinting that a character named Alex was a smokescreen for either Mac or a replacement for Colleen. No word yet on who's taking over the role again, but stay with Daytime Confidential for the latest updates.


By J Bernard Jones on December 07, 2008
Here lies the final resting place of the Great American Soap Opera
A good and constant companion to millions,
The genre lost its way toward its Final Fade to Black.
Neglect and misconception caused the genre's downfall,
But their collective memory shall live in our hearts. Forever.
Daytime O. Drama
1952 (or 1937) - 2010 (or 2015) — Depending on Who's Counting
Yes, my friends, it is time to put on your best Sunday black, sit Shiva if you are among our Jewish friends, remove all your jewelry if you are Muslim, burn those collections of Soap Opera Digest in a Shraddha ceremony for our Hindu cousins, and the rest of us heathens and infidels can cuss out Brian Frons, Barbara Bloom, Ellen Wheeler and Ken Corday in polysyllabic orgasmic fury. A flame in the wind has flickered its last, the bright promise of our date with life is forever gone. Today is no longer ours. Stick a fork in daytime soaps. They are done. I just have one tiny question:
Are soaps really dead? READ MORE
By Jillian Bowe on May 29, 2008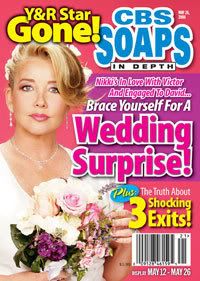 Check out the latest CBS Soaps in Depth.
Inside there is a casting call that will interest you.
The magazine is reporting The Young and The Restless has sent out a casting for a fiesty sales girl and a snooty woman that looks like Gloria. Inside the mag it has a lil' teaser stating, "Could her sister be headed to Genoa City?" Hmm...
Just when you thought one Gloria was trouble, another one may be on the way!
I can't wait to see how this plays out.
By Jillian Bowe on May 22, 2008
And the beat goes on……
Pick up next week's copy of CBS's Soaps in Depth, in there you have some juicy tidbits on what's going down with David/Nikki/Paul straight from Young and The Restless headwriter Maria Bell's mouth! She answers the burning question that fans such as myself asked, "Why did Nikki marry David when she has inklings that he's back to gambling!"
Bell says, "I think Nikki really loves David and is committed to him....but what we have to realize is that Nikki is an addict herself so she has alot of compassion for David's struggles, more than someone else might." Uh ok.. Says Ms. Bell, "Nikki is fully committed to David, but unbeknownst to her there are definitely some clouds forming over their relationship."
Bottom line kids, there's more to Mr. Nikki Reed that meets the eye and this story's starting to heat up! Like did you know that Paul meets with David's stepdaughter, Mina.......
By Luke Kerr on March 08, 2008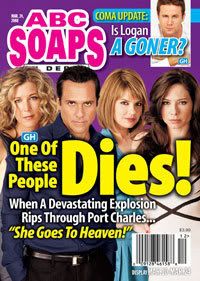 "One of these people dies"? That is the headline on ABC Soaps In Depth. For some reason I don't believe for one minute that any of the four characters pictured dies. The only thing that I can think of is if they are counting Carly's unborn fetus, assuming she might lose the baby in an explosion.
Over on CBS Soaps In Depth the head line is "Shocking Changes Hit Young and Restless" but I'm more curious about the "Will Phyllis Betray Nick With Another Newman?". I'm really interested to see how Adam's growing interest with Phyliss plays out.
By Luke Kerr on February 04, 2008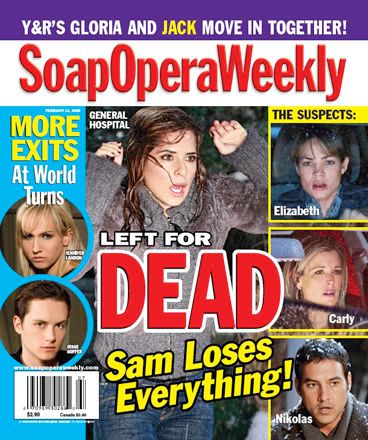 Well its time to take a look at this week's magazine covers. I'll probably end up regretting saying this but the moment I saw the cover of Soap Opera Weekly I inadvertently started humming "Grandma got ran over by a reindeer" except it was more along the lines of "Sam got ran over by 4x4". I know, I know, such fantasies are futile but I'm just being honest.
Moving on to more somber topics. 2007 may not have been Jesse Soffer or Jennifer Landon's most stellar year in terms of storylines but they will be missed if they do leave As the World Turns.
Of course I can just imagine how many emergency rooms filled up when Young and Restless fans had coronaries from the thought of Gloria moving back into the Abbot mansion. Let's hope that they and she has medical insurance because for some reason I have a feeling she's going to be in for a bumpy ride (no puns intended) living with Jack.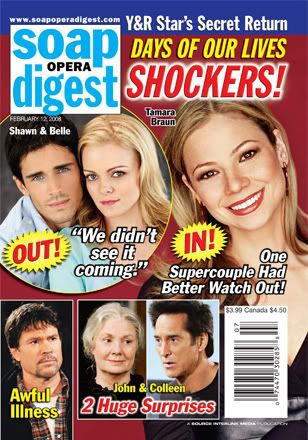 Soap Opera Digest may quite possibly have the understatement of the year on their cover in the form of the quote from Martha Madison and Brandon Beemer. "We didn't see it coming." No shitaki mushrooms Sherlock. No one saw that coming. In fact I'm not sure that anyone could have predicted last November when Martha Madison put in her best work to date that she'd be fired the following January. Days of Our Lives is getting an ugly reputation for renewing actor contracts and then firing those same actors a short time later.
So what is everyone thinking of Shirley Jones so far? Personally, I'm impressed but John's fingering the knife in every other scene is a bit much if you ask me.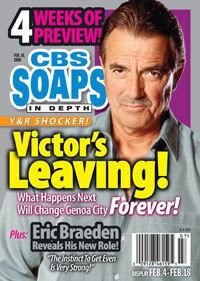 "Victor's Leaving!" Sure he is. Probably because Eric Braden is going on vacation or has a side role in the works. Not really so shocking when you think of it that way is it? Personally, I'd be more interested to see a cover with Jeane Cooper on it to help clear up these rumors about whether or not Katherine Chancellor is going to be killed off we're hearing. Now that would be a headline.