ABC Soaps In Depth
By Daytime Confidential on November 27, 2013
On today's Daytime Confidential Luke Kerr, Jamey Giddens, Jillian Bowe, Melodie Aikels and Regan Cellura count down the Top 5 Things They Are Thankful For in Soaps in 2013.
Share the Top 5 things you're thankful for from soaps in 2013 in the comments. We'd love to know what made your list!
All this and much more on today's Daytime Confidential podcast! READ MORE
By Melodie on October 12, 2010
Former
As The World Turns
starlet
Terri Colombino
(
Katie
) has landed a role on
One Life to Live
, according to
SOAPnet.com
. Colombino will be playing new character, Aubrey, who is set to arrive in Llanview in late November. It is unknown at this time who she will mix it up with first. What are your thoughts on Colombino coming to
One Life to Live
?
By Melodie on August 17, 2010
It looks like The Slut of Springfield is making her way to Llanview. According to
ABC Soaps In Depth
, former
Guiding Light
starlet,
Kim Zimmer
is returning to
One Life to Live
to reprise her role as Echo DiSavoy. This will be Zimmer's first appearance on the ABC sudser since 1983. Her first airdate will be on Friday, October 1.
By Jillian Bowe on April 20, 2010
Hip-hip hooray,
Tuc Watkins
is here to stay!
ABC Soaps In Depth
reports Watkins is back to
One Life to Live
and on contract! For now there's no information on the length of his contract or when he'll return back to fair Llanview.
By Jillian Bowe on August 01, 2009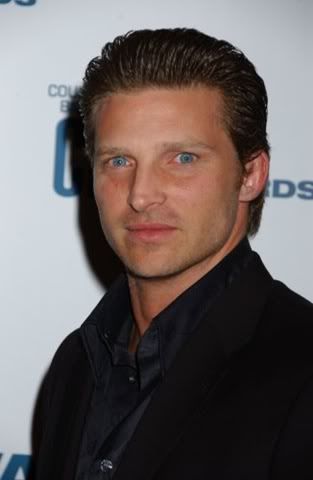 Great news for
Steve Burton
(Jason) fans.
ABC Soaps In Depth
reports on
twitter
that the popular
General Hospital
actor has inked a new deal with the show. This comes on the heels of Burton
confirming to
Michael Fairman
at the recent
GH
fan club luncheon that despite rumors of him refusing to do so, if warranted, he would take a pay cut.
By J Bernard Jones on December 07, 2008
Here lies the final resting place of the Great American Soap Opera
A good and constant companion to millions,
The genre lost its way toward its Final Fade to Black.
Neglect and misconception caused the genre's downfall,
But their collective memory shall live in our hearts. Forever.
Daytime O. Drama
1952 (or 1937) - 2010 (or 2015) — Depending on Who's Counting
Yes, my friends, it is time to put on your best Sunday black, sit Shiva if you are among our Jewish friends, remove all your jewelry if you are Muslim, burn those collections of Soap Opera Digest in a Shraddha ceremony for our Hindu cousins, and the rest of us heathens and infidels can cuss out Brian Frons, Barbara Bloom, Ellen Wheeler and Ken Corday in polysyllabic orgasmic fury. A flame in the wind has flickered its last, the bright promise of our date with life is forever gone. Today is no longer ours. Stick a fork in daytime soaps. They are done. I just have one tiny question:
Are soaps really dead? READ MORE