GL Spoilers
By Melodie on March 01, 2009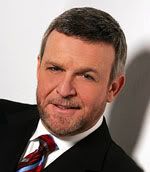 Welcome to the first week of sweeps edition of Mel's Guiding Gossip. Guiding Light is better than it has been in recent memory and trust me y'all this is only the beginning. Double heart attacks, a confession, and an old face breath even more life back into Springfield. Get ready for all the juicy gossip, rumors, scoops and spoilers for the week of March 2nd.
Buzz/Alan/Phillip/Doris: Buzz decides it's time that he take matters into his own hands with Alan. He shows up at the Spaulding Mansion with a tire iron ready to beat Alan to a pulp. Alan tries to talk Buzz out of it but it is to no avail. The two men get into a scuffle when Alan suddenly clutches his chest and falls to the ground. He's having a heart attack, right in front of Buzz, who seems to enjoy Alan's pain until he too falls to the ground clutching his chest. Thankfully, Remy and Christina show up in time to rush them both to the hospital. Word gets around that Alan and Buzz are in the hospital and both families rush to Cedars. While Daisy visits Buzz, he begs her to see Grady. Daisy complies and Grady has a talk with Buzz. Buzz wants him to come clean for Tammy's murder, because that would put Alan away. Grady leaves and promises Daisy he will do the right thing. Buzz sends for Doris and tells her that Grady will testify against Alan.
Over on the Spaulding side of things, Lizzie visits Alan. She tells him that she needs his help with the latest installment of the kidnapping mess. Lizzie thinks that Phillip was kidnapper she heard on the recording Bill dropped. Alan isn't so sure but that doesn't stop Lizzie. Later on, Phillip shows up and visits both Alan and Buzz. Phillip apologizes to Buzz for everything that has happened. In return, Buzz tells Phillip that he will bring Alan to his knees. Phillip leaves to go see Alan. They talk and Phillip gives Alan an ultimatum. What are the terms? Well, whatever they are, Alan might not get to answer because before the week is out Doris has him arrested. Will Alan be able to get himself out of this one? READ MORE
By Melodie on February 23, 2009

Welcome to another late edition of Mel's Guiding Gossip. Is it just me or is Guiding Light on FIRE these days? Well, it's only going to get better folks. A surprise return, a baby shower, and a non Lizzie kidnapping turn things out in Springfield. Get ready for all the juicy gossip, rumors, scoops and spoilers for the week of February 23rd.
Jeffrey/Reva/Shayne/Dinah/Edmund: Reva decides it's time to have nice talk with her son, Shayne. They meet, and naturally, the duo discusses Lara and the dastardly prince himself, Edmund. Shayne tells Reva that Edmund is apart of his life now and this doesn't sit well with her. He leaves and Jeffrey shows up, wanting to look at baby names with Reva. However, Reva doesn't want to obviously still affected by Shayne's words. She ends up making another video for her unborn child.
Speaking of Edmund, he has plans to show Shayne a video of an 8 months pregnant Lara. Somehow, Dinah finds out about this and destroys the video. Edmund uncovers Dinah's actions and tells Shayne what his "friend" did. Shayne becomes angered (surprising, right?) and goes to tell Dinah a piece of his mind. Shayne lets Dinah have it and tells her to stay out of his life. Of course, Dinah doesn't listen and vows to make Shayne happy. She gets an idea and books the next flight out of Springfield. What is Dinah up to?
Later on, Reva finally has her baby shower with many Springfield residents in attendance. She really tries to have a good time considering the circumstances. Maybe a surprise visit from her father, Hawk, will make her day better. READ MORE
By Jamey Giddens on February 12, 2009
We've been hearing rumblings for weeks now that former
Days of Our Lives
starlet
Martha Madison
(ex-Belle) was headed for
Guiding Light
. First we heard the show was interested in Madison for the role of Marah Shayne Lewis. Then came talk that it's actually Michelle Bauer Santos, whom Madison could be re-creating.
"Not true," says a
Guiding Light
rep, concerning Madison inhabiting Marah's designer pumps. " Also, we've just begun casting the role of Michelle."
Too bad. I could totally see the blonde beauty as Reva's fiery daughter. Madison came alive during Belle's Post Partum Depression storyline when she was allowed to abandon the character's saccharine-sweetness and be all nasty and bitchtastic to Meems (Farah Fath). She was also amazing opposite Jay Kenneth Johnson (Philip) when Belle was later caught up in an illicit affair with her true love's best friend.
Can you imagine a bitter Marah returning to Springfield hellbent on destroying her mother's marriage to her former love Jeffrey? What if she teamed up with Edmund to do it? What if Marah hated Dinah, the new woman in her little brother Shayne's life, and set out to come between them, perhaps by trying to manipulate a reunion between Shayne and Marina? READ MORE
By Melodie on February 07, 2009


"The" Guiding Light's newest Phillip promo. Courtesy of KDKA News in Pittsburgh, PA.
By Jamey Giddens on February 06, 2009
When it comes to whether or not
Guiding Light'
s long term hetero-homewrecker Olivia Lewis (
Crystal Chappell
) should stop being strictly dickly and embark on a romance with her roommate/Gal Friday Natalia (
Jessica Leccia
), the ravishing Chappell told
TV Guide
's
Michael Logan
she's "totally open for it", but what she wants most for Liv is love.
"What I want to see happen is a good love story–love having a very broad definition. This is a relationshio with true tenderness and intimacy, and we don't see a lot of that these days. Whether it turns romantic or sexual is not important to me right now. But, wherever it goes, I'm totally open for it."
Check out the rest of Logan's weekly soap coverage in this week's TV Guide on newstands now.
By Jillian Bowe on February 05, 2009
Are the soap gods throwing Peapack a bone? They just might be, according to
Soap Opera Digest
Guiding Light
has hired
Krista

Tesreau
(ex-Tina #3;
OLTL)
to reprise her role as Melinda Sue "Mindy" Lewis! The actress will make her way back to Springfield in March. No word on how long she'll be sticking around. This begs the obvious question, has Ellen broken out the butterfly nets and captured our
Jamey

Giddens
? Seems as though she may have after reading his
Top 10 Last Ditch Stunts to Save Guiding Light
, commentary.... Jamey if they got you, send me a S.O.S and the DC crew will gas up the podcast mobile!