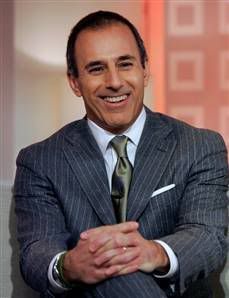 Vanity Fair has included Today host Matt Lauer in their The International Best-Dressed List calling him the "NBC peacock." Unfortunately his co-host and former The View star Meredith Vieira didn't have what it took to make the list, though aspiring First Lady Michelle Obama did.
On a completely different Matt Lauer related topic. Just an imformal poll. How many of you find Matt Lauer hot? I have a friend who, at the mere mention of his name, goes weak in the knees. I'm trying to figure out if this is an isolated case or a widespread epidemic.
Matt Lauer, Hot or Not?