Vivica A. Fox
By Luke Kerr on February 05, 2009
Vivica A. Fox (ex-Stephanie The Young and the Restless) went hunting for a hosting gig and brought herself home a cougar. According to The Hollywood Reporter Fox has signed on as host of TV Land's The Cougar. The reality show, in which "older women search for love among a pool of younger bachelors," will air for eight episodes.
By Jamey Giddens on August 24, 2008
From
Days of Our Lives
to turns on hit primetime shows and A-list movie roles, Vivica A. Fox has seen and done it all during her 20-odd years in the business. I recently caught up with the fabulous Ms. Fox via cell phone, while she was in Toronto for a 44th birthday party thrown by some of her best friends, including our pal Nelson Branco (
TV Guide Canada
). Fox talked about her role as Maya on the groundbreaking-yet-short-lived NBC soap
Generations
and provided inside dish on her new VH1 reality show
Glam God with Vivica A. Fox.
Daytime Confidential: First of all, I just wanted to say how great you looked in the pics from your birthday!
Vivica A. Fox: Thank you so much! I had a fabulous night. My friends really know how to treat a sister well! Muzik [the nightclub where Fox's party was held] really knows how to turn out a great event. It was glamorous, elegant; I will recommend Muzik to anyone wanting to have a classy affair. It was unbelievable.
DC: So let's talk about your new show for VH1, Glam God with Vivica A. Fox. What is the concept behind the show?
VAF: Glam God is basically a styling show. We moved 12 stylists into a loft in downtown LA and put them to the test for the chance at a $100,000 prize and their own styling agent. READ MORE
By Jamey Giddens on August 01, 2008
Our pal
TV Guide Canada
'
s Nelson Branco helped throw a birthday party for his BFF, the fabulicious Vivica A. Fox (ex-Maya,
Generations
; ex-Stephanie,
The Young and the Restless
), this past Tuesday at the posh Muzik nightclub in Toronto.
This dynamic duo met when Fox lived in Toronto while filming her hit Lifetime series Missing. Happy Belated Birthday Miss Viv! Be sure to check out Fox's new series Glam God With Vivica A Fox premiering Aug. 21 on VH1 and for our Canadian readers, if you want more exclusive dish on Fox's B-Day festivities check out next week's Hello! Canada for Nelson's feature story.
By Jamey Giddens on July 22, 2008
Why I love me some Ms. Vivica
. Generations
and
The Young and the Restless
alum Vivica A. Fox appeared on shock jock Wendy William's new daytime talker yesterday where Wendy brought up how childish and simple rapper 50 Cent behaved at the end of their relationship.
Fox, while dressed to the thrill, dripping in bling, proved once again how a sista can go from zero to street in 15 seconds flat when she showed the audience how to put trifling drama where??? Back there! Loved it. Fox's new show Glam God With Vivica A. Fox premieres Aug. 21 on VH1.

By Luke Kerr on June 11, 2008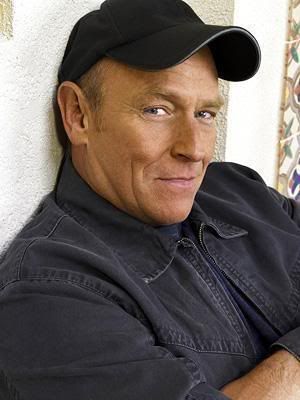 Are you ready for a family feud? The new season of Celebrity Family Feud will be featuring several daytime alums and their families.
Episode One: Christopher Knight (Another World and The Brady Bunch) and Adrianne Curry (America's Next Top Model) along with their family will be facing off against the Teutul family of American Chopper fame.
During the second half of episode one Corbin Bernsen and his family (General Hospital, Psych and L.A. Law) will be facing off against Margaret Cho and her family.
Side Note: I wonder if Jeanne Cooper will be joining the Bernsen clan?
Episode Two: During the second half of episode two Vivica A. Fox and family (Young & Restless and Generations) will be facing off against Mo'Nique and family.
Episode Six: Anyone still interested in the lives of Kathie Lee Gifford's family will want to tune into episode six when they face off against Duane "Dog" Chapman and family (Dog the Bounty Hunter)
For the full lineup visit EW.com.

Thanks to LondonMami for the tip!
By Jamey Giddens on March 26, 2008
One of my favorite former soap stars Vivica A. Fox addresses speculation about her plastic surgeries, aging in Hollywood and much more in the current issue of Upscale on newstands now. I have always loved how Fox speaks fondly of her time on soaps unlike so many of her Hollyweird peers.
For those of you who aren't familiar with Ms. Fox's soapy past, she played Maya on the short-lived Sally Sussman Morina NBC soap Generations. Generations was the first soap to premiere with a black family-The Marshalls- at the core of the show.
Fox's character was paired opposite Kristoff St. John's Adam Marshall, heir to the Marshall ice cream chain fortune. Adam's big sister Chantal was played by All My Children's Debbie Morgan, who left the signature role of Dr. Angie Hubbard to take a risk on the groundbreaking soap. As did James Reynolds, who vacated the popular role of Abe Carver on Days of Our Lives for a time to portray Marshall family patriarch Henry Marshall.
While Generations only lasted two short years (It didn't stand a chance against ratings powerhouse Young and the Restless which has always been extremely popular among African-American audiences), the show still made history and launched the careers of St. John-who was quickly snatched up by Y&R as budding Newman exec Neil Winters-and Kelly Rutherford (ex-Sam) who went on to a lead role on the Fox hit Melrose Place and now stars on The CW's Gossip Girl.
As for Fox, she went on to sitcom acclaim, guest starring on The Fresh Prince of Belair and starring in the Patti LaBelle sitcom Out All Night, before joining the cast of Young and the Restless herself as a love interest for Shemar Moore's Malcolm in 1995. Not that her character Stephanie had much time to steam up the screen with Malcolm. Shortly after joining Y&R in the recurring role, she won a part in a little film called Indepence Day opposite her Fresh Prince leading man Will Smith. The rest is post-soap history.