Victoria Rowell
By Jamey Giddens on May 02, 2008
The ravishing Victoria Rowell (ex-Drucilla, Young and the Restless) isn't sitting at home waiting for TPTB at Young and the Restless to call. The actress/author is celebrating the paperback release of her best selling memoir The Women Who Raised Me. Members of Rowell's official website recieved this message from Rowell yesterday:
Dear Friends,
Just over one year ago, The Women Who Raised Me was released. This was an amazing blessing. It gave me the opportunity to travel across the country and meet THOUSANDS of you and I am forever grateful to you for allowing me to hear your stories and to share mine. I thank you from the bottom of my heart. But more importantly, we made Foster Care a constant topic.
When it we moved forward in releasing a paperback edition of "The Women Who Raised Me", words could not express the joy I felt. I was being given another opportunity to keep focus on Foster Care. I was being given another opportunity to reach out to you and come to your cities and hear your stories and share laughter and tears with you. Together WE can keep Foster Care on the front burner. And a more fitting date could not have been. "The Women Who Raised Me" has been released on paperback today, May 1st, which is also the kick off for National Foster Care Month. And with this I'm starting year 2 of The Women Who Raised Me tour!
Another year to get the message out there!
Check the calendar and see if I'm coming to your city.
Regards,
Victoria
Purchase the paperback version of The Women Who Raised Me on sale now at Amazon.com. You can use the Amazon widget at the bottom of the page, which helps us to keep bringing you the best soap opera coverage on the web.
By Jamey Giddens on April 23, 2008
Breathtaking soap diva and author extraordinaire Victoria Rowell has addressed speculation on her official website concerning whether or not she is set to reprise the popular role of Drucilla Barber-Winters-Winters on Young and the Restless. The following letter was posted on Rowell's blog:

Dear Fans,
Thank you so much for your continued support as I criss-crossed the country. Your love of my work as the writer of "The Women Who Raised Me"; as an actress on Young and the Restless and Diagnosis Murder; as well as my film work, has been a blessing. You've shown me that my performances are more than Daytime drama to you. Over 4 million people have visited me here on my website and for you; I would like to answer the ubiquitous question of "Are you coming back to the Young and the Restless". Well, due to the barrage of Soap Opera tabloid and Internet speculation, I want to go on record to say that Drucilla would love nothing more than to claw her way up the cliff that she flipped off of, but Y&R has not sent her a rescue crew or a life line to help her out of the ravine that she's been in for over a year. I am alive and well and the ball is in their court. Email to Sony Pictures Television and The Young the Restless is appreciated.

-Victoria Rowell
Here's hoping Cane orders that Chancellor search and rescue crew down to the bottom of that raven pronto! And bring some Glow By Jabot, our girl has to look fierce when she kicks Karen to the curb!
By Luke Kerr on April 11, 2008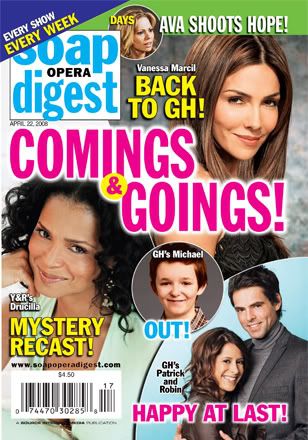 No Whammy! No Whammy! Talk about a double whammy cover. Soap Opera Digest is going all out this week with two of the biggest former daytime stars on ABC and CBS on its covers.
Up first we have Vanessa Marcil who we know is a sure bet when it comes to boosting General Hospital falling ratings. Then we have have Young and Restless' Victoria Rowell who it has been rumored could return very soon, but the mag talks about a mystery recast. However, in today's Suds Report Nelson Brano sheds some further light on the topic asking why Y&R is casting a Dru look-a-like?
When I read this my first thought is could this be an All My Children Di/Dixie story? I loved Kelly Giddish as Di Henry on All My Children and I realize that long time Y&R fans may have no desire for yet another "doppelganger" type storyline but I'm not sure I'd be opposed to it. Especially if the #1 rated soap does it right and doesn't ruin it like All My Children did.
Of course we also have one of General Hospital's most popular couples on the cover with the headline "Happy At Last". Normally, this would make me ecstatic but considering I read our own General Hospital Spoilers and Scoop by the wonderful Regan one knows that it probably won't last.
By Jamey Giddens on March 28, 2008
All My Children is reportedly casting Cassie the daughter Angie (Debbie Morgan) and Jacob (Darnell Williams) adopted on the Loving spinoff The City. Who would be better to take on the role than Young and the Restless alum Davetta Sherwood (ex-Lily)?
During Sherwood's brief run replacing Christel Khalil as Lily on Y&R, Sherwood proved that original doesn't always mean "real". Sherwood's take on Lily was street smart, sassy and realistic. It was easy to believe she was the daughter of Victoria Rowell's Dru. Many fans-including this one-cried foul when Khalil decided she wanted her old role back-after having left of her own accord-and Y&R booted Sherwood.
Can't you just see Sherwood in scenes with soap legends Morgan and Williams? She would also be a great romantic interest for Dre Woods (Sterling Sulieman) and a potential rival for Pine Valley teen queen Colby Chandler (Ambyr Childers). Then if they could only get Marcy Walker back as Colby's mom and Jesse and Angie's worst nightmare Liza Colby, I might start watching AMC more regularly again, that is unless I see someone eating pancakes.
By Daytime Confidential on March 26, 2008
TV Guide Canada's Nelson Branco joins Luke and Jay for an in-depth discussion of the soap industry, his column's The Suds Report & Nelson Ratings, all the latest soap gossip, his interviews with Michelle Stafford and Katherine Kelly Lang, his Emmy prediction, how the industry could reinvent itself with additional programming and much more including...
His belief that fans watch for the "little moments" and that soaps have been dumbed down. What is going on with the Proctor and Gamble soaps, including Guiding Light's use of its couples, the "Nuke" controversy and letting go of Martha Byrne.
Branco predicts that Victoria Rowell will return to the Young and Restless by April or May and discuss the rumors of Jeanie Cooper leaving the venerable soap.
We learn why there isn't more diversity on the Bold and Beautiful, which character was supposed to have been gay, and who might soon appear as a recast Thomas Forrester. READ MORE
By Luke Kerr on March 10, 2008
Soap Opera Network is reporting that Maria Arena Bell is taking over as the new Head Writer for "The Young and The Restless."
Assuming this is true, this is just the latest indication that CBS, Sony, and the Bell family are doing their best to bring in the "exterminators" and wiping out any trace of Lynn Marie Latham's infestation of the #1 rated soap. This along with the possible return of
Victoria Rowell
, the jump of
Leslie Kay
from Bold and Beautiful, and the return of
Michael Damian
should have Young and Restless fans in a very good mood.