Tyler Christopher
By Regan Cellura on September 29, 2009
After the news of
Greg Vaughan
's departure from
General Hospital
hit the web, some of his now former castmates took to their Twitters.
Steve Burton: God bless Greg V and his family. Sucks! He will be missed.
Tyler Christopher: Everyone give GV your blessings please. He gave Lucky justice while he was there.
Derk Cheetwood: Our thoughts are with Greg V and family he will be missed by all.
Nancy Lee Grahn: Heartbroken about Greg. However, this is a guy who worked constantly before GH & will continue to do the same after GH. He is an amazing gentleman, a dedicated father, a committed and talented actor who is loved and adored by his cast. He will be fine!
Sarah Brown: I'm so sad & sorry to hear this. I know you're going to do great wherever you go. My love to you and your family always
Brandon Barash: deeply saddened by this news. Not gonna be the same w/o u next door. ur star will shine wherever it lands.
Lisa LoCicero: Greg, you'll do great wherever you go.. But I will miss your smiling face terribly READ MORE
By Luke Kerr on August 27, 2009
General Hospital's
Tyler Christopher
has launched a blog on his
Official Website
and is encouraging fans to watch the show this week and comment on it at his blog. Then he'll post his thoughts on Sept. 4.
RELATED: GH's Tyler Christopher Joins Twitter | GH: JoLiva, Nikolas and Rebecca Get It On (Images) READ MORE
By Luke Kerr on August 14, 2009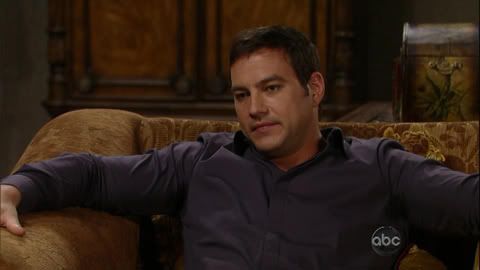 Twitter junkie alert!
General Hospital's
Tyler Christopher
has joined the Twitterverse. You can follow Christopher
here
.
By Luke Kerr on June 23, 2009
Summer is a sizzling and so is
General Hospital
, or at least that is what they are hoping we think. On today's episode Johnny and Olivia were getting it on when Sonny called, providing one of the episode's more humorous moments. Meanwhile, Nikolas and NotEmily were doing it like they were on
True Blood
, not living in Port Charles. Is this love in the afternoon? More images of JoLivia, Nikolas and NotEmily after the jump.
READ MORE
By Regan Cellura on June 09, 2009
Ronnie Marmo
has appeared on
General Hospital
before, as a limo driver for Jasper "Jax" Jacks (
Ingo Rademacher
). Now the actor has announced on his
website
that he is once again spending some time in Port Charles.
Ronnie has joined the cast of the ABC daytime drama General Hospital . His first air date is scheduled for July 9.
Marmo is currently working on three films and has appeared on The Young and the Restless and JAG. He's also listed as the creative director of the 68 Cent Crew Theatre Company which also lists General Hospital's Tyler Christopher (Nikolas Cassaadine) as a member. No word on who Marmo will be playing.
By Luke Kerr on June 03, 2009
Is it "love in the afternoon" when it's done in the hay and with a doppleganger?
General Hospital
seems to be ramping up the "love scenes," but can Johnny and Olivia having sex really be considered love? Is Nikolas sleeping with a carbon copy of his long lost Emily Quartermaine what fans are craving? More pictures of Nikolas and NotEmily after the jump.
READ MORE